In one of my previous videos we talked about hell hound sightings at the Battle Of Mons. Now for those that haven't seen that video one of the biggest and bloodiest battles during World War 1 was known as the Battle Of Mons. And during this battle some very strange things were being reported. Such as a dog like beast that was believed to be responsible for killing a heck of a lot of soldiers, mainly the British. And in some of these cases this beast would wipe out entire 4 to 5 man patrols all by itself. And many believed that this dog was a hell hound. Now there was also something else, something divine that was being reported on this battlefield by these soldiers. And I would like to thank all my awesome subscribers for telling me about this case. At the beginning of the Battle Of Mons the Germans who greatly outnumbered the allies were really kicking some serious butt. And they were driving the allies, mainly the British forces back. And as they were about to retreat the British and the Germans witnessed something unbelievable. According to these soldiers something divine magically appeared on the front lines of this battlefield. And these beings were helping the British. According to these accounts a very bright, ghostly figure on a transparent white horse appeared out of nowhere and started to attack the Germans. And this divine apparition was followed by what is now known as the bow men. And these entity's were unstoppable and they saved the allies and they also started to move forward on the battlefield. And it is said that while these entity's were pushing the German forces back the British were cheering.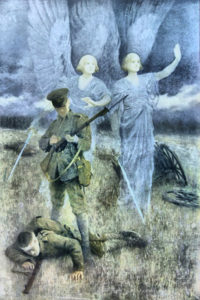 One account comes from German prisoners who stated that they saw "in their own words" a force of phantoms armed with bows and arrows attacking their trench. And these phantom bow men were led by a towering figure on a shining white horse. Another account comes from 3 British soldiers who said that they saw 3 of these beings appear right in front of them and these beings saved their, and many other soldiers lives. One very popular encounter with these angelic apparition happened when a group of British forces somehow got lost in the middle of this huge battlefield. So these soldiers decided to dig in the best they could so they could make their last stand. Then a very bright apparition of a female appeared to these men and this female led them safely through this field and all the gunfire. And they were able to escape and get back to their base. Some even claimed that they saw Saint Micheal himself. Now there are dozens of more stories just like these and over the years there have been many books published on this subject. But many investigators believe to this very day that these events, these sightings never happened as they say that no one has ever actually meet one of these eye witnesses. So many assume that this was all made up either by writers or the British government. As they wanted their people to believe that God was on their side. But according to my research that is not entirely true as I have read a few reports coming from soldiers stating that these events did happen.
But of course how do we know if there telling the truth. But One thing that I would like to add is most of these soldiers that fought on the front lines where these entity's were seen were either killed at the Battle Of Mons or later on during the war. And also according to worldwar1.com it was written within many diaries that these sightings did happen. And the British soldiers truly believed that god was on their side. And I do believe that these story's have to come from some sort of truth, something extraordinary must have happened on that battlefield. And I also find it extremely interesting that at the exact same time there were reports of hell hounds that seemed to be against the British forces. Making me wonder what the heck was going on at the Battle Of Mons. Was god and the devil trying to intervene hopping to change the outcome of the war. Or was there some sort of top secret weapon or gas being used making all these soldiers hallucinate, I just don't know. But one thing I do know is that there are a lot of very credible cases throughout time and during war where it is believed that something supernatural, something divine did show up. And in a lot of these cases it's very hard to disprove as there are a lot of very credible first hand accounts backing up these claims. Making me, an agnostic believe that there might just be some sort of higher power at work here. As to what it is I can not say. But I will be sure to cover these amazing stories very soon!
Until next time this is paranormal junkie. Make sure to hit that subscribe button and stay tuned!