I love the Bigfoot phenomena it is by far my most favorite cryptid mystery. But due to the fact there are so many hoaxes out there I don't really feel the need to cover any of the recent Bigfoot sightings. But one thing that really interest me is the older Bigfoot sightings. I find these to be more credible as back then nobody really knew what Bigfoot or Sasquatch was, making it far less likely to be a hoax.
1924 Mount St. Helen's Sighting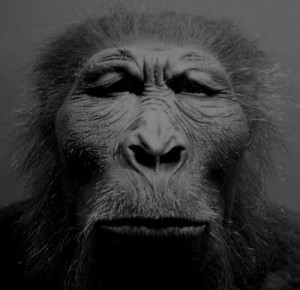 One of the most famous of these sightings happened in the Ape Canyon region of Mount St. Helen's in 1924. A man named Fred Beck and several other prospectors stumbled upon some huge footprints, they couldn't believe how big they were and they knew that it couldn't of been made by man. They didn't know of any creature that could be responsible for these huge tracks. They were amazed but also terrified. Not to long after finding these tracks they all came face to face with the beast that made them. As the prospectors were following these huge footprints they started to hear some very odd noises. Then they saw a huge ape like creature peeking around a tree. The sheer size of this hairy humanoid scared these men so much that they all got out their rifles and started to shoot at it.
The gun fire scared this massive beast and it ran at amazing speeds back into the forest. A couple of hours after this encounter the prospectors said that they encountered another one, and this time they were able to shoot it in the back and it fell into the canyon below. Now the violence that these men displayed would not be forgotten by these creatures. The prospectuses were in for one heck of a night. As the prospectors were getting ready for bed they started to hear some very big thumping noises on the roof. They realized that something was throwing rocks at their cabin. Then they started to hear very odd growling noises, these noises were like nothing they have ever heard before. Then whatever was outside started to bang on the walls, the men were scared out of their minds and they started to prey, they didn't think that they would make it through the night.
Now fortunately these trigger happy prospectors were staying in a very well built cabin that was built to withstand very harsh winters, and the creatures were unable to break in. The next morning they found a lot of huge tracks identical to what they saw the previous day. Making them believe that these hairy humanoids wanted revenge and they followed the men back to their cabin. These men were very thankful to be alive and when they got back to civilization they told the world what happened. Now due to the fact that Bigfoot or Sasquatch was not very well known back then and the fact that these men had nothing to gain makes a lot of people believe that these prospectors might just be telling the truth.
Mount Saint Helen's Eruption 1980
Now this encounter reminded me about the 1980 Mount Saint Helen's eruption. It is believed that the Mount Saint Helen's eruptions was responsible for killing the Bigfoot population. This region use to be a huge hot spot for Bigfoot, but after the Mt. Saint Helen's eruption the Bigfoot sightings within this area has greatly decreased. After this eruption forest rangers were left with an impossible task of cleaning up the destruction, such as clearing the roads and burning the dead animals. These forest rangers were working day and night doing whatever they could to clear the devastation and help save lives. Now some of these forest rangers started to find Bigfoot corpses under the debre.
Now once the United States government found out about this they told these forest rangers to never speak about this ever again. Then they started to secretly fly all these Bigfoot corpses to the burning grounds were they were burning all the dead animals. Now most Bigfoot believers believe that the United States government knows of Bigfoot's existence, and they have known for a very long time. But they don't want the world know. And there are many theory's as to why. One of the most plausible theory's is because of the logging industry. If the world knew that there was an unknown species of a half man, half ape like creature that lived in these forest regions and was most likely close to extinction it would bankrupt the logging industry as most of these areas would be protected and off limits to the loggers.
Know of course there are many other theories as to why the United States government doesn't want the world to know about Bigfoot's existence but we will save that for another video. But as you might have guessed some of these forest rangers did speak and today this story is pretty well known throughout the paranormal and Bigfoot communities. Even some of the local residents told reporters that thew saw the Bigfoot corpses being taken to the burning grounds. Some even claim that they have the pictures to prove it. The towns folk even created this statue as a memorial and still to this very day people travel from all over the world to pay their respect and so they can place flowers at the bottom of this massive statue.
Battle Mountain Nevada 1999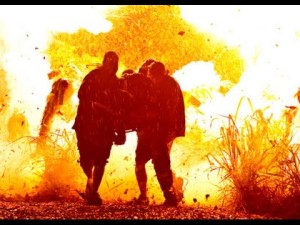 There was also another case very similar to this that happened in battle mountain Nevada in 1999 after a series of wild fires started to break out. Some government workers were sent to assess the damage and help put out the fires. Now some of these workers stumbled upon an injured and very badly burnt Bigfoot. They immediately tried to help this creature. Once this huge hairy humanoid realized that these men and women were trying to help it, it actually tried to communicate with them. Now according to the reports a lot of government employee's were helping and caring for this Bigfoot, and they were all told to never speak about this to anyone. But one of these witnesses was compelled to write to the BFRO, the Bigfoot field researcher organization.
As he wanted the world to know that Bigfoot does exist, but whoever this was wanted to stay anonymous. Now the BFRO didn't really know what to make of this, But do to how detailed this letter was they immediately started an investigation of their own, and a couple of weeks later this anonymous government employee directly made contact with the BRFO and they were able to identify that this man does in fact work for the government. Now after the BFRO was able to identify this man's identity they considered this to be the real deal and they told the world. And over the years a lot more evidence has surfaced making this a very interesting case.
1977 New Jersey Sighting
Now one thing I find very odd about some Bigfoot sightings is sometimes they happen in places were they just shouldn't happen. Such as this sighting that happened in New Jersey. In 1977 the Sites family woke up one morning to a very gruesome discovery. All there rabbit's in their barn were all crushed to death. Now this family was determined to find the person responsible for this. They believed that this had to have been done by an evil man. Now the very next night they were all awoken by some very loud noises coming from the barn. And each member of the family ran to the window hopping that they were going to be able to identify the person responsible for killing there rabbits.
But they couldn't believe what they were looking at. They told to the authorities that they saw a huge hairy creature, that had no neck, huge shoulders and glowing red eyes. They said that this creature must have been at least 8 ft. tall. Now due to the fact that every member of this family saw this creatures and even still to this day their story has not changed makes this a very interesting and a very strange Bigfoot sighting. How could a creature like this stay undetected in New Jersey. And there are a lot of sightings from all over the world very similar to this, making me wonder just what the heck is going on, how can a creature like this go pretty much undetected in populated areas.
Jackson County Florida 1884
Now one of the most overlooked and possibly one of the most importing Bigfoot encounters of all time happened in 1884 in Jackson County Florida. Now in this area there has been sightings of a half ape, half man like creature going back for centuries. The Native Americans from time to time would come face to face with these creatures, and they made sure that they kept their distance. Over time the settlers within that area were very well aware of the creatures that lived in the swamp. As they too started to come face to face with them. In 1883 these sightings really started to increase and the towns folk started to actually observe them swimming and eating berry's. The settlers who encountered these creatures said that these beings were huge and they smelled really, really bad. Some nights the whole town would hear there cry's and the noises they made were terrifying.
The towns people started to fear for their safety and a town meting was called. They decided that they either needed to capture them or drive them off their land. So the towns people made a plan and every man within this area grabbed their rifles and headed for the swamp. Now it didn't take them that long to find one of these creatures and they captured it. The official reports stated that this thing was covered with very thick air, was very tall, and acted like an animal. Some believed that it was simply a man, and it must have escaped an insane asylum. All though everyone said that it had very odd facial features. Now shortly after this man, or unknown species was official examined it simply disappeared. Nobody knows what really happened to it.
And that's a shame as this could have been a world changing discovery. Now of course this could have been a Homo Sapien that grew up in the wild, but the description of this man or creature is exactly the same as a Bigfoot. Such as it was covered with hair, very tall and also possessed very odd facial features. Another thing is the sounds that it made, when the settlers started hearing to what they described as its cries it was unlike anything they have ever heard before and it terrified them. Making a lot of people believe that it probably wasn't a Homo Sapien. I just wish we could get to the bottom of this mystery as this encounter is just mind blowing.
Now since there are so many amazing Bigfoot sightings and encounters throughout the world I am going to make this into a series and overtime I will try to cover the best of them. And together we will unravel one of the greatest cryptozoology mysteries of all time.
Until next time this is paranormal junkie, make sure to hit that subscribe button and stay tuned!