Every since man has inhabited South East Asia there has been sightings and encounters of a bi pedal human ape like creature. And in most of these cases these creatures are only about 6 ft. tall, a little bit smaller then your typical North American Bigfoot sighting. But they are believed to be extremely strong and very aggressive and the people who live within this region truly believe that they do exist and they are known as the jungle people or the forest people. Now most of these sighting occur in the dense forest regions of Vietnam and Laos and during the Vietnam war there were tons of sightings of these beast coming from American and Vietnamese soldiers. Now the Americans said that these animals travel in groups and they started to come out during dusk. And if their space was violated they would attack or they would throw rocks. So the American soldiers started to call them rock apes.
A very famous encounter came from a 6 man unit from the 101st Airborne Division. The men were taking a break after a very long and very difficult hike through the very harsh jungle terrain. The men were trying to get a little bit of shut eye but they were fully aware that the Viet Cong were everywhere so they were very uneasy. Then the soldiers started to notice that the trees in front of them started to shake then they started to hear some very strange sounds. So the soldiers thought that the enemy was aware of their position and they were getting ready to attack. So they grabbed their weapons and waited. Then a very odd ape like creature come out from the tree line. This creature was about 5 to 6 ft. tall, covered in red hair and was extremely muscular. Now the men had no idea what they were looking at and they started to argue over what it could possible be. One of the soldiers said that it must be an orangutan but the others disagreed as orangutans do not live in Vietnam or anywhere remotely close to this region. And whatever this was, was a lot taller and a lot stronger looking then an orangutan. Now as the men kept arguing this ape like creature got un amused and it ran back into the jungle. And the soldiers have spent most of there lives wondering what this strange creature could have been.
In 1968 a soldier described a very odd encounter. The soldier and his unit started to hear very strange noises outside their camp one night. Now at the time they didn't know if these noises were normal but a Mexican American corporal nicknamed Poncho decided to go investigate. Pancho was determined to find out what was making these very bizarre sounds so he marched out of the camp and up to the communication bunker to see what the heck was going on. While Pancho was out investigating the soldiers started to hear gun fire and this made them extremely nervous. When Pancho returned he told them that one his way back he noticed a very strange bush that was not there before and when he leaned down to take a closer look the bush growled at him. Now Pancho was scared to death so he shot the bush and ran away as fast as he could back to camp. Making us wonder do these rock apes possess some sort of unknown camouflage ability.
Another very famous encounter happened in 1969 when an American patrol was caught off guard by enemy fire making them run deeper into the jungle. As the soldiers were doing their best to hide from the enemy they saw what they thought was a man run right by them. But they soon realized that this wasn't a man this was something else. Whatever this was, was about 7 ft tall, very well built, covered with red hair and was able to move extremely fast. Then right after this sighting the American soldiers heard the Viet Cong yelling and screaming like crazy. Something was attacking them and it wasn't the Americans. Now once a good amount of time passed and everything died down they decided to go investigate. And what they found next was something right out of a horror movie. They found an enemy soldier that had been viciously torn a part from limb to limb. Now after the war ended one of these witnesses came forward and said that the whole time he was in Vietnam he had never seen or heard anything like he did that day and this event scared him so much that he requested a transfer.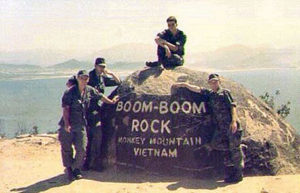 One of the most famous of these encounters happened when a platoon was having lunch. The men were enjoying their break when all a sudden they saw almost a dozen of these creatures walking towards them. At first they thought it was Viet Cong and they ran for their weapons and opened fire. But then they realized that this was not the enemy this was something else. The men observed these creatures as they were moving through the tress and the bushes kind of like how a monkey would. The platoon said that these animals were about 5 to 6 ft. tall, had reddish hair, and they were very pissed. Now the platoon also noticed that one of these creatures had all black hair, not red and this one seemed to be the leader and he was extremely aggressive. The soldiers also said that they barked like dogs before disappearing back into the jungle. Now the platoon was in shock they couldn't believe what they had just witnessed so they wanted to go see if they could find any dead body's as they were firing at these creatures for some time. But to their surprise they couldn't find any, they couldn't even find any blood.
Now in 1966 three years before this sighting some marines also started to get attacked by these creatures. Marines operating within this area called their captain to let them know that there was movement in the trees and bushes, making them believe at that time that there was a large group of Viet Cong getting ready to attack. But the marines called their captain again and told them not to worry as it wasn't Viet Cong it was just a large group of hairy bi pedal apes. Now the captain was shocked by that statement and he ordered his men not to open fire as it would give away there position. So instead the marines threw rocks in hopes of scaring them away. But this didn't scare them, it only made them angry. Then these apes started to throw the rocks back and with great force. Then these creatures started to screech and make very odd noises it's as if they were calling for help. Now the marines were surrounded by dozens of these beast and they were being attacked so they had no choice they had to open fire. Now the captain was not that far away and he could hear these apes screeching and all the gun fire.
So he decided to go over there and see what was going on. And when he arrived he was amazed at what he saw. Now no marines died that day but nearly all of them were wounded and it is believed that they did find corpses of these apes. Now this event was so famous that this location is now known as Monkey Mountain. Now it is believed that during the Vietnam war the united states army found plenty of evidence of these creatures such as droppings, hair samples, footprints and even dead bodies. Now there were so many sightings of  these creatures as the war progressed and the reports were always the same, such as they would bark like dogs, they were 5 to 6 ft. tall, they were covered in red hair and they would throw rocks. And in some rare occasion the soldiers would even stumble upon an alpha that would be covered in black hair and this alpha was extremely aggressive.
Now do to the fact that both sides had so many encounters with these creatures an expedition was launched shortly after the war and they were convinced that they were going to find an unknown species of ape. But after decades of searching they never did.  Now there are plenty of theory's such as the American soldiers were very high and they were on a lot of drugs. And that could very well explain an individual sighting especially if LSD was involved. But when whole platoons and even the enemy soldiers report the exact same thing and not to mention sightings have been going on here for centuries makes a lot of people believe that there might just be an unknown species of ape living within this region and maybe because war was threatening their jungle, they revealed themselves and they too fought for their survival
Until next time this is paranormal junkie. Make sure to hit that subscribe button and stay tuned.
Source: http://mysteriousuniverse.org/2016/01/the-mysterious-rock-apes-of-the-vietnam-war