Kerry Walton always had nightmares of an old abandon house on his old street. He never really understood why this house always scared him so much, all tho it was a very creepy house. One day Kerry got the bad news that his grandmother died. While Kerry was packing getting ready to go to his grandmothers funeral he realized that he was going to be very close to the old creepy house.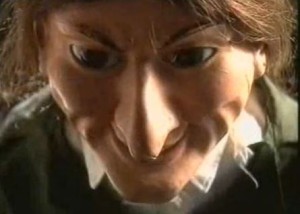 He decided to finally face his fears once and for all and go visit this old abandon house that had been haunting his dreams his whole life. While walking through the old creepy abandon house he started laughing as he couldn't believe that he was terrified of this place.
Before leaving he found an old doll, he didn't know why but he felt compelled to take it.He felt that this doll was very odd. Kerry was a strong believer in the paranormal and felt that there was a lot more to this doll.
He took it to a psychic and the psychic told him the doll was at least 200 years old and was made by an old Romanian gypsy. The  psychic tolled Kerry the dolls name was Letta.
The gypsy believed that souls could be transferred into objects, especially dolls. Lettea the doll has real human hair and underneath the scalp is a perfect likeness of a brain. Making this a very unique doll indeed. After Kerry took possession of the doll he started to experience very strange phenomena, the doll is said to be able to move on its own.
Dogs go absolutely berserk when around the doll and it always seems to rain whenever Kerry would bring the doll outside. But Kerry is not afraid of this doll, he loves it. Kerry doesn't see this doll as evil, in fact he believes this doll brings amazing luck. After taken possession of this doll his fortune really started to change.
Where ever Kerry goes so does Letta the doll. Kerry treats the doll as if it was his own son. This haunted object is quit rare as it seems to bring good to its owner instead of death and sorrow.
Which actually makes sense to me. Letta the doll was trapped in an old abandon house for decades and finally someone came a long and started to care for it. So if haunted objects do possess supernatural powers as some strongly belive why not use them to reward your loving owner instead of condemning them to a life of sadness.