Today we are going to talk about one of the greatest story's of man-eating animals ever, no not you jaws the Tsavo lions of 1898. The Tsavo lions are said by the natives not to be lions at all, but demons hell-bent on eating human flesh. The world had never seen lions like this before. Our story begins in march of 1898, the British empire was building an epic rail road system, the rail road system had come to a halt in Kenya as a bridge needed to be built.
The work force needed to build this huge railroad system was mainly hard-working Indianan laborers called the coolies that were part of the British empire at that time. Patterson was the architect to build the bridge, he was a very young, very determined and very talented man.
Since the bridge was going to take a couple of months to complete the work force needed to build camps, as they were in for lengthy stay under the hot African sun. If only they knew beforehand what was coming in the darkness I am sure they would put a lot more thought into how they constructed there camps.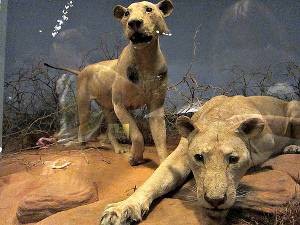 It wasn't long after Patterson arrived that the first reports started coming in about disappearing men. Patterson was told it was lions. Patterson did not believe this, after more people started disappearing Patterson started to investigate and he found out it wasn't one lion but two lions. Two-man eaters working together, which is un heard of.
So Patterson, a respectable hunter started to do night shifts hiding in trees setting up traps to kill these lions. It seemed that the lions were able to avoid Patterson and his traps, as if they knew that he was after them. Every night more people kept disappearing, so the workers started to construct bomas around their camps, which are thorn bushes. They also kept fires burning threw out the night. This usually works very well against lions but these were not normal lions, the boomas didn't stop them nor did the fires.
Every night like clockwork the lions would attack and drag another unlucky soul to his death. The workforce needed to build this railroad was huge so there were dozens of camps set up over a very large area. All these workers had to protect themselves at night were the boomas and the fire, Patterson was the only hunter at that time.
The workers were terrified and wanted to run away, but the British empire needed the railway built and would not let them leave until the work was done. The workers started to call these lions the devil, as if the 2 lions were one evil entity, which sounds about right as these 2 lions did in fact work together in order to kill their prey. One lion would fake attack in one location while the other would go in from a different location, grab his target and drag him just 30 yards or so away from the camp and start to eat them. The workers could hear the lions eating their fellow workers night after night. The lions started to get bolder and bolder, they started taking 2 victims a night so they wouldn't have to share. Patterson was up every night for months with no success.
Eventually the workers no longer cared what the British empire would do to them and they finally left, all though some workers did stay but they spent there nights sleeping in trees or they would bury themselves in pits with huge water logs covering the tops.
Once the bridge came to a halt the British empire finally realized how bad it was and sent some reinforcements. Now there was Patterson and 20 armed policemen. Some nights the police men would come face to face with the lions and there shots would always seem to miss, but the sounds of the guns would scare them away. It really seemed that these 2 lions were in fact supernatural just as the natives would say.
After months of failure the policemen finally left and all that was left again was Patterson and some amazingly brave workers. The determination of Patterson is legendary. It took a very long time but since there was no more camps and such a little work force left and also because of the boldness of the lions having no fear, Patterson was eventually able to snipe these two lions.
Patterson did succeed, what Patterson found out about these lions was amazing.
These 2 lions had no mare, all male lions have mares, but these ones did not. Lions do not work together to kill their prey, these lions did. In the end Patterson estimated 138 people died. These 2 lions were able to stop the British empire and thousands of workers from finishing a pretty simple bridge. There have been a lot of theory's over the last century about these two lions.
But in the end there just theory's, the human race has never came face to face with lions like this before or after this event. What happened in Tsavo Kenya will always make us wonder as well as remind us how fast we can drop in the food chain. If you would like to learn more about this amazing story I would strongly suggest to watch the ghost and the darkness, I am sure you will enjoy it very much. Until next time this is paranormal junkie and make sure to never go camping in Tsavo Kenya.