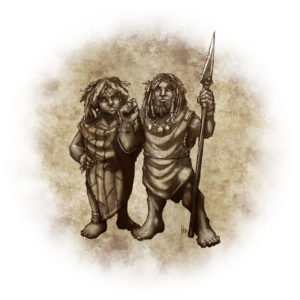 Now when you think of Hawaii the last thing a person thinks about is monsters lurking in the darkness. But there are some very creepy monster sightings within this region. When I was making my previous video about the hobbits of Indonesia I stumbled upon some very similar and very interesting encounters that are being reported in Hawaii. The good people of Hawaii have been seeing a race of dwarf like humans very similar to that of Homo Floresiensis going back for centuries.
Now these creatures are said to be about 2 to 3 feet tall, very muscular and in some cases very hairy. The locals believe that these small human like beings sleep during the day and they hunt at night. Now according to Hawaiian folklore these creature have a magical side and can communicate telepathically. They are also known to be great builders. It is believed that they are responsible for building all types of things from temples to bridges to fish ponds, and some native Hawaiians even believe that they are descendants of these beings.
Now there are a lot of sightings of these small human like creatures and one of the most famous of these sightings happened in the 1940's by a group of school children. According to the reports the children started to observe a group of very small beings jumping and swinging in the tress outside the school. And once these creatures realized that they were being watched they ran to the church yard that was across the street and they disappeared into small holes. Now after this sighting the churchyard was examined and they couldn't find any holes or tunnels on the property. But what is really interesting about this mass sighting is that it wasn't just the 45 school children that witnessed this.
The school's superintendent also saw these creatures. Then in May 2006 a women was driving home and a very large group of these creatures ran right in front of her car. She described them as about 3 feet tall and she also said that they were very hairy. Another very famous sighting happened when a group of friends were relaxing on the beach at about 11 pm when all a sudden some buses that were parked nearby started to shake violently. So these young men ran over there to see what was causing this. Then they came face to face with a group of what they described as a bunch of tiny wild people. The men were so scared by the sight of these tiny creatures that they ran to their car and they took of as fast as they could.
Now there are a lot of sightings of these tiny creatures and in a way they are very similar to the hobbit sightings in Indonesia. Making me wonder could they of traveled from Indonesia to Hawaii, they are believed to be very intelligent. Now in Hawaii there are also sightings of Bigfoot like creatures. In 1973 a 35 year old named Rob Carlson reported to the authorities that he had a very strange and terrifying encounter one day while out fishing for catfish. According to his report he just got done setting up catfish traps and he was just about to head home when all a sudden he heard an otherworldly howl, he had never heard anything like it before and it terrified him. Now this howl was so unique and strange that he thought that maybe his friends were playing a joke on him as everyone knew that he fishes in this area quit often.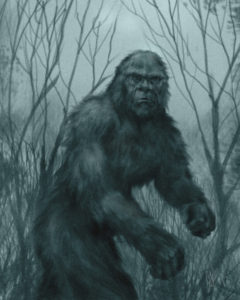 Then Rob started to hear some noises in the brush, he was expecting to see one of his friends pop out and say gotcha but instead he came face to face with a 7 to 8 foot hairy female like creature. Then Rob went right into panic mode and he ran as fast as he could. Now when he stopped to catch his breath he looked back and saw that this creature was following him. Rob described it as a huge hairy women and he felt that this beast was very curious. It's as if it this creature had never seen a human before.
But Rob did not want to make friends he was scared to death and he just kept running until he got home. Now the next day he had no choice, he had to go back to collect his traps and he did notice some huge footprints measuring about 20 inch. Now there are some things that makes this sighting a little different then your typical Bigfoot sighting. As when Rob first saw this creature he thought it was a huge hairy women, not a huge hairy ape and he also noticed that this huge female creature was wearing very light clothing around her waist. Making this a very unique encounter.
Now what's really interesting about this sighting is not that far away from Rob's encounter there is a two lane road that runs through a pineapple plantation and through out the years people driving on this road have reported to the authorities that they had seen a huge 8 foot plus bi pedal human, ape like creature. And the locals are terrified of this thing. One night after an accident a man told the cops that a huge hairy man smashed into his car and almost flipped it over. Now this location is not really that remote making us wonder what the heck is going on here. There is also sightings of huge giant lizards in Hawaii and the locals say that these lizards can grow to about 30 feet long. It is believed that they live in deep caves, pools and deep ponds across the islands. Some Hawaiians believe that these creatures are guardians and they also possess supernatural powers.
Now these Lizards are a huge part of Hawaiian folklore but most locals do believe without a shadow of a doubt that they do exist. One very famous mass sighting happened in 1838 when one of these giant lizards appeared before thousands of amazed and awestruck witnesses. Another more recent sighting happened to a women named Maggie when her and her mother witnessed one of these creatures swimming in a nearby pond. Now these creatures seem to be more mythical than actual but because there has been a lot of sightings of these giant lizards going back for centuries some believe that it could be possible that a rather large unknown species of lizard could in fact exist on the Hawaiian islands.
Now this region is also a hot spot for gigantic octopus sightings. In 1928 a sailor with the US Navy stationed off Pearl Harbor had numerous sightings of an octopus far larger than any known to exist. He claimed that this beast was about 40 to 50 feet long. And in 1935 he returned to these waters with a crew to prove it and eventually he was able to find this elusive beast and in 1936 he took this photo. But some believe that this picture is nothing more than a hoax. Then in 1950 there was another sighting of a giant octopus by a man named Madison. Madison claimed that he witnessed an octopus as big as a car being attacked by sharks. And this huge octopus was easily fighting off these sharks with its huge tentacles that possessed suckers the size of diner plates. Then again that very same year another fisherman diving for turtles claimed to have encountered a giant octopus that was about 75 feet long. Now at the time nobody really believed these reports but there is a species of octopus called the giant pacific octopus and not that long ago we found a monster and it was official measured to be 30 feet long. So we now know that these fishermen were probably telling the truth and there might just be some bigger ones out there lurking around the Hawaiian islands just as big as the colossal squid.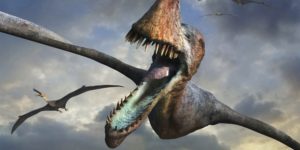 Now we have covered land and sea but what about air? In 1999 two soldiers on the island of Oahu witnessed something very strange in the night sky. They reported observing a very odd flying creature that seemed to be glowing. Now they observed this creature for quit sometime and they said that this flying beast must have had a wingspan of at least 20 feet. It had an elongated head, a very short neck with angular wings and a very long tail. Then in 2008 there was a mass sighting of a huge bird like creature flying over the Kona international airport and the description was identical to that of the two soldiers.
Then again in 2013 a family was driving along a very dark road at night on the big island when all a sudden there headlights revealed a massive flying monster. Now the headlights scared this beast and it took off right in the direction of the car almost hitting it. The family was shocked beyond belief as they had never seen anything like it. They said that this creature must have had a wingspan of about 10 feet, and they all believe to this very day that they saw a pterodactyl. Now I  have covered a lot pterodactyl or pterosaur sightings in one of my previous videos and I am amazed at how many sightings there are each and ever year and it is a worldwide phenomena.
Now I was also pretty shocked at how many monsters allegedly live on the Hawaiian islands. I was just going to make a video hobbits of Hawaii but I kept discovering more a more awesome monsters sightings. So I figured I might as well cover them all and add them to this series. So if you ever decided to go to Hawaii make sure to pack a lot more than just your sun tan lotion as you never know the locals might just be telling the truth.