Murphysboro Mud Monster:
1973, Murphysboro, Illinois a terrifying series of encounters with a huge albino beast started happening, this beast is now known as the Murphysboro Mud Monster or the Big Muddy Monster. This huge albino creature struck fear within this small community for fourteen days. Resulting in one of the most credible cases ever involving an unknown humanoid.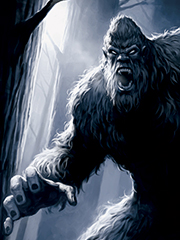 The first to come face to face with this cryptid was Randy Needham and Judy Johnson. Randy and Judy were parked near the muddy river when all a sudden they heard a terrifying roar. They had never heard anything like it before. Randy turned on his head lights hopping to get a glimpse of whatever it was that made that terrifying noise. And right in front of them was a huge ape like creature heading right towards them, they both started to scream.
Randy immediately started his car and floored it. They were so terrified that they called the police once they got to the nearest gas station. Randy and Judy told the police that this thing was huge, it must have been at least 8 ft. tall. The police did take Randy and Judy seriously but they thought that maybe the young couples eyes were playing tricks on them or maybe a hoaxer was having some fun at their expense.
The officers decided to go investigate and right away they stumbled upon some huge tracks, they couldn't believe what they were seeing, then all a sudden out of nowhere the officers heard a terrifying screeching type of sound in the nearby woods. The officers ran as fast as they could back to their patrol car. They were pretty shook up. They decided to go back to the station to regroup and get more men. A couple of hours later the officers returned to the river, but they only managed to get Randy "the original witness" and another officer.
The 4 men decided to follow the tracks in hopes that they could get to the bottom of this. Not to long after following the tracks they started to hear noises coming from the woods. Then they all heard this creature screech, it sent chills down their spines and they all sprinted back to their patrol car in sheer terror. The men decided to just sit in the patrol car with their rifles in hand.
The next day a 5 year old boy was playing in his backyard when he came face to face with this creature. The young boy ran inside and told his after that he had seen a huge white ghost. The father of course just thought his son was playing around, when all a sudden the neighbor started banging on the door, the neighbor told the young boy's father that there was a huge white creature in their backyard. When the father went to go have a look he uncovered some very big tracks that he just couldn't explain.
Now the whole town was alerted, over the next 14 days there were a lot more sightings of this creature. One of the most chilling events happened when a tracking dog picked up the scent and tracked this creature down. The dog followed the scent to a barn, but the dog was so afraid that it just wouldn't go any further. The dogs owner knew that this creature was inside the barn, but he to was too afraid to go in. So he called the police, but by the time the police got there all that was left was huge tracks existing the back of the barn, and the dog was just to afraid to continue the search. Even still to this day they're are sightings of the Murphysboro Mud Monster but nothing like those 14 days of terror back in 1973.
Enfield Horror:
Henry McDaniel and is wife returned home at about 9:30 after a very nice evening out. They were greeted by their two children, the children seemed to be a bit panicked. They told their father that something tried to get into the house and was scratching on the front door. Henry told his kids not to worry and that it was probably just a dog or a cat. About an hour later Henry also started to hear very odd scratching noises at the front door. When henry opened the door he expected to see a small dog.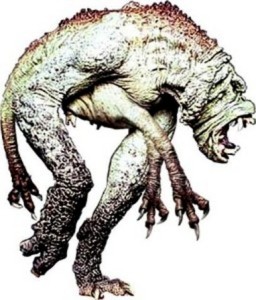 What he saw terrified him beyond belief, Henry was face to face with a creature that had only 3 legs, a very short body, two very short arms and two huge pink eyes. This creature was standing upright and was almost 5 ft. tall. And for some reason this creature really wanted to get inside Henry's house.
Henry was completely mortified by the sight of this horrible creature. Henry slammed the door and rushed to grab his pistol. When henry ran back the creature was still at the front door. Henry opened fire and was positive that he shot it. This unknown animal hissed at Henry and very mysteriously leaped away. Henry couldn't believe how fast this thing could move, it was able to vanish completely from Henry's site with just 3 leaps. Henry didn't waste anytime, he called the police right away. For some reason Henry just felt that this creature was evil.
The police though that maybe Henry was on some very powerful drugs, but the police did find some very odd scratch marks on Henry's door. Whatever was scratching on the door had six toes, dogs only have four. And also a couple of hours before Henry's encounter a young boy was attacked by a very mysterious creature, but the police didn't link these two encounters together until later. A couple of days later Henry encountered this creature again. Henry just looked at it from a far before it leaped back into the woods. Eventually the word got out about Henry's bizarre encounters and everybody was loading up their rifles trying to catch this creature.
There were dozens of other alleged sightings over the next couple of months, but eventually everything died down. Now what gives this creatures existence some credibility is it's very similar to what happened in Mt. Vernon. In 1941 and 1942. People in Mt. Vernon started having some very terrifying encounters with mysterious leaping beast. These leaping beast terrorized the local people. And during that time there were some very mysterious animal deaths and mutilations. The locals called the creature "the Mt. Vernon Monster," And Mt. Vernon is only 40 miles away from Enfield, Illinois.
MO MO The Missouri Monster:
July 11, 1972 two young boys were playing with their dog outside their house. The older sister Doris heard her younger brothers screaming at the top of their lungs. Doris who was inside the house at the time ran to the window to see what was going on. Doris saw a huge hairy creature standing by a tree. Doris said that this creature must have been at least 7 ft. tall. She said that it stood like a man, but it didn't look like one. Doris was terrified and she ran to the phone to call her mother. Doris and her younger brothers all agreed that this couldn't have been a man, this creature had so much hair that you couldn't even see its face.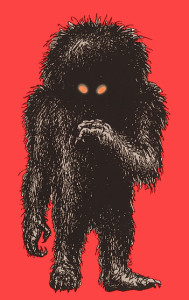 They also said that this creature had no neck and also smelled really, really bad. Now if that wasn't scary enough the children also told their parents that this creature was carrying a dead dog. Edgar, the children's father rushed home after hearing about this encounter. Edgar went to go investigate and he did find some huge footprints in the dust.
That same evening a women who lived down the road started hearing very odd animal noises, she never heard noises like this before so she called the police. Now Since Edgar was a deacon at the local church the story of this monster sighting started to spread. A farmer came forward and told Edgar that he's dog disappeared. Giving the children's story a little bit of credibility as the children did tell their father that this creature was holding a dead dog.
A couple of days later Edgar was having his regular weekly prayer meetings within his home when all a sudden something started to throw rocks at his house. Edgar knew the kids in his neighborhood wouldn't do something like this. As Edgar was looking out his window to see if he could spot the culprit he heard a very terrifying animal like growl, this growl sent chills down his spine, he never heard anything like it before. Eventually the growling noises started to get louder and louder and everybody started to panic as they to were hearing these spine chilling growls.
Eventually they couldn't take it anymore and they all ran to their cars, as the sounds were coming from the other side of the house. Over the next couple of days there were tons of reports of bizarre smells and strange animal noises. Another sighting happened on July 21. A man named Ellis started hearing very odd noises. Ellis went outside to go investigate and he had a very powerful hunting flashlight with him. Ellis saw this huge hairy creature just 20 ft. or so in front of him, Ellis was frozen in fear.
The creature alarmed by the flashlight ran back into the darkness. Ellis told the police that this beast had hair covering its whole face and must have been at least 7 ft. tall. Ellis description was exactly the same as Edgars children. Ellis was a very trustworthy and respectable person. After his sighting mass hysteria started to kick in and people started coming to this small Mississippi town from all over the state in hopes that they to could get a glimpse of this monster.
Over the next couple of weeks there were a lot of huge tracks found, and these huge tracks seemed to come from a creature that only possessed 3 toes, and this only encouraged the hysteria. But eventually everything died down as they were no more sightings of this monster. But the residents of this small Mississippi river town will always remember the Missouri Monster and the mass hysteria that followed in 1972.
The Dover Demon:
April 21, 1977 a man named Billy Barlett and two of his friends were taking a nice little night time drive. All a sudden a creature caught Billy's eye, at first he thought that it was a cat or maybe a small dog. But after looking at this creature long enough he realized this was something he had never seen before. Billy said that whatever this thing was had a baby's body, long arms and legs, a huge melon shaped head and was purple. Billy was fascinated with what he saw and he couldn't stop thinking about it, it was just so bizarre that he wanted to let the authority's know.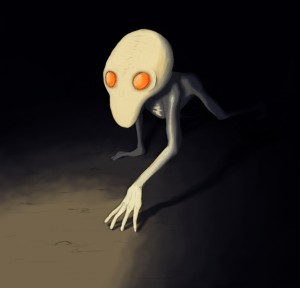 Now just two hours later and about a mile away a 15 year old named John Baxter was walking home when he saw a child like figure moving towards him. The creature saw John and was afraid and ran away. John thought that this was a deformed child and he wanted to help it, so he ran after it. After a little bit of chasing Baxter finally saw this creature in clear view.
John stated "I was really close and I could see the eyes, it was looking right at me. I just stood there staring at it, this was unreal, nothing like this ever happens to me. I didn't know what to think. I thought to myself that maybe this wasn't safe, the way it was staring at me made me very nervous, so I backed up and ran away.
Then my heart started beating really, really fast!" Just like Billy John was fascinated with what he just witness and he called the police. John's description was exactly the same as Billy Barlett's, right down to the very last detail.
The third and final encounter of the Dover demon happened to 15 year old Abby Brabham and 18 year old Will  Taintor. These 2 teenagers stumbled upon the creature the very next evening. They said that the creature was sitting on all fours by the side of the road near the edge of the bridge. They couldn't believe what they were looking at, they were so shocked that they to called the cops.
Abby and Will told the police that this creature looked like a big headed hairless primate. All the witness of the Dover demon were asked to sketch what they saw privately. The results were astounding, there is no doubt that these witnesses encountered the exact same creature. Now due to the fact that all the witnesses were young a lot of people suggest a hoax, but this theory was quickly ruled out as the witnesses did not even know each other. The amazing thing about this encounter is the witnesses are 100 percent convinced that what they saw was not from this earth, or at least not a known creature to science.
Now there are tons of amazing and very credible monster sightings each and every year in just America alone, If I wanted to cover all the best monster sightings in the world it would probably take me a year just to cover them all. So I am going to break this into a series and over time I will cover them all.
One thing I would like to say is I don't think these people are making these stories up. I think from time to time people do come face to face with something that is just unknown, unknown to us and unknown to science. And it does seem, for the most part that these creatures are just as scared of us as we are of it.