In 1835 three men set off into the wilderness looking for a lost and very successful gold miner. Now the men were never able to find him or his cabin but they did stumble upon a very remote and very beautiful lake that they called the deep blue lake or the majestic lake. Now ever since this lake was discovered by white settlers there have been a plethora of very strange occurrences, especially very odd disappearances such as the missing gold miner that led to the discovery of this lake. The natives have many stories and legends about this land going back for centuries and they believe that this is an evil place and they try to avoid it despite all its beauty.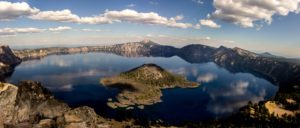 In 1911 a photographer went to go take some winter photo's of Crater lake. The photography was very well prepared and very well equipped for the winter weather but a huge blizzard came in and when the photographer failed to return a search party was dispatched. The search party stumbled upon a very well built snow cave but there was no trace of the man.
Then they found his sled and his snow shovel quiet a ways from his shelter. Now the search party was wondering why would this man leave his shelter in the middle of a blizzard, he must have known that it was certain death. So the search party was expecting to find his frozen corpse close by but still to this very day not one trace of this man has ever been found and this case still remains unsolved to this very day.
Then in 1975 a man named Charles went to go take some pictures of Crater lake in the middle of winter and he to disappeared. Well at least until October 1976 when some hikers found a bag pack in the middle of nowhere. The hikers turned the backpack into the rangers office and the rangers found a set of car keys in one of the side pockets. After doing a little detective work the rangers found out that this backpack and the car keys did belong to Charles. So they rangers set off on horse back to see if they could find any more evidence leading to this young man. But what they found next did not make any sense. After a long search they found a pair of jeans that were on a log.
And within the socks that poked out from the jean legs they found broken toe and shin bones. Now the jeans were in near perfect condition which didn't make any sense considering that they had been siting there for almost a year. They also realized that his belt was undone and his jean button was open. Now it seems that Charles was running from something and for whatever reason he decided to strip in near freezing cold weather. Now the rangers searched everywhere and they couldn't find any more of Charles remains or belongings. One ranger said it's as if this young man had simply melted away. Now after a long investigation the authorities really had no idea what could have caused Charles death. But of course there are a lot of out of this world theory's.
Now these 2 cases kind of reminds me about the Dyatlov Pass incident were the hikers ran out of their shelter in freezing cold weather, striped naked then died in some very mysterious ways. But those deaths were a little bit different as there body's were eventually found and they were intact. But for some reason they felt the need to take of their clothes even tho they knew that they were going to freeze to death. And it seems that Charles did the exact same thing and we can only imagine why, what was happening to him, what was he running from. Now Another very bizarre disappearance happened in crater lake in 1971. A man named Nick Carlino went out snowshoeing along with his pet German shepherd. When the dog later returned without his master a search was launched and it didn't take them to long to find his tracks in the snow. But the tracks just stopped and still to this day not one trace of Nick has ever been found. Then again in 2009 another man rented some snowshoes and he too was never seen again. The investigators followed his track to the edge of the caldera so they assumed that he jumped but when they searched the area below there was no sign of his remains, his belongings or his snow shoes, the man just vanished. Now there are so many strange disappearances within this area just like these making a lot of people believe that something supernatural might just be going on here.
And this next case might shed some light on this phenomena. A man went out to crater lake for a nice hike with his wife. They were both very happy having a wonderful time when all a sudden the man just stopped and became motionless. His wife knew something was wrong but he just stood there with a blank stare on his face. Then the man started to walk to the edge of a very high cliff and he just jumped off it. The man broke his leg but he survived. But then he got up and dragged himself to the edge of the lake and drowned himself. His wife was in total shock, she couldn't believe what she had just witnessed. She told the Rangers that they were both perfectly happy and that they were having a great time. Then something just happened to her husband. Now there have been many other suicides very similar to this were people just shoot themselves or they find a very high cliff and they jump to their death's. And in most of these cases the victims seem to be very happy people and they didn't fit the profile of someone trying to kill themselves. And also when most people commit suicide they usually leave behind a note or a letter for there love ones explaining why they felt the need to end there lives. But that doesn't happen here in Crater Lake.
Now this location is also known for many strange airplane disappearances. In 1944 two Torpedo airplanes were flying in perfect formation when one of the pilots turned to look at the other plane but to his surprise it wasn't there. There was no Mayday or signs of any distress the pilot and the plane just vanished. Then again in 1945 seven Hellcat fighter planes were on their way to Washington from Redding California when they entered a patch of clouds near Crater Lake. When the planes emerged from the clouds one of the planes was gone, it just wasn't there. Now over they years there were so many missing pilots and planes that the army official stated that at least 2 planes a week would crash or vanish around Crater Lake. Making me wonder why the heck would they keep flying over this region. Now these disappearances still happen to this very day but most pilots have learned to stay clear of this area. Now there are also ton's of UFO sightings, Bigfoot sightings and shadow people sightings within this region making this place just a huge paranormal hot spot. The natives have always believed that Crater Lake possess a doorway to the spirit world. Now whatever the case maybe this is another location that I will try to avoid and that's a shame as Crater Lake is an extremely beautiful place.
Until next time this is paranormal junkie. Make sure to hit that subscribe button and stay tuned!
Source: http://mysteriousuniverse.org/2015/12/myth-mysteries-and-monsters-at-oregons-cursed-crater-lake