One of the most famous sightings of an unknown flying creature happened in point pleasant in 1966. This creature is known as the mothman. Now because this is one of the most well documented and famous cryptid sightings in American history I don't really feel the need to cover it as I am sure you have heard about it before. But because so many people came face to face with this unknown creature it made me as well as millions of others believe that there are things out there that just shouldn't exist.
The Van Meter Visitor: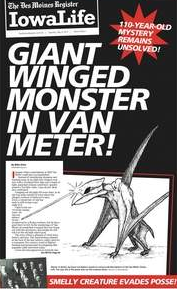 In 1903 in a small Iowa town a business man was walking home at about 1 am when he noticed a strange light moving on the rooftops, at first he thought it was a burglar but as he got closer he saw this light jump to another rooftop and then it just disappeared. He knew that this couldn't of been a man, but he had no idea what it was. Then on the next day around the same time the town's doctor was sleeping and he was awoken by an extremely bright light shinning in his face through the window.
The doctor sprung out of bed grabbed his gun and went outside to see what or who was doing this. Then the doctor came face to face with a very tall humanoid that had bat like wings, he also noticed that this creature had a horn and this horn was emitting a very bright light. The doctor scared out of his mind fired five shots and the bullets had no effect what so ever so the doctor ran away as fast as he could.
The doctor told everybody what happened the next day and the business man who first encountered this beast came forward as well. The local banker was worried and he thought maybe someone was playing games so he spent the night at the bank to protect his business. Then again at 1 am the banker started to hear some very strange noises outside the bank, but before he could go outside and investigate he was hit with a piercing blinding light through the front window, then this blinding light turned off then back on a couple of seconds later. The banker felt that whatever this was, was scanning the bank. Then the banker grabbed his shotgun and he fired it right through the front window, he knew that this was not a human being. The next day the banker told the towns folk what happened and they did find some very strange tracks in front of the bank. The towns people found tons of 3 toed tracks and they made plaster casts of them.
Now everybody in town was scared and very well aware what was going on. And that night the owner of the hardware store Mr. White had an encounter of his own. Now just like the banker Mr. White was awoken by a very strange noise, so he grabbed his gun and ran to the window. Mr. White couldn't believe what he was seeing, he saw a huge creature perched on the telephone pole. Now Mr. White was a good shot and he fired his rifle but the shot had no effect whatsoever, but the gunfire did awaken the beast and it emitted a terrible odor and the odor was so bad that Mr. White passed out right on the spot. Now the gunfire also woke up Mr. White's neighbor and he ran outside to see what was going on. Then he to saw this huge beast perched on the telephone pole. And he watched in disbelief as it slowly descended to the ground and when it stood up straight it must have been at least 8 feet tall. Then the creature's horn started to light up and this amazing bright light was scanning the area, just as the banker described the day before. Then it took off at amazing speeds towards the old coal mine.
Now the following night there were terrifying sounds coming from the old coal mine and the locals described them as "Satan's army getting ready for battle". The towns folk now armed to the teeth went to the mine in hope of slaying the creature. Now on the way to the mine the townsfolk saw 2 of these flying humanoids leaving. So they decided to wait hopping that they would return. And shortly before dawn they did and the townsfolk were ready and they started to shoot like crazy. The gunfire had no effect whatsoever and the ambush failed and the creatures went back into the deeps of the mine. So the towns people decided to just seal the mine and it worked as the creatures were never seen again. Making this on one of the most amazing encounters of an unknown creature that I have ever heard of.
The Bat Beast Of Kent: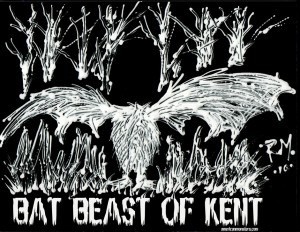 In 1963 in Kent County England 4 teenagers were returning home from a party when they saw a silent glowing orb descending from the sky. They witnessed this strange glowing object hover over a field and they watched it slowly disappear into the nearby woods. The teenagers couldn't believe what they just saw and they tried to follow it. As they were walking through the woods they started to hear something in the trees, then they came face to face with a very strange creature.
They saw a humanoid wobble towards them, it looked like a huge bat but it had no head. The teens started to scream their heads off and they ran straight to the police station. And of course the officers didn't believe one word of their story. But that night there were so many reports of UFO's in the sky's that even journalist went into the woods to see what they could find, and they to had a strange encounter of their own. They said that they were surrounded by a very eerie and unexplainable glow and some of the investigators even stumbled upon some very strange tracks. Now because of all the UFO sightings that happened that night a lot of people truly believe that these teenagers came face to face with an alien being.
Now I mainly wanted to focus on the van meter sighting within this video, but since it was a little short I figured it was a good time to cover the Bat Beast of Kent as well, but the van meter sighting is just such an amazing encounter and it does seem to be very well documented and In a way I think it's very similar to the mothman sightings in point pleasant. Even the mothman's home was believed to be an abandon TNT mine, making me wonder if these beings are coming from the depths of our earth, or some believe maybe from space. But one thing is for sure I don't think all these people are lying they must have come face to face with something terrifying.
Until next time this is paranormal junkie, make sure to hit that subscribe button and stay tuned!