I would like to thank Scott for letting me know about this very mysterious location now known as the Bennington triangle. And I would also like to thank all my awesome subscribers for constantly giving me great ideas and awesome paranormal stories to look into it. I truly have the best subscribers in the world and that is why I constantly say that you guys rock because you do! Now I have covered some of these disappearances before but not in this depth and I have never connected any of them with the Bennington triangle making these vanishing even more creepy. In some locations throughout the world there are places where people mysteriously vanish. Sometimes this phenomena only seems to happen for a short period of time before moving onto another location such as described in missing 411. But some of these locations are constant and the Bennington triangle or the triangle of doom is one of these locations. The native Americans say that their ancestors stopped going into this region as their tribesmen would keep disappearing. And the early settlers also disappeared here and in disturbingly high numbers. And in most of these cases there was never no trace of them ever found, it's as if they just vanished right from the face of the earth. But what really put the Bennington triangle on the map for very unusual disappearances happened in the 1940's and 50's.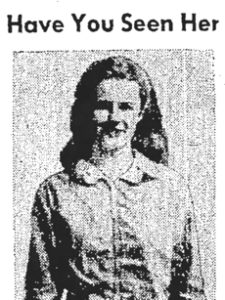 In November of 1945 a 74 year old Mr. Rivers was out hunting with a group of friends near Glastonbury Mountain. And as the group was walking Mr. Rivers slowly started to walk ahead of the group and shortly after he just vanished. Now the odd thing about this case is Mr. Rivers was a very experienced hunter and he had been hunting within this region his whole life, so there is no way he would have got lost and he really wasn't that far ahead of his friends. And if this was caused by an animal attack the group would have heard gunshots or found some evidence as everybody was looking for him. It's as if Mr Rivers just walked right into another dimension and still to this very day not one clue or any evidence has ever been found. Then about a year later an 18 year old girl named Paula Welden told her roommate that she was going on a walk on a trail called the long trail. The long trail was a very popular spot for hikers and just regular people who wanted to get some fresh air. Paula did ask her roommate if she wanted to go, but she said no as she was just too busy at the time. At about 4:00 PM Paula was seen by many other hikers and one of those was a man named Ernest Whitman. Ernest told the authorities that Paula had walked up to him and asked him how far the trail went. Then a couple of minutes later an elderly couple seen Paula walking just ahead of them only about 100 yards or so up the trail. Then they said that when Paula turned the corner she just disappeared and the reason they said that is when they turned the corner they should have seen her just up ahead, there was really no other place to go. And when Paula failed to return a massive search was launched and even the FBI got involved and nobody could find anything there was just no trace of her.
Another very famous account happened only a couple of years later to a man named Mr. Tetford. Tetford was on his was back from a trip to Vermont and he was taking the bus with 14 other passengers. But he would never reach his destination. The passengers told the authorities that they had seen him sleeping very nice and peacefully in his seat then he just wasn't there anymore. Now the passengers said that they saw him sleeping just before the last stop making this one of the most bizarre cases involving a missing person as how could Mr. Tetford leave the bus if the bus never stopped. And the authorities did find all his luggage and all his belongings still on the bus. And he has never been seen or heard from ever since. Then a year later in 1950 an 8 year old Paul Jepson was playing on a farm where he lived with his mother. And when Paul's mother left the boy alone for just a couple of minutes he was gone. And a couple of hours later blood hounds were on the case and the hounds easily picked up the boys sent but they stopped near the highway. Making many believe that foul play was involved. But the father told the authorities that his son had just recently become very obsessed with Glastonbury Mountain. And he believed that his son felt so compelled to go there, it's as if an unknown force was telling him to go to the mountain. So Paul's father believed that he did, despite his young age, and still to this very day not one trace of Paul has ever been found.
Then 16 days later a 53 year old women named Frieda Langer was camping with her friends. And Frieda and her cousin Herbert decided to go on a nice little hike but right after they left Frieda fell into a stream and got soaking wet. So she told Herbert to wait there so she could go back to the campsite to change her clothes. And Herbert agreed, as they were still only a minute or less from their campsite. But after Frieda left she was never seen again. Now there were in total 5 massive search party's dispatched over the next couple of months and these search parties included dogs and helicopters. And Herbert did feel very guilty so he also searched non stop for his cousin as he wanted answers cause none of this made any sense. How could Frieda just disappear like that, she knew the area very well, she was a very experienced hiker and the campsite was right there. If she was attacked by animals they would have heard her scream. So Frieda's disappearances just didn't make any sense. But in May about a year later they did find her body, but this only made things more bizarre as she was found in a clearing not that far away from the campsite. And this location was one of the first places searched and Herbert himself including many others must have searched that area almost every single day. And if she was there the whole time the dogs should have been able to pick up her sent. Now sadly her body was so decomposed that they couldn't determine how she died or what really happened to her. Only deepening the mystery of the Bennington triangle. And out of all these disappearances that happened in the 1940's and 50's Frieda's body was the only one that was ever found. And people still go missing within this region to this very day. Now it does make us wonder if something unknown or supernatural is to blame as it does seem that these victims just vanish right into thin air. And the Bennington triangle is also notorious for UFO sightings, strange sounds, strange lights and even shadow people making many believe that there is some unknown sinister force at work here.
Until next time this is paranormal junkie. Make sure to hit that subscribe button and stay tuned!