Some of the more stranger stories that I have ever heard of seems to come during war-time. On November 23rd 1944 a British Royal Air Force antiaircraft unit that was stationed near Belgium was very surprised when they saw a rather large plane descending down towards them from the sky. And this huge plane also known as a flying fortress was coming down extremely fast with its landing gear down. So the men below assumed that the crew within this plane must be in some serious trouble as it appeared that they were making an emergency landing. But their were no reports of a in bound ally plane so the soldiers at this base were scrambling, grabbing their weapons as they didn't know what to expect as they didn't know who the heck was flying this thing. Now the landing was quite sloppy as this huge aircraft was just swerving and bouncing around all over the place. But it was still in one piece. And the men at this base just stood there with their weapons in hands waiting for someone to get out, but no one ever did. So after about 20 minutes or so they finally decided to investigate and they figured that they were going to see some dead men or at least some really bad injured ones. But not one single soul was on board and these men were speechless as this made no sense at all. But there were signs that whoever was in this b-12 aircraft must have left in a hurry as there were half eaten chocolate bars, etc.. But all the parachutes and jackets were still there. So how did these people get out of this b-17 while it was still in mid-air.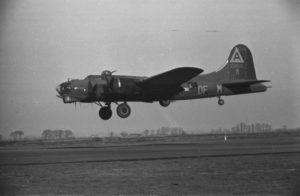 One of the men stated "We now made a thorough search and our most remarkable find in the fuselage was about a dozen parachutes neatly wrapped and ready for clipping on. This made the whereabouts of the crew even more mysterious. The Sperry bomb-sight remained quite undamaged, with its cover neatly folded beside it. Back on the navigator's desk was the code book giving the colors and letters of the day for identification purposes. Various fur-lined flying jackets lay in the fuselage together with a few bars of chocolate, partly consumed in some cases." Then they found the log book and the last words written down were "bad flak" and not to long after this plane landed all by itself an official investigation was launched as everybody wanted to know where the heck was this crew. And this is where things get even more stranger. Once they looked into the aircraft's serial number they uncovered that this plane was part of the 91st bombardment group and its last mission was to bomb oil refineries in Germany. And every single member of this crew was alive and accounted for. And this crew stated that while they were on the bombing run their bomb rack started to malfunction so they had no choice and had to fly away from the rest of the group. Then they were hit by enemy fire and one of their engines got hit and stopped working and their bomb bay also got struck as well which caused and extremely bright flash as if one of their bombs went off. But none of them did.
Now there was just no way that this plane was going to make it back to England so they changed their course towards Brussels, Belgium, but the plane still continued to suffer. Then a second engine went out so the crew decided to put the B-17 on autopilot and jump out the plane. And no one denied their story as it all checked out on their end, well for the most part. But after they jumped out of the B-17 something unknown, something paranormal did happen as how did this plane land all by itself exactly at the base they wanted to land at. But when the 2nd engine went out they figured that they weren't going to make it back to this ally base in Belgium so they all jumped out and never called in the landing. And when this plane did land with no crew and no pilot the eye witnesses there stated that all four engines were working perfectly fine and they also didn't see any enemy damage on the outside or anywhere else on this plane. And remember all their parachutes and jackets were still on the B-17. So everybody that new about this was kind of freaked out as none of this made any sense. And over the years there have been many theories but none of them add up, none of them can really explain this mysterious case. Even if you forget about the magically reappearing parachutes, jackets and the planes ability to somehow heal itself there is just no way that a plane especially one that size would be able to land like it did all by itself. And not to mention at a very remote ally base hundreds of miles away on auto pilot. That's just impossible. Making the phantom B-17 mystery one of the greatest true paranormal stories that I have ever heard about.
Until next time this is paranormal junkie. Make sure to hit that subscribe button and stay tuned!