January 25, 1967, Betty Andreasson was working in her kitchen while her mother, father and seven children were in the living room. All a sudden the lights started to flicker on and off, then a reddish light began to shine through the kitchen window. Betty ran to check on the kids to make sure they were ok while the father ran to the kitchen to see what the heck this odd reddish light was. Bettys father couldn't believe what he was looking at.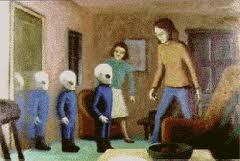 He saw 5 very odd looking creatures. These creatures were doing a hopping like motion towards Betty's house. Very similar to how we would move in zero gravity. The father was scared to death. Once these creatures reached the house they were able to walk right through the wooden door as if it wasn't even there.
While in the house these beings began to float and the father noticed that these beings had a logo of a bird on their sleeves. which struck me as very odd. These alien creatures put the entire family in a state of suspended animation and began to communicate with Betty telepathically . Betty was not able to move or talk but she was very scared for her family as she was watching them. The aliens sensed her concern and showed her that her family was ok by moving them in and out of their suspended animated state.
Betty started to feel very calm and sensed that these alien beings were friendly. Betty was then taking to their craft. The craft was small and looked exactly like your typical saucer shaped UFO. Betty says that this smaller craft flew to the bigger mother craft. Once betty was inside the mother craft they took her to what she can only describe as some sort of operating room.
These alien creatures did all sorts of test on Betty and she was returned home safely later that evening. As Betty was being escorted back into her house she noticed that her family was still in suspended animation. The next morning Betty and her family didn't remember a thing, but slowly over time they started to remember. Betty says that these alien creatures put some sort of memoire block on her and her family and slowly over time they were able to remember everything.
8 years after this encounter Betty answered an ad from A Dr. j Allen Hynek who was trying to find and help alien abductees. Betty's abduction case is so bizarre and rare that they discarded her letter, they thought that she was trying to make fun of what they were doing as her story was just that bizarre.
But Betty wasn't joking, she wanted answers and she kept pursuing. Eventually DR. Hynek realized that this women was serious and he decided to investigate. The first thing the UFO research team did was give her a lie detector test. To their surprise Betty passed with flying colors. There was no more doubt, they knew betty was 100 percent convinced that what happened to her was real, at least in her mind.
During betty's 12 month investigation she took 2 lie detector test and 14 sessions of regressive hypnosis therapy. Due to how rare this abduction case is it's still being investigated to this very day. And remember it's not just betty it's also the entire family, they all believe without a shadow of a doubt that they came face to face with alien beings on that crazy night.
Now all abduction cases are bizarre, but most of the time they are very similar. But the Betty Andreasson case is one of the most strangest ever reported. The way the aliens were doing a hopping motion and floating inside the house. The way they could walk through objects as if they were not even there. And of course the logo of a bird on their sleeves. Making The Betty Andreasson abduction the most bizarre alien encounter story I have ever heard.