In 1916 during World War 1 the Germans just finished making another U-boat. And this U-boat, the UB-65 was already believed to be cursed before it was even in the water. As while they were building it there were just so many bizarre deaths and accidents. Such as one day a huge steel girder was being lifted by chains when it just crashed to the ground killing two people. And they assumed that these chains must have broken, but after inspection they realized that the chains were perfectly fine and in the end there was just no explanation for why this steel girder fell. Then not to long after this three engineers were doing there rounds inspecting the U-boat when all a sudden they were surrounded by diesel fumes and they all died. And yet again there was just no explanation for how this leak happened. Then during a test run a storm appeared out of nowhere and a huge wave hit the U-boat while it was surfaced. And this huge wave swept one of the crew members overboard. Then a couple of days later they did a test dive and two more crew members were killed by another gas leak. And these type of accidents kept happening and more and more people kept dying. So this U-boat, the UB-65 was believed to be a cursed and nobody wanted to board it.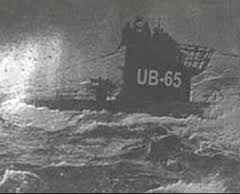 But it was still considered operational so it was sent off to war. And when they loaded the torpedoes one of them exploded killing an officer, so they had to turn around and go back to port as repairs were needed. Now the Germans were desperate for more U- boats at this time during the war so they repaired this cursed submarine as fast as they could. And the German command gave this terrified crew another mission. And during this mission the crew started to report something else, something that made them even more scared to be on this U-boat. While the UB-65 was patrolling the British channel looking for something to sink one of the lookouts was up in the tower when he saw someone standing on the deck directly below him. And this was very unusual as no one was supposed to be in that area. And when this mysterious figure looked up at this man he saw that it was the officer who had just been killed by that torpedo accident. And this ghostly apparition was trying to communicate with him, but due to the fact that he was so scared by what he was looking at he couldn't understand what this apparition was trying to tell him. And he left his post and ran throughout the entire submarine telling everybody about what he had just seen. And because this man was so shocked most of his fellow crew members did believe him.
Now the captain was determined to get to the bottom of this so he went to investigate. And while he was walking to the tower he saw a man siting in the corner just scared out of his mind. And this man told the captain that he too had seen this ghost. He said that while he was doing his rounds he saw an apparition. And this apparition was floating right towards him, then it just vanished right into thin air. And he also confirmed that it was the officer who had just recently died. And over the next couple of days there were a lot more sighting of this spirit. It was constantly seen in the engine room where it looked like it was examining the instruments, and it would also be seen just floating throughout the submarine and even going through walls. Then when they were back at port taking a much needed break another man died. But this time in an air raid and his ghost was also seen on this submarine once they were back on patrol. Now the crew of the UB-65 were very unhappy to say the least as they did not want to be on this cursed and now haunted submarine. And the captain was ordered to punished anyone who would talk about these supernatural events that were going on. And he also didn't believe any of it, he thought that maybe his men were  hallucinating or they were just making it all up.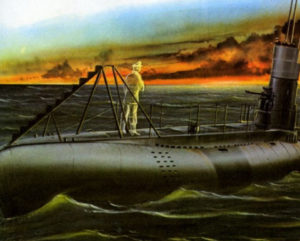 Then during a storm the UB-65 was ordered to surface as they needed to see how rough the seas were. So one of these sailors or crew members opened up the hatch so he could observe this storm. Then he saw someone standing outside and he knew that this was not one of their men as none one would have been out there at that time. Especially during a storm. And as he watching and wondered who this could possible be he realized that this was not a living person. This had to have been on of the spirits that everybody was talking about. So he closed the hatch and ran back to tell everybody that there was a ghost standing on the deck. And the captain was very pissed off that he said that because things we already bad enough, but he was also extremely curious so he went to go have a look. Then he too saw this ghostly figure standing on the deck. And it seemed like this ghost, this spirit was enjoying the storm. And the captain just couldn't explain what he was looking at. Now everybody was in a state of panic and once they arrived back to base many of these men refused to serve on this submarine anymore. So most of them were reassigned. Then the German government ordered a pastor to perform an exorcism in hopes that this would help calm the crew. And this exorcism did seem to work, well at least for a little while. Then these apparitions, these ghost returned. And they were now being seen a lot more frequently than ever before. And these men were just terrified. And over the next couple of months the crew was constantly changing. And this U-boat was now becoming extremely famous among the Germans as these stories about these apparitions and these mysterious deaths were spreading like wild fire.
Now this next event adds some credibility to these reports, as even the Americans reported something unexplainable. On July 10th, 1918 off the Irish coast and American submarine encountered the UB-65. And the captain on the American sub believed that it was damaged cause it was just sitting on top of the water. And he couldn't believe how lucky he was cause it was a sitting duck. So the Captain ordered the attack but before they could even load the torpedoes the German UB-65 exploded, and no one knows why and everybody on board died. And since this new German crew did not survive we can only imagine what was going on within this haunted, cursed submarine at that time. And even stranger an American officer did report seeing a ghostly figure standing on the deck right before it sank. And in 2004 archeologist found this submarine at the bottom of the ocean and they could not determine what happened to it, cause it didn't appear to be sunk by any kind of explosion. But the American captain and a few of the officers clearly stated that they saw an explosion, only deepening the mystery of the UB-65. Making this a very credible and very interesting case of ghost, life beyond death and curses.
Until next time this is paranormal junkie. Make sure to hit that subscribe button and stay tuned!
Source: http://mysteriousuniverse.org/2015/07/the-haunted-submarine-of-world-war-i