After my NASA gargoyle video I told you guys that I was going to do some research and see If I could find out why there are so many gargoyles on top of buildings in Europe, mainly in France. I was assuming that the reason for these statues was because of some sort of monster sighting that happened back in the middle ages or something. But after I released that video I got a lot of comments saying that these statues are nothing more than water spouts or that they are symbols placed on the outside of churches to ward off evil. But after doing a lot of research on this subject I uncovered something very interesting.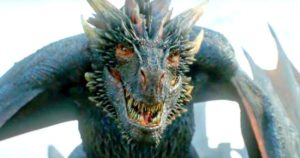 There is a legend that in the 7th century in what is now northern France the people within this region were constantly being attacked by a dragon. Then one day a priest showed up and told the townsfolk that he would kill this beast for them but only if they converted to Christianity. And of course these terrified people agreed. So the priest made a large wooden cross and went off into the wilderness to go find this dragon. And when he did he held up the cross. And by doing this he was able to tame or hypnotize this beast. Then he and this massive dragon walked all the way back to town. And in front of all these people this priest started to burn it and the dragon wasn't even fighting for his life and it died. But the head would not catch on fire so they cut it off. Now because pretty much everybody in Europe at this time couldn't read or write they decided to place this dragons head on the outside of their newly built church so people could see for themselves that the horrors of hell really existed. And that Christian priest were able to kill them. And this is the true origin of gargoyles. And these ancient legends really helped Christianity spread throughout Europe.
There was also another sighting of a gargoyle like creature in 2010. In an interview with cryptozoology news a British man named Alex talked a about a terrifying encounter that he had while he was living in southern Spain. Alex stated that one night at about 1 AM he heard a terrifying noise, something that sounded like a women screaming in pain. So Alex ran to his window and when he looked outside he saw a large winged creature flying right outside. And before it took off back into the night sky Alex was able to get a very good look at it. He stated that it looked like a dog with wings except it didn't have front legs and that it moved like a robot. And Alex just couldn't believe what he was looking at, he needed to tell somebody about this so he contacted cryptozoology news hopping to get some answers and to see if anyone else throughout the world had ever seen anything like this. Now to me this sighting does sound very similar to that of a gargoyle and just maybe what the people saw in France in the 7th century was not necessarily a huge massive dragon, but something a lot smaller. All though the legend does say that it was able to swallow ships whole.
One of the greatest cases that I have ever researched is known as the van meteor visitor. Not only was the creature able to fly but it could also shoot beams of light from its horn. And if you haven't seen that video I would strongly suggest to check it out. I will put the link in the description below or you can just click on it via the end cards after this video. Now throughout the centuries there have been so many sightings of flying monsters and the descriptions of these beast are not always the same there are just so many different variations. The New Jersey devil is kind of like a flying horse. The mothman looks like a huge moth. And gargoyles sometimes resemble a flying dog or a human demon like creature. And in most of these cases they do seem to have paranormal abilities making me wonder where do they come from. Another dimension, the hollow earth or are they some sort of alien creation.
Now if we look into the past the ancient Egyptians have many drawings of hybrid creatures such as the sun-god Ra. Ra has the body of a human but the head of a bird. And all throughout ancient egypt there are many drawings of creatures like this. And many do believe that aliens either built or had something to do with the pyramids. And some even say that the Pharaohs where extraterrestrials or half breeds. Even in world war 2 the Russians tried to create half human half ape soldiers. So if aliens do exist and they are visiting earth I'm sure that they would have the technology to create these creatures. Now I am not saying I believe that aliens are behind these monster sightings but I do constantly wonder if these eye-witness are telling the truth where do all these amazing but terrifying creatures come from.
Until next time this is paranormal junkie. Make sure to hit that subscribe button and stay tuned!