On the island of Barbados there is a very interesting and pretty creepy mystery involving a very famous tomb known as the Chase vault. This tomb or vault was first owned and built by a man named James Elliot. And Mr. Elliot spent a lot of time and money on his family's finally resting place. This majestic vault is made out of carved stone, coral, and the concrete walls are two feet thick. And at the entrance there is a huge blue slab of marble making it very hard for anyone to break in. The first one to be laid to rest within this vault was Elizabeth, James Elliot's wife who died in 1792. But a couple of years later James had to sell it and the vault was purchased by another family. And when they went to remove Elizabeth's body her and her coffin were just not there. And this really puzzled James and the new owners as it didn't look like any one broke in. So everybody was wondering where the heck did she go. And this also really freaked everybody out so the new owners ended up selling it to the chase family.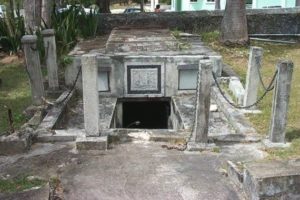 And in 1808 there 2 year old daughter, Marie Anne Chase died and she was the first member of the case family to be buried within the Chase vault. Then in 1812, just 4 years later Marry Anne's older sister died under what some would say very strange circumstances and she too was added to the family's vault. Now it was rumored that this young girl starved herself to death because her father Thomas chase was very cruel to her. And it was known throughout this community that Thomas was at times a very mean man and it was believed that he was very abusive to his family and also his slaves. Then about a month later after his 2nd daughters death Thomas ended up killed himself. And when they opened up the vault to add his body they saw that the 2 coffins of Thomas's daughters had been moved. It's as if someone had broken into the Chase vault and in a fit of rage tossed their coffins around. But when they inspected the vault from top to bottom there was no signs of any break in. Then about 4 years later the Chase vault opened up again to add the body of 11 year old Charles Brewster and yet again they saw that all the coffins within this tomb had been moved just like before. And Thomas's lead coffin weighed almost 250 pounds. Making them start to believe that something supernatural, something paranormal might be to blame as whatever was doing this to these coffin it had to have been done from the inside as there was no signs of any break in.
Now the Chase Vault started to get a very spooky reputation within this community and people were afraid to go near it as they believed that this was caused by an angry spirit or angry spirits. Then just 52 days later another body Samuel Brewster was scheduled to be buried here. And a lot of people within this community came to see if the coffins had moved again. And before they even opened the vault they inspected it from top to bottom just to double check that no one had broken in. And yet again and to their surprise the coffins within were very violently moved. They were just all over the place. Even a skeleton from one of these coffins was exposed. So everybody was just freaking out, they were speechless and the governor himself was very upset. So he hired the best men that he could in hopes that they could finally get to bottom of this. And these men worked around the clock trying to solve this very disturbing mystery. And one of the things that they did, after another full inspection was to put white sand on the floor to see if they could catch any footprints from either a man or an animal. Although if any animals were somehow able to get inside this vault it most likely would have been way to small to even budge any of these coffins. And before they sealed the vault they added the governors seal in hopes that this would finally stop whoever it was that was doing this, all though nobody really suspected that a human being was to blame. Now the Chase vault remained sealed for 2 more years and during this time everybody within this community was keeping a very close eye on it. As they were all very upset that this was happening to the deceased, as they wanted them to finally be able to rest in peace.
The next addition to the vault was another lord of the manor along with his 8 slaves. And this time to nobody's surprise all the coffins within the vault had moved again. And even more violently than before. It was like it was hit by a tornado. Even one of the coffins was leaning up against the marble slab making it very hard just to get inside. So everybody stepped back so the investigators could be the first ones in. And the first thing that they checked was the white sand. But sadly the sand didn't reveal any footprints or any clues whatsoever. I mean they were stumped, there was just no explanation for why or how these coffins were moving and so violently. So the Chase family finally had enough and they moved and re buried all their deceased loved ones in their own plot within this very same cemetery. Now to this very day the Chase vault remains empty and the best theory that has every come forward was flooding. But that theory was ruled out as the sand that was placed on the floor would have revealed that a flood was to blame. As it would have been all over the coffins, as well as the sides of the walls. Now one of the creepiest things about this mystery is the townsfolk and even the investigators claimed that they had heard at times spine chilling screams and moans coming from within the Chase vault. Making many believe, at that time that Thomas's daughter's spirit, then maybe even Thomas's spirit were the ones causing this as they both committed suicide and were unable to move on. Now since this happened a very long time ago there is a lot of speculation as to what really happened. But over the years a lot of people, journalist and investigators have uncovered a lot of documentation stating that these events did happen. Making this a very creepy and a very interesting paranormal mystery!
Source: http://www.slightlywarped.com/crapfactory/awesomemysteries/movingcoffins.htm