I am a little bit behind this week as I took a nice little camping trip so I wanted to find a short an epic paranormal mystery that wouldn't take me to long to complete. And after a lot of brainstorming I remembered a case that I heard a few years back and this case is extremely mind blowing. Now it is quit popular but I'm hoping that not to many of you have heard about this amazing paranormal mystery.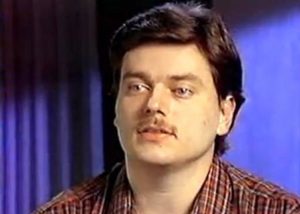 In 1983 a 21 year old named Don Decker was serving a one year jail sentence for possession of stolen property. And in February his grandfather died so he was giving a weekend furlough so he could attend his funeral. Now what many people didn't know is that Dons grandfather use to severely abuse him when he was a kid and Don really hated him. And because of all these years of abuse it made him a very angry person. Now at the funeral everybody was making positive and very loving statements about his deceased grandfather and Don just couldn't take it anymore so he left and he went to go stay with his friends Bob and Jeannie Jieffer.
And After enjoying a very nice home made dinner which was a very nice change for him since he had been in prison for such a long time. And when he got up to go use the bathroom he saw and image of an old man wearing a crown and this old man was staring at him through the window. Now this wasn't just a visual experience he also felt like he was being attacked and he started to feel a very sharp pain in his arm and he also noticed three scratch marks near his wrist that just started to bleed.
And later that evening Bob and Jeanie stated that Don went into a very disturbing trance like state. He would just sit there and stare blankly at the wall. And shortly after water began to drip from the ceiling and even the walls. Then a rainy mist started to envelope the entire house. And this water was defining gravity as it was flowing up not down. So Bob called the landlord and told him to get the heck over here. Now the landlord couldn't believe what he was seeing and he told Bob that there was just no way that this was a leak as the pipes were located in the back of the house not the front were all this water was coming from and he also stated that if this was a leak the water would be flowing down towards the ground not up towards the ceiling.
Now everybody was really freaked out so they called the police and the police were at a loss for words and they told everybody to leave until they could get to the bottom of this. But Bob and Jeannie insisted on staying but Don wanted to go so he went to the restaurant that was across the street. And right after Don left the rain or whatever this phenomena was stopped. But then it started again at the restaurant shortly after Don arrived. And when Bob and Jeannie arrived at the restaurant a little while later they told the owner Pam that this just happened at their house and after hearing the full story Pam was convinced that Don was possessed. And when she put a crucifix on Dons hand he got burnt and he was yelling in pain.
Now Pam was scared to death and she told Don that he had to leave, so they went back to the house and yet again the rain returned. Now Bob and Jeannie stared to yell at don and they told him to make it stop, now this was not a good idea as yelling at Don only made things worse. And according to Bob and Jeannie Don actually levitated off the ground and flew back into the wall. Now a couple of hours later the police returned to check in on the situation and they saw that the rain had returned and Don was still in a trance like state. And the officers just heard what happened when Pam the owner of the restaurant put the crucifix on Dons hand and they were extremely curious so they wanted to try it.
So they did and of course this only made things worse and once again Don levitated off the ground and flew back into the wall. Now the officers were terrified and when they went to go see if Don was OK they noticed tons of scratch marks all over Dons body. Now thankfully Dons weekend furlough was pretty much over so the officers took him back to jail. And this story spread like wild fire throughout the whole town and one of the prison guards dared Don to make it rain in the wardens office. And a couple of minutes later it started to rain in the wardens office as well as Dons cell.
Now everybody was just scared, there was just no way to explain what they were seeing so they called in a priest in hopes that he would perform an exorcism. And when the priest arrived he too started to yell at Don and accused him of making everything up. So obviously the priest didn't believe one word of this story. And while the priest was yelling Don started to change and speak in a very different and very creepy voice and he started rubbing his hands together and he told the priest that he great powers and right after he said that it started to rain again.
Now the priest now knew that this was the real deal and he truly believed that Don was possessed so he started to read passages from the bible. And the priest claimed that no mater how hard it rained the bible never got wet and in the end the exorcism was a complete success and Don returned back to normal. Now Don as well as many others believe that his deceased grandfather was the one to blame. Now this case is very well known throughout the world and of course there are a lot of skeptics and rightfully so. But the thing that shocks me the most about this extremely rare and very well documented possession is the fact that there are so many credible witnesses, making this one amazing case!
Until next time this is paranormal junkie! Make sure to hit that subscribe button and stay tuned!