When I was younger I use to always listen to the cost to coast AM radio show with Art Bell. And one of the more interesting cases or mysteries that I have ever heard on this show happened in 1997 when a man named Mel Waters told Art about a very mysterious hole that was on his property in Washington state. And according to Mel the people within this region use to come to this pit and dump all their unwanted stuff into it. Such as refrigerators, tires just basically anything no matter the size that they wanted to get rid of. And as time went by these people started to believe that this hole was bottomless cause they would never hear any of their garbage hit the bottom. And some even thought that it was a gateway to hell. Then in 1993 Mr. Waters and his wife bought this property and shortly after they too discovered this mysterious hole that was on their land. And Mel and his family also used it as a garbage bin. And they also started to wonder if it was bottomless. Now Mel was just fascinated with this pit so he started to do all sorts of test to see if he could finally hit the bottom of this hole once and for all. And the first test that Mr. Waters did involved a fishing pole, weights and a heck of a lot of fishing line. And no mater how much fishing line he used he could never reach the bottom. And this really shocked and kind of freaked him out. So Mr. Waters started to become obsessed with this pit. And he also noticed that when he would shout into it there would be no echo and he also saw that his dogs were very afraid of this hole. And if they got to close the dogs would run away as fast as they could back to the house.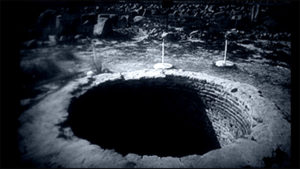 Now Mel started asking around town about this pit and the locals would tell him some rather disturbing stories. One hunter told Mel that he threw his dead dog down the hole and a couple of days later he saw his dog running in the forest while he was out hunting. And Mel asked him how could you possible know that, that was your dog. And the hunter replied because this dog not only looked identical but it was also wearing the exact same collar. Now this story really freaked Mel out but he was so amazed by it that he actually wrote in his will that he wanted his corpse to be thrown into the pit. So I guessed he believed that this hunter was telling the truth. Now this is about the time when Mel called the cost to cost AM radio show and told Art and all of us about this mysterious, bottomless pit that was on his land. And the listeners include me were just fascinated by this story. And after Mel told the world about this hole some very strange things started to happen to him. One day Mel was heading to the pit to do some more research. But he was stopped by some government agents. And these agents told him that he couldn't go any further and that he had to go back. And when Mel asked why they told him that a plane had crashed on or near his land and nobody except for military personally were allowed into this area at that time. So Mel was really pissed off  because he wasn't even allowed to walk on his own property. And they told him that if he didn't leave they were going to arrest him for concealing a meth lab. Now Mel knew that something very unusual was going on here as there was no meth lab on his land and he knew that there was no plane crash cause he would have heard about it.
And even stranger a couple of days later these same agents asked Mel if they could lease his land and they offered him 250,000 dollars. But there was a catch, if Mel accepted this offer he had to leave the country. Now Mel was not doing that well at that time financially so he accepted their offer and he moved to Australia. But a couple of years later Mel got very home sick and in 2000 he decided to return home. And right after he landed he boarded a bus where he witnessed a dispute between a police officer and a civilian. And he was asked by this officer if he could come down to the station with him to sign a statement confirming that this officer was being treating by a civilian. So Mel agreed and the next thing that he remembered was walking up in an alley in San Francisco 12 days later. And he had bruises all over his body, his rear molars were taking out and he had IV puncture wounds all over his arms. So Mel, scared and flat broke called up his nephew and asked him for money so he could return back to his property. And once he arrived back home to Washington he was notified by the government that they took his land, ceased all his funds, and froze all his assets. Now Mel wanted revenge so he called the cost to cost AM radio show again and let us know about all these recent events. And he also told Art they he had just recently been diagnosed with cancer. Making them both believe that top secret America was to blame for this as this is what they must have done to him when they abducted him for those 12 days. And he also told Art that his neighbors informed him about black vans, helicopters and just very strange things that had been going on, on his land while he was gone.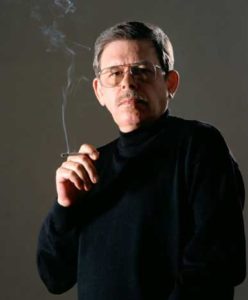 Now after Mel told Art and all of us about these recent events he started to do tons of research and he found the location of another hole very similar to his own somewhere in Nevada. And in order to see this other bottomless pit he had to become friends with the local Basque people as this hole was on their land. So Mel, a very likable guy I would imagine did become their friend and they showed him this hole and they allowed him to investigate. And the first thing that he did was yell into it and yet again and too his surprise there was no echo. It was almost identical to the hole that he had on his property. Now things were about to get out of this world strange as Mel along with his new friends started to do all sorts of test and they were getting very creepy results. One of the cruelest but more interesting things that they did was lower a sheep into this hole. And just like Mel's dogs the sheep was just going crazy so they had to knock it unconscious.
Then they lowered it down to about 1500 feet and when the sheep woke up it was going nuts, just making awful sounds. And when they pulled it back up the sheep was dead. So they decided to do an autopsy. And they realize that this sheep was cooked from the inside out and they also saw a tumor like blob that was moving where the sheep's internal organs should have been. And when they cut open this tumor they saw a creature within it. And this creature looked like an unborn seal. It had human eyes and it was just staring at the men. And they immediately threw it back into the hole. And Mel was later told by these locals that this seal like creature would at times be seen by them and it would try to communicate. Now Mel and his new buddy's ran test all day long and always about the 1500 mark strange things would happen. Such as ice would form on these buckets after they lowered them into the pit. And this ice would not be cold but warm and extremely flammable. And at times they would witnessed black beams of light coming out from this hole in short burst. As if it was communicating with something in the stars. And Mel started to wonder if these bottomless holes were portals to other worlds.
Now after Mel let us know about these new test, strange anomalies and strange alien like creatures that was the last we had ever heard from him, there were just no more updates. But in 2011 a man claiming to be Mel posted a letter on the Whales in space website claiming that what he had said was real. Because by that time pretty much every body doubted his story cause no one could find any real, undeniable evidence of these holes or Mel Waters himself. But Mel never reveled the location of the 2nd hole and there are blanked out spots in satellite photo's over the area around the 1st hole in Washington. And over the years there have been countless callers claiming that these mysterious, supernatural, bottomless pits do exist throughout the world. Making everybody wonder if Mel Waters or whatever his real name is, could actually be telling the truth, or is this man just one great storyteller.
Until next time this is paranormal junkie. Make sure to hit that subscribe button and stay tuned!