There are a lot of cases out there were people have seemed to just vanish right into thin air. And we have been covering a lot those very interesting story's lately. It's so bizarre how some of these people vanished that it makes us think that it was supernatural in nature, and these stories scare us but they also intrigue us. And there are stories out there that are very well documented about whole towns full of people that have mysteriously vanished, and not one bit of evidence has ever been found.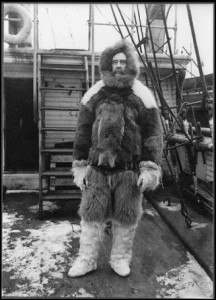 November 1932, a Canadian fur trapper named Joe was searching for a place to hide from the freezing cold weather of the tundra when he stumbled upon the Inuit village of Angikuni. Joe wasn't new to this place, he had been there a couple of times before. He knew something was very wrong right away.
As in his past visits the town was always bustling with activity, on this day it was dead silent. There were no roars of laughter, no sounds of friendly chatter and no friendly sled dogs in sight. As Joe was nearly freezing to death he cried out to the villagers, hoping that someone would reply. Everything was just eerie quiet.
As Joe looked through the village desperately searching for any signs of life he noticed that there was a fire burning in the distance. He ran over there only to discover there was nobody there, he also noticed the charred remains of a stew. This puzzled Joe but gave him a little bit of hope, so he kept exploring. He noticed that these people left behind their food supplies and even there weaponry, it was all still there.
These noble people would not have left their village without their food or weapons, especially in the freezing cold tundra. Joe was baffled but he decided to get a fire burning and rest for a little bit. After a good rest he decided to head to the closest telegraph office to let the Royal Canadian Police know about these missing people. Joe knew something very bad must have happened here.
The Royal Canadian Police didn't waste any time, they arrived within hours. And they to were just as baffled as Joe was. There were just no signs of these people. During their investigations a trapper named Armand told the police that he and his family saw very strange lights in the sky over the village. They also discovered that the ancient graveyard had been emptied, if this was the work of evil people looking for treasure they wouldn't have taken the skeletons with them, this only depend the mystery.
The Royal Canadian Police searched every square inch, there was just no trace of these people anywhere. Even the Royal Mountain Police had a close encounter of their own when they witnessed very odd bluish shimmering lights in the sky, they had never seen anything like it before.
Eventually the Police official stated that they never investigated this mysterious mass disappearance. Then when some investigators found proof that the Royal Mountain Canadian Police did in fact investigate this case, their tune changed and they replied that they did investigate and these people just migrated. Making everybody believe that the Royal Mountain Canadian Police were hiding something.
Why would they deny that they ever investigated than once it was proven that they did investigate they change their story. And if these people did migrate why would they migrate in the dead of winter, why would they leave their weapons, their food supply, none of this made any sense. The best we have to go on is the original testimonies as the Royal Mountain Canadian Police lost all their credibility. Maybe they uncovered something so shocking that they felt they had to hide this information in order to protect their citizens.
Something happened to these people, and it wasn't a dead of the winter, leave the food, leave the weapons, lets just go somewhere else migration. This mass disappearance has got a lot of attention over the years. Many people believe that it was a mass alien abduction. The locals in that area believe this was the work of Torgansuk, the malevolent sky god. Whatever the case maybe these people simply vanished from the face of the earth,  and still to this day not one bit of evidence has ever been found. Making this one of the most eerie and strangest mass disappearances of all time!
Until next time this is paranormal junkie. Make sure to hit that subscribe button and stay tuned!