The Thunderbird legend has always intrigued me, it baffles me how the Thunderbird isn't as big as the bigfoot phenomena as there are tons of alleged sightings of these huge creatures each and every year. And we also have some very credible people who swear that they have come face to face with the legendary thunder bird.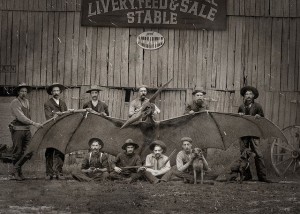 Native Americans have told story's for eons about huge birds that can be seen in the sky's before or during a thunder storm, and on rare occasions these birds are big enough to take small children.
On July 25th, 1977, 10 year Marlon was playing hide and seek with his friends. Out of nowhere a large bird grabbed him by his shirt. And this bird was able to actually lift him off the ground, and Marlon weight at least 60 pounds. Marlon started screaming for his mother, Marlons mother just couldn't grasp what she was seeing.
She witness her son begin carried in the air for at least 40 ft. before the bird let him go. Marlons mother could not believe there are birds out there that are that big that could do something like this.
October 2002, in a couple remote Alaskan villages people started seeing a huge bird in the sky. They estimated the wing span of this bird to be at least 14 ft. The witnesses were a little worried as they knew all about the legends of the Thunderbird. Now what gives this mass sighting some very strong credibility is a pilot and also the passengers also saw this huge bird.
The passengers started to go a little crazy once they got close enough to see how big this bird actually was. When the pilot was asked about this incident he replied that this thing was huge and you wouldn't want to have your children out side when that bird was flying.
In 1890 a Tombstone newspaper posted an article about two cowboys that had an encounter with a gigantic bird, and they managed to shot it dead. It was described as having very smooth skin, very similar to that of a bat. This bird also possessed a featherless alligator looking face.
When the two cowboys stretched the bird its wingspan was as large as the barn. A lot of people who saw this bird though that it was a dinosaur, but nobody knows where this alleged corpse is today, and that's a shame.
In 1738 a band of treasure seeking Spaniards were attacked and killed by Indians. The Indians were very angry as these treasure hunters kept trespassing on their land. Two Spaniards managed to stay hidden from the Indian onslaught, they watched as the Indians took their dead friends into a cave that had a petroglyph of a huge bird covering the entrance. And the Spanish scared for their lives fled back to their camp.
In the 1980's another treasure hunter said that he stumbled upon that very cave, as this cave had a petroglyph of a very large unusual looking bird over its entrance. He stated that this huge bird had a long reptile like tail. While digging within the cave looking for silver he unearthed a huge feather measuring 18 inches in length.
This remarkable feather was examined by experts. The experts stated that this feather is indeed from a bird, but from what type of bird, they could not say. This feather might just be the best evidence that we have that the Thunderbird or some other type of huge unknown birds just might exist.
Here is a very remarkable picture of some civil war soldiers standing on top of a huge unknown bird, If this picture is real, it's one heck of a photo.
Just like bigfoot the Thunderbird has tons of very credible reported sightings, and some pretty amazing possible evidence. But still to this day no one has ever found a body. But with all these amazing sightings being reported each and every year it makes us all wonder and hope that we to might just get lucky enough one day to get a glimpse of the legendary Thunderbird flying in the sky's above.