Today we are going to go over some of the most bizarre and weirdest alien encounters of all time. Thousands of people from all over the world claim that they have come face to face with extraterrestrial beings. And some of these encounters are so bizarre that it seems that it came right out of a Hollywood movie. But the witnesses still insist to this very day that what they experienced was real, and there lives have never been the same since.
Tiny Aliens: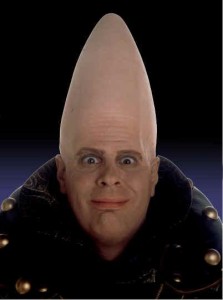 In the 1970's six kids were having a great time playing in a heavily forested area when all a sudden they saw a tiny UFO, it was less than a meter across. This tiny flying object landed right were these kids were playing. The kids couldn't believe what they were seeing. They were in awe as they were watching these 3 to 5 inch tall humanoids come out of this tiny craft.
The kids said that there were 6 beings in total. 5 of these tiny extraterrestrial beings were wearing very bright blue outfits and the other one was wearing a yellow outfit and also an awesome spiked helmet. These tiny aliens were installing some sort of device on a near by tree.
The kids were fascinated with these tiny aliens, they were not afraid at all and they tried to capture them. But these little aliens possessed some sort of alien weaponry and they started shooting at these kids. The kids ran away as fast as they could. When the kids finally reached civilization they told everybody what happened to them, and of course no one believed them.
Now this bizarre encounter happened in Malaysia, and what's really odd is between 1970 and 1979 people from all over Malaysia started to come forward saying that they too had come face to face with these 3 to 5 inch tall alien beings. And some of these witnesses do seem to be very credible.
Confused Aliens:
The United Kingdom's Ministry of Defense released hundreds of case files regarding possible alien encounters or alien abductions. Some of these reports are extremely interesting, it just goes to show how many people really believe that they have come face to face with extraterrestrial beings. Within these documents there were some very odd and bizarre alleged alien encounters. But this one takes the cake. A man in Wales told the authority's that he and his friends were on a camping trip when out of nowhere a fleet of UFOs started flying over their campsite. Now instead of abducting the campers the UFOs started beaming up their cars, their tents and even their cat and dog. The witnesses were terrified but also very thankful that they
were spared.
Alien Attacks:
September 27, 1989. Right after the Berlin wall came down some Russian kids within that area were playing soccer, or football depending on what country you are from, when all a sudden they witnessed a very odd red disc that landed very close to them. The kids said that a huge 9 foot tall, 3 eyed creature come out of this craft. This huge alien had a very bizarre weapon and shot one of these kids. The kid disintegrated right before their very eyes. Then the alien returned to its craft and flew away. Later that day the boy reappeared unharmed. Now of course this sounds like a bunch of lies that children would tell, and it probably is, but the interesting thing is that during that time in that very location there were tons of UFO sightings being reported.
Alien Fist Fight:
In 1954 a man named Gustavo Gonzalez and his friend Jose were driving along a quiet road in Venezuela when all a sudden they saw a huge luminescent sphere type of craft blocking the road. Instead of being scared or curious they were pissed that this huge extraterrestrial craft was blocking the road. So Gonzalez and Jose got out to see what the heck was going on. Then a hatch opened up and 3 very short and very hairy humanoids came out. Gonzales started screaming at these creatures telling them to get off the road. Then these creatures started to attack Gonzalez.
Gonzales, a very brave man ended up getting into a fist fight with these aliens. Gonzales later stated that these aliens were very light but extremely powerful, basically Gonzales got his ass kicked. But the aliens were intimidated enough to get back in their craft and fly away. After this out of this world encounter they called the police. And the shocking thing about this story is another officer pulled up and said that he saw the whole thing, but he was too afraid to intervene.
Pier Zanfretta And The Lizard People: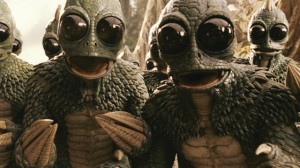 On December 6, 1978, a security guard named Pier from Italy was doing his rounds when he saw four very odd looking lights coming towards him. Pier, a very dedicated security guard approached these mysterious lights with his pistol drawn. As pier got closer he started to see 3, 9 foot tall reptilian creatures.
These reptilian creatures also had spiked heads. Pier was frozen in fear, then these beings hit Pier with some sort of heat beam and Pier sprinted away as fast as he could. A couple of hours later another security guard found Pier hiding.
Pier wasn't making any sense, he was terrified. When the authority's started to investigate they did find some very large and very unusual footprints, and these footprint were 20 inches long. The investigators also uncovered that some of the tress within that area were torched. Which indicated to the authority's that something very bizarre must have happened here and maybe pier wasn't as crazy as they thought. Over the years Pier claims that these reptilians have abducted him 5 times. Pier is 100 percent convinced that his encounters with these reptilians are real, and no one can convince him otherwise. Making this a very bizarre and very famous case in Italy, and also the world.
Italian Aliens Love Pancakes:
This is one of my favorite alleged alien encounters of all time, it's just so odd. On April 18, 1961, in Eagle River, Wisconsin a man named Joe told the authority's and the world that a spaceship landed near his home. Joe said that some Italian looking aliens came out of this craft. The Italian looking aliens set up a grill and started cooking pancakes. Joe said that he wasn't scared at all and he walked over there. The aliens looked at Joe and they asked him to go fill a jug of water for them. Joe agreed, and when Joe came back he asked if he could have some of their pancakes, the aliens said yes.
Joe decided to hide some of this food so that way he had proof of this encounter. When the aliens left Joe told everybody about this and the story of Joe and the Italian pancake eating aliens started to get very famous. Joe was getting bombarded by reporters. Sadly a lot of people started making fun of poor old Joe. Joe even had the food he hid analyzed and the results came back as nothing more than regular pancakes. Now some people do believe that Joe did come face to face with extraterrestrials, but most believe that Joe is 100 percent nuts, making us wonder how far the human Psyche can really go.
Until next time this is paranormal junkie, make sure to hit that subscribe button and stay tuned!
Source: http://listverse.com/2013/09/07/10-of-the-weirdest-alien-encounters-people-really-claim-to-have