The Santu Sakai Of Malaysia:
In Malaysia there are many reports mainly in isolated regions about a half human, half animal creature kind of like a Bigfoot but a little bit different. And these creatures are said to raid villages, abduct people and then eat them. And of course not to many people believe these stories. But in 1967 a man named Henri was hunting in the forest and while he was walking slowly and silently through the trees listening for game he started to hear some very odd and creepy growling noises. And Henri was very familiar with the sounds of the forest but this noise was different and it scared him so he ran and thankfully he did as when he looked back he saw 2 big hairy creatures with very sharp teeth running right towards him. So Henri grabbed his shotgun but before he could get a shot off these beasts knocked it right out of his hands. So Henri did whatever he could to try to get these creatures off him such as hitting them with rocks or branches and thankfully his truck was very close by and once he was able to get inside his truck he was now able to see a whole group of these hideous looking creatures and one of them jumped onto his truck and started to smash the window. Now Henri didn't waste any time he put the keys into the ignition and just floored it. And when he got back to civilization he let the world know that these creatures do exist.
The Attack Of The Mysterious Sea Serpent: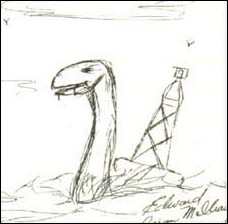 In 1962 a man named Edward and four of his friends wanted to go check out a decommissioned ship that was sunk by the U.S navy off the coast of Florida, and Edward and his friends thought that it was the perfect place to go scuba diving. So off they went and they set sail towards the sunken battleship in nothing more than a rubber raft. And not to long after a fierce storm hit. And the young men were scared as these winds were just tossing them around like rag dolls. And while they were trying to survive this storm they started to smell something that was just awful. Then they saw a very mysterious creature with a very long neck, and this creature was swimming right towards them so the young men started to panic and according to Edward they were so scared by the sight of this monster that they jumped right off the raft and they swam for their lives. And while they were swimming Edward was hearing his friends screaming in sheer terror. Now Edward was the only one that made it back alive, his 3 friends were never seen again. And Edward told the authorities about this creature. And he told the police that this monster was responsible for killing his friends. Then he drawed a sketch of this mysterious sea serpent and it does look like a pleasures. Now since there was no evidence of foul play Edward was free to go. But it does make us wonder could Edward actually be telling the truth, or did something else happen to his friends on that tragic day.
Teddy Roosevelt "The Wilderness Hunter":
This next encounter comes from Teddy Roosevelt himself from his 1892 book "The Wilderness Hunter". According to Teddy Roosevelt A man named Bauman and his partner were hunting beavers near Montana's Wisdom River. And after the men got done setting up camp they decided to go set a few traps as they still has some sun light left. But when they came back they saw that someone or something had ravaged their camp. Now Bauman thought that it was a bear but his partner wasn't so sure. So the men decided to light a torch and look for some tracks to see who was to blame. And they found some very big tracks, and the men were convinced that these track were not from a man as the tracks were just to big. So Bauman assumed that it had to have been a bear, but his partner disagreed as he didn't believe that a bear could stand on its two legs for that long of a time period. But the men shrugged it off and they didn't think too much more about it and they decided to get some sleep. And while the men were sleeping Bauman started to hear some noises outside his newly made tent and when he looked through the opening he saw a huge creature, he had never seen anything like it before so he grabbed his rifle and shot at it and the sound of the rifle scared it and it ran back into the forest.
Now this encounter terrified Bauman so Bauman told his partner that they needed to stay up just in case this creature came back. So the men sat next to the fire and they tried their best to stay awake. Then they heard a terrifying howling noise coming from the forest, and this noise was not that far away. Now Bauman had never heard anything like it before, which he thought was really odd considering he had spent most of his life in these woods. And at first light the men were ready to get the heck out of here, but they still had to get their traps. So Bouman went to get the traps while his partner stayed behind to pack everything up. And when Bowman returned he saw that everything was packed but his partner was nowhere to be seen. So Bauman figured that he must have went into the woods to go to the bathroom or something, but he never returned. So Bauman went looking for him and just right outside their camp he found his partner lying on the ground dead. His partners body was just mutilated, his neck was broken and his throat was covered with all sorts of puncture wounds. And Bowman also noticed these huge tracks again. And these tracks were all around his dead friends body. Now Bauman didn't believe that this was a bear attack, he believed that this was something else and he grabbed his things and took off as fast as could. And Bouman later stated that a goblin killed his friend. Now many people believed that it was a simple a bear. Teddy Roosevelt remained undecided. But years later once the Bigfoot phenomena swept the nation people looked back on this story now believing that maybe a Bigfoot was to blame.
The Ape Canyon Encounter: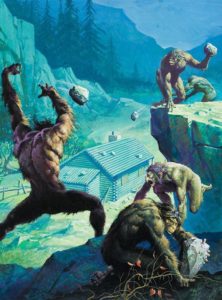 One of the most famous attacks involving a Bigfoot happened in Ape Canyon in 1924. And I have covered this story before but I will quickly cover it again for those that have never heard about it. A man named Fred Beck and four of his friends were mining for gold near Ape canyon and when Fred went to go fetch some water he and one of his friends saw a very large hairy humanoid in the tree line. And this creature was just staring at the two men. And Fred was so shocked by the sight of this hairy human ape like creature that he pulled out his gun and he shot at it, and the creature ran back into the woods. And that night back at their cabin the 5 men started to hear loud bangs on the roof, something was throwing very large rocks at their cabin. Then something cashed into the side of the cabin with great force, and the men started to prey with their pistols in hand. Now there were no windows within this cabin but there was a little opening between 2 of the logs and when Fred looked outside he saw three huge hairy creatures, and these creatures where picking up rocks, slamming into the cabin just trying to knock it down. And luckily for the men this was a very well built cabin that was built to withstand the very harsh winter climate. Now this went on for most of the night and the men didn't think they were going make it. But as the sun started to rise these creatures ran off back into the woods. And the men didn't waste any time they headed back for civilization as fast as they could. Now after this encounter there were many articles written about this attack and most do believe that these men are telling the truth as throughout the years their story had never changed, and not one of them had ever come forward saying that they made it all up. Making this a very interesting case.
Japanese WW2 Vets And The Ropen:
Now they are stories being told from Japanese vets who were stationed in papa new Guinea during word war 2. These vets stated that while they were defending these islands from the allies they were constantly being attacked by pterosaurs or what they called the "kor" and what the natives call the ropen. And the Japanese army retaliated by destroying their caves. And I find this story very interesting as there are a ton of stories within this region about people being attacked or abducted by the ropen. And these attacks are a little less frequent today then what there were in the past but many people do believe without a shadow of a doubt that these creatures still live within this area, as well as in other parts of the world, especially Africa. And since these stories are coming from vets it does add a little bit of credibility to the theory that these pterosaurs just might still exist in some of these remote regions throughout the world.
Until next time this is paranormal junkie. Make sure to hit that subscribe button and stay tuned!