Before I start this video I just want to apologize to my patrons and my subscribers for the lack of uploads lately. I will start picking up the pace soon now that summer is almost over. Today I just wanted to quickly share with you guys some footage that I found to be quite interesting. A couple of weeks ago a truck driver in Texas saw what he described as a very odd-looking humanoid figure standing on the side of the road, trying to hitchhike. And this person, or whatever it is appeared to have greenish, grey skin, it was very short and it also had pointy ears. And this driver was very shocked by what he saw, and thankfully for us he caught it on tape via dash cam.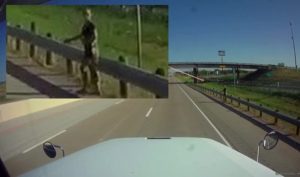 Now I have watched and analyzed this footage a lot and the first thing I thought and I am sure most of you did to is that this is just a guy who dressed himself up to look like an alien. But the driver stated that when he looked back, in his rear view mirror this alien looking person was no longer there, it just vanished. And since this driver was very confused and shocked by what he had just witnessed, and the fact that it was able to disappear he sent this video to alien and UFO research organization. And not to long after this footage went viral.
I am not convinced that this is an alien but I don't think the driver is trying to hoax anyone, the footage shows that he was driving for quite sometime before he saw this alien looking creature on the side of the road. And this footage is interesting, when you pause it at the right time you can clearly see a greenish, grey alien looking creature with pointy ears. And it's also wearing some very odd clothing. And what makes this case even more creepy is the fact that the driver did say that after he saw it, it disappeared.
I am curious, what do you guys think about this footage? Do you think that this driver had a close encounter? Or do you think that maybe someone might have had a little too much to drink and decided to dress up like an alien and just scare the crap out of people driving down the highway?
Until next time this is Paranormal Junkie. Make sure to hit that subscribe button and stay tuned!