Alaska is one of the most remote places on earth, it's a perfect place for a large unknown creature to hide from the modern world. And there have been so many sightings going back for centuries within this region making many believe that Bigfoot does exist. A very famous case happened during world war 2 when rumors started to spread throughout Alaska that something very disturbing was going on in a town called Portlock as the men within this area started to disappear, they were not returning after going hunting. And sometimes their bodies were found ripped to shreds and it appeared that this was not caused by any known animal as they way their body's were mutilated was like nothing they had ever seen before. And at about the same time villagers would stumble upon huge man like tracks close to their town. So these people were terrified. One account comes from women who was interviewed in 2009.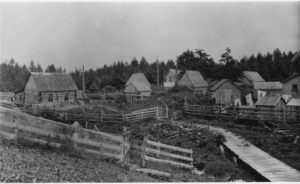 She stated that Portlock was a nice promising town but once these strange sightings and murders started to happen things began to change. Even her godfather was one of these victims. One day he was out working, he was a logger and someone or something hit him over the head with a piece of heavy logging equipment. And this blow was so powerful that it killed him instantly. Now in order for someone to pick up or even swing this heavy piece of logging equipment they had to have been massive and extremely strong. And the people believed that the Nantiinaq (Nan-te-nuk) or the big hairy man was responsible for all these deaths and disappearances. And the people were scared for their lives so they left Portlock and never returned and still to this day it remains a ghost town. And there have been many other attacks. In 1943 near Ruby Alaska a man named John or the Dutchman encountered a creature known as the Bushman. Another Alaskan name for Bigfoot. And this creature attacked him and sadly John died later that night by internal injuries. Now before he died he stated that he saw a huge hairy man in the forest and for whatever reason this thing attacked him.
And while it was beating him to death John's dogs started to go crazy. They were doing whatever they could to save their owner. And it seemed that the dogs were able to scare this creature away as it did run back into the forest. And John was able to make it all the way back to civilization. And before he died he told the world about this creature that ended up killing him. Now I know we don't like to think of Bigfoot as an evil animal but you have to remember that we Homo Sapiens are a very violent species especially hunters so maybe we attacked it first. In 1979 some Alaskan natives were out picking berries when they noticed that a huge hairy pi pedal creature was spying on them. So they got really scared and they left as fast as they could. And when they got back to their community they told everybody that they had just encountered a bushmen or a Sasquatch. So some curious hunters grabbed their weapons and went over there to see if they could find it, and they did. And right away they started to shoot at it. But this creature seemed to be immune to the shotgun blast and it was able to get away.
Another encounter happened in the summer of 1951 when a women started to hear some very strange scratching like noises on her roof. So she asked her husband to go check out it out. And right as he stepped outside he saw a huge 7 foot plus hairy human ape like creature. And right away he was terrified and scared for his family safety. So he grabbed his rifle and shot at it, but yet again this creatures seemed to be unfazed by the gun shot or this man just missed and it ran away. Now this man was determined to find out exactly what this animal was so he ran after it. And he chased it all the way to a nearby lake. And he later stated that this creature jumped into the lake and it swam like a frog using only its legs. Now this man was frightened to death by what he had just seen so he set up a lot of bear traps around his house. And the next day all the traps had been set off, but there was nothing caught in them. And this man believed that this creature used sticks to activate these bear traps. So these Bushmen, Bigfoot might be lot more intelligent than we all think.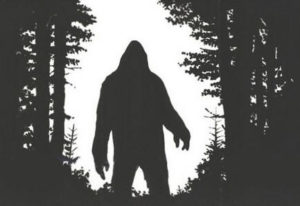 There is also another encounter of Bigfoot swimming like a frog. One night in the summer of 1960 a young man Errol saw what he thought was a tall man standing waist deep in the water. And all though it was summer the water was still really, really cold. So he thought to himself who the heck would be in the water especially at this time of night. So he got out his flash light to get a better look and what he saw next turned his whole world upside down. Errol stated that he saw a Bigfoot and he was scared to death so he started to yell for help. And close by there were a couple of men playing poker and they ran as fast as they could to Errol's location to see what was going on. And they all claimed to have seen this huge hairy creature swimming away. And the way it was swimming was very odd as it was only using its legs like a frog, just like the previous sighting. Making these some very interesting cases.
Another famous case happened when a medicine women was out picking berries near Rampart Alaska when she claimed that she was kidnapped by Bigfoot or a Bushmen. And this women was taken deep into the wilderness and brought to cave. And when she looked around she saw a group or a family of Bigfoots. There were older ones, younger ones, females, males just a scary but an amazing sight to see. And she quickly noticed that they were very intelligent. And one of the bigger males tried to communicated with her and it took this women a little while to understand what it was trying to say. But eventually it became very clear that they kidnapped her because their baby was very sick. Now how did they know that she was a medicine women I don't know, maybe they just got lucky. And thankfully for her she was able to cure their baby of its illness. And once these creatures saw that the baby was getting better they took her back home. And she told everybody within her village about these creatures and her kidnapping. But it was just such of an amazing story that nobody believed her. And when she was asked why she never told anyone were this cave was she stated because she wanted to protected them.
Now this women is not the only one, there have been many others claiming throughout the world that they to had been kidnapped or abducted by Bigfoot which I have covered in one of my previous videos. More recently in 2011 a man and his nephew were out fishing when they saw someone walking through the tall grass close to the river bank. At first they thought that it was a person but when they looked closer they realized that this was no person as whatever this was, was not wearing any clothes, it was extremely tall and extremely hairy. And they were able to observe this creature for about 10 minutes. And when the local news asked them if they were afraid the older man stated no, no I was not afraid as I know these creatures don't harm people. Now I wish that statement was true but sadly some of the most credible encounters that I have ever researched involves some sort of violence.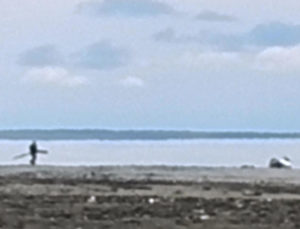 Another more recent encounter happened in 2014 when a man named Bosco was out on his four-wheeler along Hooper Bay looking for driftwood. And while he was out cruising have a good old-time he saw something feeding on a walrus carcass. At first he thought that it was a raven or some sort of small animal but when he got closer he realized that whatever this was, was huge. So Bosco stopped what he was doing and just stared at this animal trying to figure out what it was. Then it got up, walked over to a very large piece of driftwood, picked it up, walked back to the carcass and used the drift wood like a lever and turned over the dead walrus. Now Bosco was terrified, he knew that this was no human being and he wanted to get the heck out of there. But before he left he did manage to take this picture. And like most Bigfoot or paranormal pictures you can't really make out much. But when experts examined this photo they estimated that this creature is at least 9 feet tall. Making this a very interesting photo and sighting. One thing I find common in Bigfoot sightings seems to happen when Bigfoot is hunting other animals such as deer a walrus or whatever it likes to eat. Even In the movie Harry And The Henderson a deer runs across the road just a couple of seconds before they hit a Bigfoot.
And a pretty big sighting happened in 1955 when a group of people saw a deer running extremely fast across the road. And following this deer was a Sasquatch. And they estimated that it must have been at least 9 to 10 feet tall. And this encounter reminded me of another Bigfoot sighting that happened only a month ago and this story has been getting a lot of attention lately. A women in Idaho was driving through a forested area when she claimed that she saw a Bigfoot chasing a deer across they road. And while she was staring in total disbelief she ended up hitting another deer.  And this women was so shocked by what she had just seen she actually went to the police station and reported this. And the sheriff later stated that they did find the dead deer but they couldn't find any evidence of Bigfoot. And I think that this women truly believes that she had seen a Bigfoot as why would she go to the police.
Now there are so many more sightings and encounters of Bigfoot in Alaska that I could probably turn this into a series. And some of these sightings come from very credible people. And if Bigfoot does exist it amazes me how we haven't found concrete proof of it in this day and age. But we do have some evidence such as thousands of sightings, encounters from all over the world, casted footprints that would be extremely hard to fake and hair samples that have come back from the lab as unknown. But in order for us to prove to science once and for all that Bigfoot does exist we would need a body. And if that day every comes there are going to be a heck of a lot of people saying I told you so.
Until next time this is paranormal junkie. Make sure to hit that subscribe button and stay tuned!