I have been very fascinated with the Bigfoot phenomena that has been going on in Britain. And I am very surprised at how many sightings there are. In the early 1960's a young man and his friend decided one day to got to a peak in Derbyshire to look for old WW2 plane crashes. And oddly enough I just talked about all the ghost plane sightings within this region were residents constantly see old WW2 planes flying in the sky, then they just disappear right in front of their eyes. And here we have two young man in the 1960's going out for a day trip looking for old crashed WW2 planes. Very interesting indeed. Now why these 2 young men were walking up the mountain they started to hear a lot of animal noises, and right in front of them there were a bunch of sheep and hares running and they were going just completely nuts. And this kind of freaked them out, they had never seen animals act like that. Then as they continued to walk forward they saw a huge shadow figure outlined in the fog, it looked like a man but way bigger. And they were scared out of their minds and just like all the animals they started to run away. And at the time they thought they had come face to face with the devil. They didn't go back to this location for a very, very long time. And there have been many other sightings within this exact same area making some believe that a creature like Bigfoot might live here.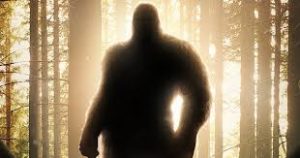 Another sighting happened In 2007 when 3 friends were sitting in a car at about two in the morning in the town of Burntwood. They were surrounded by trees, it was a nice little scenic area. And as they were siting and talking they saw something moving on the right side of the car. And since they were doing something that they probably shouldn't have been doing such as drinking in the car or smoking They were very curious to find out who or what this was. At first they thought that it was probably just some kids having fun in the woods doing what they were doing. But when they turned on the headlights they saw something that just scared them to death. They saw a very large human like figure crouching and it was staring directly at them. Then it got up and started to run right towards them. Now thankfully this creature was still far away at the time but it was moving incredible fast. The driver wasted no time, he started the car up and he got the heck out of there as fast as he could. And as they were driving away they saw that this thing was getting closer and closer. This driver stated that he could see this Bigfoot like creature in the corner of his eyes and he didn't know whether it was jumping or flying, it had incredible quickness and strength. He had never been so scared in all of his life, the fear was unreal. And once they were finally able to get up to 80 mph it stopped chasing them. Now these 3 eye witnesses just couldn't believe what they saw that night and they estimated that this creature was about 8 feet tall and what they described was basically a Bigfoot.
Then not to long after this sighting a monster hunter Jonathan Downes claimed to have had a very strange encounter near Bolam Lake. While he was investigating reports of a man like person leaping through a bog he and his team were taking a break, smoking a cigarette when they saw something that looked like a very tall man moving extremely fast. And they were extremely shocked when they saw this because they thought that these sighting within this area were nothing more than a hoax. But they actually saw it with their own eyes and whatever this was could not have been human. Jonathan stated that to have a human do what he saw it do would have been an even bigger mystery. Now that is interesting because in the last sighting the driver stated that he didn't know whether this Bigfoot like creature was jumping or flying. Making these Bigfoot sightings in Britain a lot more interesting. And this monster hunter believed that what he saw was something paranormal, not an actual living breathing animal because the way this thing moved was just so fast and unnatural.
A very famous case happened in 1991 when a family was driving not to far away from the first sighting that I talked about in Derbyshire when all a sudden they spotted what they thought was a very tall man walking towards them. But this family soon realized that this was no man. And they were just so amazed by what they were looking at that they slammed on the brakes. And as they were watching this huge, hairy bi pedal creature in total shock a car came up behind them and started to honk the horn because they were stopped right in the middle of the road. And this loud honk must have scared this creature because it started to run. And they all watched it jump over a wall with ease, then it disappeared back into the woods. And these eye witnesses stated that this thing was probably about 8 feet tall, was covered in long brown hair, and it moved just like a human. But it obviously wasn't a human. And not to long after this sighting they also told a to a Zoologist about what that saw. And he believed that these eye witnesses were telling the truth because there was just no reason for them to make up this story. And one thing I would like to add is less than a mile away from where this sighting happened there is an ancient stone circle site called the nine ladies. And the reason I bring this up is there does seems to be some sort of connection between ancient sites and Bigfoot sightings. In fact most Bigfoot sightings in Britain do seem to happen close to these ancient structures.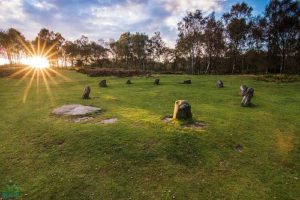 And maybe this could be the key to solving the Bigfoot mystery. And I did talk about this in my last video. Now many believe that these creatures are spiritual creatures and according to some Native American legends only a medicine man was allowed to talk to them. But maybe their not spiritual creatures at all, maybe they are interdimensional creatures and our ancestors knew were these interdimensional portals were. And they created these ancient sites in these areas such as the nine ladies. And some in the paranormal community call these locations windowed areas. A place were things not from this earth can come through. Now It is a pretty out there theory but it does give us something to think about because there are dozens if not hundreds of documented sightings of Bigfoot throughout the world each and every year. But yet still to this day there is no hard evidence of these huge, hairy, bi pedal human, ape like creatures that thousands and thousands of people have claimed to have seen. And I don't think that all these sightings could be just made up or miss identification. I do believe that there has to be something going on here that science still can't explain. And I'm definitely not the only one and that is why the Bigfoot mystery is one of the greatest paranormal mysteries of our time. And just maybe all these Bigfoot sightings in Britain might help us get one step closer to solving this mystery once and for all.
Until next time this is Paranormal Junkie. Make sure to hit that subscribe button and stay tuned!