In one of my previous videos we talked about the giant spiders of the Congo. And after I released that video I wanted to do some more research to see if I can find any more sightings of giant spiders throughout the world. And I was surprised at how many more alleged sightings I found. During WW2 in Papua New Guinea the Australians were fighting the Japanese in a location known to us as the Owen Stanley Mountain Range. And one day an Australian soldier had to answer the call of nature so he went further into the jungle. And while he was trying to release himself he noticed a very large spider web right in front of him. And this was no ordinary spider web, it was huge and it was very thick, he described it like a white cotton fishing net. And while he was checking out this amazingly huge spider web he noticed that the spider who made it was only about a foot or so away from his face. And of course this man was terrified so he pulled up his pants as fast as he could, then he slowly moved back because he didn't want to startle it. Then he got the heck out of there.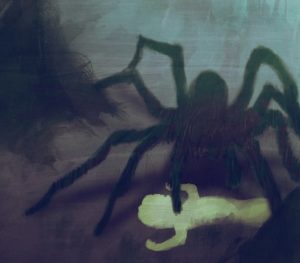 And this soldier described this spider as being jet black with very thick hairy legs and it was about the size of a small dog. And this is not the only sighting that I found of a huge spider from an ally soldier in Papa New Guinea. One man told his son that while he was in the jungle he had encountered a monster spider in a web. But instead of running away like the other guy he pulled out his machete and just hacked it to death. And he stated this spider wasn't hairy at all, it was actually kind of shiny, like a black widow, but it was an emerald-green color. And he believed that it must have been at least 3 feet long. Now the Natives here in Papa New Guinea do have many stories and legends about giant spiders. But as of yet nobody has ever been able to prove this.
Now there are also many reports of Giant spiders in Venezuela. About 10 years ago monster quest went down there to see if they could catch one alive, or at least one on camera. But after only about 3 days of searching they weren't able to find one. But they did interview a lot a people in remote villages and every single person within these villages believed that these huge giants spiders did in fact exist. One man claimed that when he was a young he saw a huge tarantula like spider attack and kill a dog, then it dragged it back into the jungle. He estimated that if this spider would have been capable of standing on its back legs it would have been about as tall as a human. In another village the people believed that a spider, not that long ago was responsible for abducting and probably killing a child.
Now its kind of sad how some western people think that these locals who have spent their whole life living in the jungle don't now the difference between a monkey and a spider. Because some of these people claim that they are simply uneducated and don't know the difference. Which is total un true because these tribes who live here in harmony with nature know better than anybody about what lives within these regions. And they fear these giant spiders so much that they actually engineer their huts in a way that keeps them out. Another thing that I wanted to add about this monster quest expedition is on the 3rd day they did find a spider and it wasn't a monster spider but it was about the same size as the largest tarantula ever recorded. And that is very interesting because they were only out there for 3 days. And the natives do say that these monster spiders are very elusive and that they live underground and that it is very rare to actually see one. But they do believe without a shadow of a doubt that they are out there.
Another very interesting encounter happened during the Vietnam war when some soldiers claimed that from time to time they would encounter spiders with bodies the size of dinner plates. And these monster spiders would often be seen near creeks or other water sources. And some of these soldiers even claimed that they would shoot them with their M16s. And even after unloading full magazines at them they wouldn't die, they would just run away. Now in my last video "The Giant Spiders Of The Congo" we also talked about a sighting that happened in America, and I have stumbled upon another one.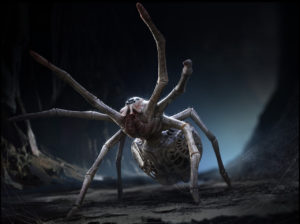 In 1948 a man named William was walking to church with his family one night when he, his wife and their 3 sons saw a huge spider run across the road right in front of them. And they all stated that this spider was so big that it was about the size of a wash tub. And after this, out of this world encounter they never walked to church ever again. Another very interesting sighting happened in England in 2001 when a women named Sheila was driving along Nottingham's Stone Bridge Road. And while she was driving she saw something moving in the distance. And at first she thought that it was hedgehog walking towards her, but she soon realized that this was no hedgehog, it was a huge spider! And she claimed that she did get a pretty good look at it before it ran away. And this spiders body was about as big as a small dog. And if you combined its body with its legs she believed that it could have been about 2 to 3 feet long. Which is a pretty big spider.
Now these sightings do seem to come from everywhere, not just the remote jungles of Africa or South America. And If I would ever be lucky enough or unlucky enough to encounter one of these monster spiders I'm sure I would never see the world the same way ever again!
Until next time this is Paranormal Junkie. Make sure to hit that subscribe button and stay tuned!
Source: http://karlshuker.blogspot.com/2014/07/giant-spiders-monstrous-myth-or.html