I would like to apologize for the long wait on this video. Sometimes I will make a part one of a series but never make a part 2. And the reason for this is I couldn't find enough material to continue the series or I am still looking for stories and encounters to cover. And sadly skinwalker sightings are hard to find, well at least the ones that I would want to cover. And one of the reasons for this is most Navajo don't like to talk about skinwalkers but they truly believe that they do exist. Now just to recap it is believed that a skinwalker can change form into any animal that it has previously killed. Some Navajo say that it can steal the face of another human being and can also transfer itself into another body if you stare into its eyes long enough. And throughout the years there have been a lot of alleged sightings of skinwalkers. One very creepy sighting happened when a 15-year-old girl was visiting her grandma and some of her teenage cousins.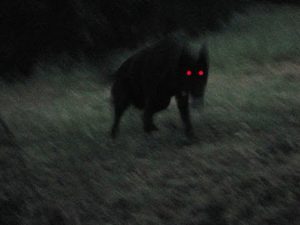 Her grandma lived in a remote area surrounded by trees and forest paths. And one night they decided to take a walk on one of these paths that led them deep into the woods. And while they were walking they heard some very strange animal sounds and these sounds really freaked them out. Then they saw what they thought was a dog in the middle of the path just up ahead and this dog was just staring at them, its eyes were extremely bright. Then this dog started to slowly moves towards them and they realized that this was not a dog, this was something else, something that would give them nightmares for the rest of their lives. They saw that this creature had the body of a dog but its head, hands and feet was that of a human. And these teenagers scared beyond belief ran back to their grandmother's house as fast as they could.
Now once back inside they locked all the doors and windows and tried to figure out exactly what it was that they had just encountered. And while they were debating amongst each other they heard that strange, very eerie animal noise again. And it was getting closer and closer. Then they heard a knock on the window and when they turned to look they saw this creature again just staring at them. And this things face had changed as now it was more animal than human. And the sounds of these kids screams woke up their Grandma and when she came into the room this creature was gone. Now the grandmother didn't believe their story but she did believe that maybe someone was stalking them or playing a prank on them as she could see the fear on their faces, so she called the police. And according to this girl story the police did find her grandmothers dogs dead, they were ripped to shreds. Now after that night they never saw this creature again but they strongly believed that they had encountered a werewolf or a skinwalker.
Another encounter happened to a man who was out camping one weekend. On his first day he saw a coyote in the distance. At first he really didn't think too much of it as it wasn't the first time he had seen a coyote. But as the camping trip progressed he felt that this animal was stalking him as wherever he went it was there but in the distance. And when he was packing up his truck getting ready to leave he saw it again. And he kind of felt bad for it as he thought that it might be really lonely. Then once he was back on the road he looked at his rearview mirror and it was now running after him. And this kind of freaked him out cause he was going about 50 mph. But when he looked back again it was gone and he let out a sigh of relief. But then he saw something in the corner of his eye right beside him. And when he looked he saw a man covered in fur just staring at him with glowing red eyes and a strange, terrifying smile. And this man just froze, he felt paralyzed he had never been so scared in all of his life. He just couldn't comprehend what it was that he was seeing.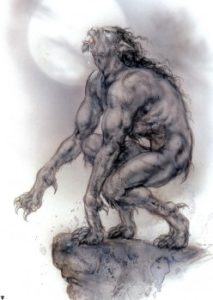 Then this thing got back down on all fours and ran off back into the woods. Now after this life changing encounter this man is now convinced that what he saw on that day was a skin walker. And he never wants to see one every again. Another similar case happened in the early 1980's when a young women's car broke down at about 9pm one night. And thankfully for her she broke down close to a friend of her parents. So she decided to go visit them so she could call her father to see if he could come pick her. And of course he agreed as she lived in a somewhat remote forested area and he did not want her to walk home all alone at night. Now the father picked her up around 10pm and while they were driving through the woods they heard a very loud terrifying unholy scream. It was so loud that they could hear it very clearly over the engine, over the radio and even over them talking. And the father slammed on the brakes so he could try to make sense of what it was that he had just heard, this scream scared them both as they had never heard anything like it before. It just sent chills down there spine. And as they were parked on the side of the road they saw a coyote standing on both legs walking towards them.
Then they heard this scream again and it was coming from this walking coyote. And the father scared out of his mind put his truck back into drive and he just got the heck out of there. And he decided to take his daughter back to his house as he did not want her to be all alone. And the next day they actually went back to this location, they were hoping to come face to face with this creature again because they wanted some answers. They didn't believe in skinwalkers or the paranormal but they couldn't make any sense of what it was that they just saw and heard. And since it was very dark they both came to the conclusion that their eyes must have been playing tricks on them or somebody was playing a prank on them. And at that time they both shrugged this sighting off as a prank or misidentification. But as the daughter got older, and after a lot of research she started to become a believer in skinwalkers because deep down she always knew that nobody could have hoaxed that terrifying scream that she heard on that night.
Then not to far away from this sighting a teenager was driving home with his uncle when they saw another coyote crossing the street. And this coyote moved very strangely, kind of like a toy rocking horse and when it looked at them it had very bright glowing red eyes. Then it just finished crossing the street and disappeared back into the wilderness. And this young male teenager didn't think too much about it as he thought that maybe it was injured or something. But he did notice that his uncle was terrified, he didn't speak for the rest of the day. And once he got older he's uncle told him that what they saw on that day was a skinwalker and he truly believed it. One of the more credible encounters that I have ever come across comes from a tribal police officer. One day he was driving on the highway and it was very lightly snowing when he saw what he thought was an older Navajo women dressed in very traditional clothing walking on the side of the road. And this was very odd to him because there was nothing even close to this area. So he wondered were was she coming from and where was she going. So this officer turned around to see if he could give her a lift but she disappeared, she was know where to be seen.
So he got out of his police car so he could scan the horizon and hopefully find out where she went. But he couldn't see her anywhere. But he did stumble upon some fresh footprints in the snow. So very curious he decided to follow them. And while he was following them he noticed that the footprints started to change, they turned into a dog or coyote prints. And this really scared him so he ran back to his patrol car. And later that day he told another tribal officer about what he had just witnessed. And this other office told him that he had heard stories about this before and it only seems to happen on that stretch of highway and only while it is snowing. Sometimes it's and older women and sometimes its a younger very beautiful women. And what they are doing is hitchhiking. Making some of these Navajo officers believe that they are skinwalkers looking for victims as who wouldn't pick up an older or younger women while it was snowing in the middle of nowhere.
Making me wonder if skinwalkers are involved in some of these missing 411 cases. As it seems that these magical beings like to hitchhike, follow people and just scare us to death. And just maybe the stories that we do hear about are from the lucky ones that got away. Or maybe some skinwalkers aren't as evil as others. Now I would really like to continue this series but its hard for me to find good credible skinwalker sightings. So if you know of any please let me know in the comment section below.
Until next time this is paranormal junkie. Make sure to hit that subscribe button and stay tuned!