I love coming across a good ghost story especially when there might be some actual evidence to back up the claims. A couple of weeks ago the owner of a cafe the "OnLive Hall Of Fame Café" in Texas walked into work one morning to see that a barricade that was guarding part of the cafe had been knocked down. And this is not the only time this has happened. So the 2 owners, the husband and wife went to go check out the security footage to see if anyone had been breaking in after dark. And as they were watching the security footage the were shocked because they believed that they were looking at a ghost, a ghost of a child.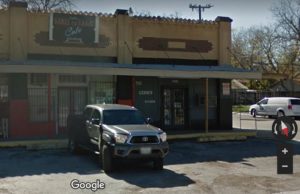 Now when I saw this footage I clearly saw something moving, and it did look like a child. And the next day after these 2 owners saw this ghost they shut down their cafe so a paranormal expert, or a ghost hunter could do an investigation. And this investigator stated that when he was doing an EVP session he heard a child saying that his name was Peter, and that he was 4 years old. And he was with 5 other people, or 5 other ghost. Which is very creepy!
Then he asked Peter if he was the one that knocked down the barricade, and Peter said yes. Then he asked Peter to do it again and he did. Now these owners and this paranormal investigator did not release this new evidence yet so I am guessing that they are trying to get more footage and maybe release a documentary, which I would be very interested in seeing. And if you live near this location I would suggest to go check this place out and let me know what you think. Do you think that this is a genuine haunting? Or do you think that this is nothing more than a hoax. As we all know that these kind of tactics are used in hopes of getting more customers.
Until next time this is Paranormal Junkie. Make sure to hit that subscribe button and stay tuned!