In 2004 something very strange started to happen in a small town in northern Sicily. One day things just started to catch on fire and there seemed to be no rational explanation for this. So the people were terrified. The fireman, the police, nobody could make any sense of it so they evacuated the whole town and sent in different groups of experts such as electric companies, university professors, the military, environmental agencies and even a person from NASA. And these investigators were shocked by what they were witnessing. Electrical appliances such as refrigerators, radios, televisions, toasters were just catching on fire. In one case a hair dryer that was not even plugged in caught a blaze right in front of their eyes. Then a scientist saw an electric wire lying on the floor, not plugged in and it just went up in flames. And when he reported this to his superiors he was told that he needed to sober up. At first everybody suspected that the power lines or maybe the railway lines were somehow causing this so they shut everything down. There was no power running anywhere within this area but that didn't stop these mysterious fires. There was just no logical explanation for this so arson was ruled out all though a man was arrested in 2015 and I will talk about that a little bit later.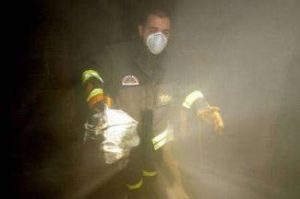 Now one day a local council member was in one of these homes when he saw a television burst into flames. Then objects in the house next door started to catch on fire, then the next house and so on and so on. And after he witnessed this he believed that this was caused by an entity. He stated that it felt like something was moving, and wherever this something, this entity went things would catch on fire. Even a chair was seen going up in flames. And after this a priest was called in to bless all these houses and this priest also believed that something supernatural was going on here. So he called in the Vatican's chief exorcist and the chief exorcist stated that he had seen things like this before and that demons were causing it. But others believed that this was not caused by ghost or demons but by UFO's. In 2007 an Italian newspaper published a leaked government report which blamed these fires on aliens. But after this article was published the Italian government responded stating that although they could not determine what was causing these fires they didn't officially believe that aliens were to blame.
But there were a lot UFO sightings during this time period. Locals would see very odd circler crafts in the sky and at times these UFO's were followed by military helicopters. In one case a group of friends saw some very strange lights going up towards the sky in a very bizarre way. Then they all started to feel a very painful burning sensation. It was like they got zapped by lasers and the next day they all had strange burn marks all over their body's. And there were also reports from sailors within the Italian navy saying that they had witnessed spheres of light coming out of the ocean. Making many UFOoligist suspect that there might just be an underwater alien base in the ocean close to this town. So during this time while all these mysterious fires were going on there did appear to be a lot of UFO activity in and around this location. Now before all these investigators could figure out what was causing these random objects to catch on fire the fires stopped and eventually everybody that lived here was finally able to return home. And throughout the years there have been many theories from ghost to demons to aliens to the United States military testing top-secret radiation weapons to even someone possessing pyrokenetic powers. But in the end nobody was able to really figure out what was causing these houses, cars and just random objects to catch on fire.
Then 10 years later in 2014 the fires started up again. But these fires were not the same and a man was arrested. And this man was probably responsible for the 2014 fires. But I don't believe that he was responsible for what happened in 2004. As one of the more interesting things that did happened in 2004 was that cell phones could recharge all by themselves, they didn't need to be plugged in. You could just walk outside set your cell phone down and it would recharge all by itself, well at least according to some of the reports that I read. Now if all this is true no normal everyday criminal or pyromaniac could have done this. It is possible that maybe a well-funded top-secret government project could be to blame, maybe UFO's, maybe ghost or demons or maybe even some sort of extremely rare naturally phenomena. But Sadly we will probably never know. Making this case one of the world's greatest unsolved paranormal mysteries.
Until next time this is paranormal junkie. Make sure to hit that subscribe button and stay tuned!