When I was making my video about the recent mothman sightings in Chicago I stumbled upon another amazing story coming from a former NASA Employee. And this encounter is now known as the NASA Gargoyle. In 1986 a man named Frank Shaw returned home one night a little later than usual. His wife and daughter Desiree noticed right away that something was not right. Not only was he late, he was also acting very strange like he was scared. So his wife and daughter wanted to know what was wrong. And he told them something that they would never forget.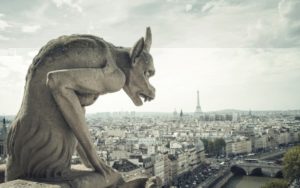 While he was walking outside heading towards his car after a long day of work he saw a creature that looked like a gargoyle perched on top of one of the NASA buildings. At first he didn't really understand what he was looking at. But as he was staring at this thing he realized that this creature that looked like a gargoyle was real, it was alive and it was staring directly at him. Now Frank just froze, he was terrified he had never felt such a feeling of fear and dread in all his life. Then this creature flapped its wings and started to fly towards him. So Frank scared out of his mind, ran to his car and drove away. Now his wife and daughter believed that he was telling the truth because why would he make something like this up. And also they could see the fear in his voice and on his face. But they told him not to tell anyone about this, especially anyone at work as they would think that he was probably crazy and he might just end up losing his job. So he agreed.
But as the days went by Frank just could not stop thinking about this encounter, he wanted answers. He needed to know what it was that he saw on that day. So he told one of his supervisors at NASA about what he saw. And Frank could not believe the response he got. His supervisor told him that he was not the only one and that there were other NASA employees who had also seen this creature. There was even a secret file open about all these other sightings.
There was also another report involving 2 German shepherds who mysteriously died at the exact same location just a couple of weeks before Franks sightings. Now about a week or so later after Frank came forward with his terrifying story he was confronted by what he can only describe as the men in black. And they told him that he and his family needed to keep quit, they were not allowed to tell anybody about these sightings. So scared for his and his family's life he agreed, and he did remain silent. It was his daughter Desiree who told a paranormal author Nick Redfern about this encounter 18 years later. And still to this day NASA has neither confirmed or denied these encounters.
Now it seems that this gargoyle like creature was probably a mothman and we all know that there are tons of mothman sightings throughout the Americas. And it got me thinking could gargoyles be based on a real creature. Now whether you believe these sightings, these encounters to be true or not the fact remains that there are a lot of eye witnesses throughout the world who swear that these animals, or whatever they are do exist and hopefully one day we will get to the bottom of this amazing, mind-blowing cryptozoology mystery.
Until next time this is paranormal junkie. Make sure to hit that subscribe button and stay tuned!