After I released my last video I got tons of links and request about other mothman sightings in Chicago. And one of these I found to be very interesting. And since we are still fresh on this subject I wanted to cover it real fast. In August of 2011 a husband and wife went to Chicago for business. And while they were there they wanted to see their old neighborhood were they use to live a long time ago. And while they were driving around checking out the old sites the wife remembered that there use to be a giant statue of a native American close by and she wanted to see if it was still there. And to her surprise it was so she took a picture of it. Now at the time they didn't notice anything flying in the sky but when they got home and looked at the picture they saw what they thought was a huge bird in the sky behind this statue. But when they zoomed in they were shocked as this was no bird, it was something else, something that looked like a bat. But they believed that it was far to big to be a bat. Now there are bats that live within this region but they are very small and it would also be rare to see one actually flying during the day. And not to long after this photo was taken it got a lot of press and people started to wonder could this photo be proof that there is an unknown animal very similar to that of the mothman living in the Chicago area.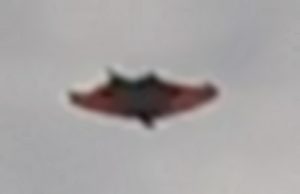 Another interesting sighting happened just a couple of days after this photo was taken when 2 female students in the miller park area were getting ready to go out for the evening when they saw a pair of red eyes just staring at them through the window. And since they were on the third floor these girls were terrified because they knew that whatever this was, was floating in mid-air right outside their room just staring at them. And this things eyes were huge and solid red. So the 2 girls screaming their heads off ran downstairs as fast as they could and told everybody about what they had just saw. But by the time they went outside to see what this thing was it was gone. And these girls later stated that it felt like they were being eyed as prey. Then just a couple of hours later 6 more students came face to face with this creature. And they said that it was dark grey, or black, about 6 to 7 feet tall and it had glowing red eyes. And right after they saw it, it flew away.
Then about a month or so after this encounter there was another mass sighting during dusk when people on the street saw a humanoid bat like creature flying just 12 feet or so above the ground. And of course these witnesses were shocked, they had never seen anything like it before. And these first sightings that happened back in 2011 started this mothman in Chicago hysteria. And lately these sightings have only increased which I have covered in my last video. And the website phantoms and monsters is doing a great job at interviewing all these eye witnesses as well as tracking all these sightings and encounters that have happened over the past couple of years.
Now the mothman isn't only seen in the United States as some people believe. But it does appear that most of these sightings do occur in north, south or central America. One very famous sighting happened in Argentina when villagers in a small town started to see a very strange creature that looked like the mothman. So they called the police and the police launched an official investigation as there were a lot of terrified eye witnesses. One of the more credible sightings during this time period happened to a young police officer. One night this officer was doing his rounds when he saw a rather tall odd-looking figure standing by a tree. So he decided to approach this person as he felt that there was something just not right about him. And while he was approaching he realized that this was not a person at all, this was something else as this thing had glowing red eyes and it was just staring at him. And before he could get close enough to determine exactly what this was it flew away and disappeared back into the night sky. And this officer was scared, he was shocked, he could not believe what he had just seen with his own eyes. And there was also a fireman who saw the exact same thing. Making this creature or entity get a lot of press in Argentina. And still to this very day all these eye witnesses are still looking for answers, they want to know what it was that they saw. And their descriptions are very similar to what people are claiming to see in Chicago.
Now there are a lot of sightings throughout the Americas of these creatures going back for centuries and overtime I am sure I will cover them all. And if you guys know of any other sightings that have happened in other parts of the world such as Europe or Asia please let me know in the comment section below. And hopefully we will get one step closer to solving this amazing paranormal mystery.
Until next time this is paranormal junkie. Make sure to hit that subscribe button and stay tuned!