After I released my last video about the kelpie and a rare or what I thought was a rare sighting of a Loch Ness monster like creature on land some of my subscribers told me about another encounter that happened only a couple of months ago. I was kind of blown away this because this story did get a lot of attention at the time but somehow I had never heard about it. According to many paranormal websites a man named Jimmy was walking his dog in Scotland about 150 miles away from Loch Ness when all a sudden he claims that he saw a very strange creature moving through the tall grass. Now Jimmy was very disturbed and scared by this odd looking creature so he told the police right away and his fellow citizens about what he saw. And he told them to be careful because he believed that this creature might be dangerous. He also later told a journalist that he thought that it looked like a dinosaur. Now what makes this case really stand out is not only did Jimmy see it face to face with his own eyes but he was also able to take a pretty clear picture of it. Which is extremely rare in regards to monster sightings. And once this picture was released to the public via Facebook it went viral right away. And it got a lot of people talking.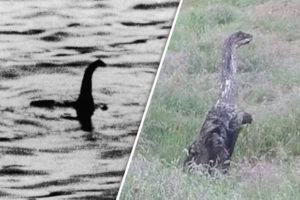 Now I couldn't find any websites claiming that this picture is a hoax and Jimmy seems to be like a stand up guy who wouldn't just make up stories. He is a 66 year old retired mental health worker. So people started to wonder if this is not a hoax well what could it possible be because it does clearly look like a baby Loch Ness monster. And as of right now the most believed theory is that this is nothing more then a tree stump. But some don't agree with that because it doesn't really look anything like a tree stump well at least not the top part anyway. And Jimmy clearly stated that he saw it moving through the grass. So some believe that this creature might be an otter or some sort of otter hybrid. And the reason they came to that conclusion is because otters do live within this region. But to me it really doesn't look anything like an otter as it appears to have leathery skin and a very, very long neck. And otters don't have leathery skin and very long necks, well at least not to my knowledge. And Jimmy probably would of known if it was an otter. And he did clearly state that to him it did look like a dinosaur.
So to me its either a hoax, possible a very odd looking tree stump or an unknown animal. And if this is another unknown animal sighting that looks exactly like what we imagine the Loch Ness monster to be Jimmy is not the only one. After doing a lot more research on this subject there are dozens of sightings of a Loch Ness monster like creature on land in Scotland. And I will cover some of those at a later time.
Now I am curious what do you guys think this is? Do you think that this picture could be possible proof that the the Loch Ness monster does exist? Please let me know your thoughts in the comments below.
Until next time this is Paranormal Junkie. Make sure to hit that subscribe button and stay tuned!