Way before Bigfoot was even famous throughout America there were many well documented encounters with half ape half human like creatures. And we have covered a lot of those on this channel because I love covering a good Bigfoot sighting. This next case happened in 1870 when a man named Samuel De Groot was camping in Stanislaus County. Just a little ways south from where the Roger Paterson footage was filmed. One day when Samuel arrived back at his campsite he noticed that someone was messing with his fire while he was gone as there were chard sticks and ashes just all over the place. And he was a little bit disturbed by this because he was in the middle of nowhere. He also realized that none of his traps went off and no one stole anything from his campsite. So Samuel, very mystified by this decided to investigate.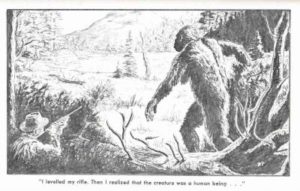 At first he couldn't find any footprints as the ground was hard and covered with leaves. But as he kept looking further and further away from his campsite he found what he thought were some fresh human tracks in sand close to the river. And these tracks made him extremely curious because whoever made them must have been extremely tall and he wasn't wearing any shoes. Now Samuel thought to himself how can a man not be wearing any shoes in the middle of the forest and why did he mess up his campsite but not steal anything. So he decided to hide in the brush and wait to see if this man would come back. And about two hours later he heard the sound of somebody whistling. Then he saw a figure of what he thought was a small man approaching his fire pit. And as Samuel was watching wondering who this was he realized that there was no way that this was human being.
Whatever this was stood about 5 feet tall, it was covered in dark brown hair, its shoulders were extremely broad, its arms were very long and its legs were kind of short compared to the upper body. And as Samuel just watched in total amazement this creature whistled again. And it sounded like how a boy or a young teenager would whistle. Then this creature started to play with the burnt sticks from the fire pit. Then a couple of minutes later another one of these creatures showed up and Samuel believed that this one was a female and it was about the same size. Then they walked off together back into the forest. Now Samuel stated that he could have easily shot these creatures but while he observing them they reminded him of human children playing. They were not animals but yet they were still not human. And this encounter did get some press at the time and they called these creatures unknown gorillas. Which I find very interesting and to me it does give some credibility to this case because most people had never heard of the yeti or Sasquatch at that time. And Samuel perfectly identified a creature that we now know as Bigfoot. And he also wasn't the only one to see these tracks making this another very interesting 19th century Bigfoot sighting.
Now back in the 17, 18 and early 19 hundreds these sightings in the paper would usually have titles like "Encounters With Wild Men". Because they believed at that time that they were human, just wild humans that were covered in hair. And we all know today that no matter how wild a human being becomes they are not just going to start growing hair all over their body's. Another interesting encounter happened in Canada in 1934 when Native Americans started to warn their children to stay close to home because some members of their tribe had spotted a Bigfoot near by. And somehow the press caught wind of this story and they wrote an article about it and the title read "WILD MEN Strike Fear Into Indian Children". But the Natives knew that they were not wild men but Sasquatch. But at that time I don't think journalist really understood what that meant so they called them wild men. Now during this interview the Indians told the reporter that these creatures live in ancient caverns and very deep cave systems. And although sightings of these creatures were extremely rare sometimes they would come up and steal food from the Indian settlements and even kidnap Native American children. So whenever someone from their tribe would spot a Bigfoot they would warn their kids to stay close to home. Now if Bigfoot does exist the Native Americans would know a heck of a lot more about them then we do because they would have been living side by side with them for thousands of years. So I find it very interesting that they say that they live deep underground. So if I was trying to find proof of Bigfoot's existence I would first start off by searching for hidden caverns and caves. And after a lot of searching we might just find undeniable evidence of Bigfoot!
Until next time this is paranormal junkie. Make sure to hit that subscribe button and stay tuned!