Before I start this video I want to apologize for the slow upload times lately. Do to the adpocalypse or rather YouTube's new policy regarding monetization I have to spend most of my time working on my other online projects. I am very hopeful that soon YouTube will wake up and stop demonetizing all our content. I would also like to thank my patreons for their support and of course everyone who watches and subscribes to this channel.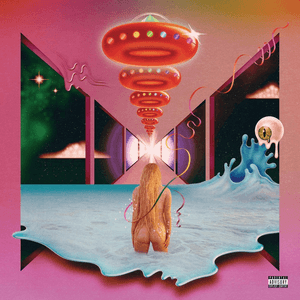 Now While promoting her new album Kesha stated during an interview that her new album Rainbow was inspired by a UFO sighting that she had while visiting a national park in the desert of California. Kesha said that while she was sitting on a rock totally sober she saw in the sky a bunch of UFO's or in her own words a bunch of spaceships and that there were at least 5 or 7 of them flying right above her. Kesha was convinced that these crafts were of alien origin. She couldn't believe what she was seeing and she just sat there staring in total disbelief until these UFO's finally disappeared from her sight. Now during this interview she was asked why didn't she record or take any pictures of these UFO's. And she replied that she was just so shocked by what she was seeing that she didn't even think about, it didn't even cross her mind until a couple of minutes after the sighting.
Now I have covered so many stories on this channel from ghost to aliens to monsters and 99 percent of the time these eye witnesses never get any proof, even though nowadays most of us have smartphones right in our pockets. And to be honest I think it does make sense. If I was in the woods and I came face to face with Bigfoot or an alien craft the last thing I would be thinking about is my camera as I would probably be in such a state of shock. Now whether we believe if Kesha is telling the truth or not in regards to these UFO's being alien in origin there is no doubt in my mind that whatever it was that she saw on that day had a huge impact on her just by looking at her album cover. And if she didn't believe in aliens before this encounter she sure does now.
There is also another UFO sighting coming from Prodigy before he sadly died. Prodigy claims that during an interview with Viceland one night there was a black out, everybody's power within his neighborhood went out. Then not to long after this black out a very bright light shinned through his window. At first he thought that it must be a helicopter looking for someone but then this white light started to change in colors. So prodigy ran to the window to see what was causing this and he and his wife saw a huge UFO floating just right above his house. Now prodigy believed that this UFO was there for a reason. In his own words. "The UFO came to my house to show me the light, as if to say, "Wake up! Snap out of it! We are real and you are important to us! Okay, we gotta go for now, hope you're ready when we come back!" So it seems that this UFO sighting gave prodigy a little bit of peace before he died by sickle-cell disease.
Another very famous UFO sighting happened to John Lennon in 1974. In an interview Lennon stated that one day he was lying down on his bed when all a sudden he felt a very strong urge to go look out of his window. And when he looked outside he saw a very strange craft just hovering over the building across the street from him. So John very shocked by what he was looking at called out to his girlfriend. And they both couldn't believe what they were seeing, they both claimed that they saw a Large circular craft moving towards them, it was shaped like a flattened cone. And on the top of this craft was a very large blinking red light. And all across the middle of this craft were smaller white lights and they too were also blinking very fast. And they just stared at this thing in total disbelief until it finally flew away. Now right after this sighting John called the police and the police told him that he was not the only one as they were many others who had also seen this craft early that day.
Even Mick Jagger of the Rolling Stones Had a UFO encounter back in 1968. One night while he was on a camping trip with his girlfriend of that time he noticed a strange craft in the sky. And as this craft was getting closer and closer he and his girlfriend started to get a little scared because whatever this was, was not normal, it was a huge cigar-shaped craft flying just right above them. And Mick believed that this was not just a UFO but a UFO mothership as this thing was huge. Now this sighting also had a huge impact on his life, he even had a UFO detector installed at his British Estate. Now I am not really sure what a UFO detector is or how it works but I do know that there are a lot of documented cigar-shaped UFO sightings each and ever year.
Now while I was making this video I uncovered that there are lots of famous people, people who have had major impacts on human civilization that have seen UFO's. Making me wonder if there is some sort of link between extraterrestrials and humans destined for greatness. Such as Mohamed Ali, Alexander the great, Winston Churchill, Ronald Reagan, Jimmy Carter, etc.. so I decided to make these encounters into a series as I find these sightings coming very powerful people extremely interesting.
Until next time this is paranormal junkie. Make sure to hit that subscribe button and stay tuned!