In May a family in Zimbabwe walked outside one morning and saw a bunch of clothes in bags spread out all over their yard. And this family was shocked and very disturbed by this because it made no sense. And after a lot of thought the father believed that maybe someone mistakenly thought that their house was a charity drop off. And he hoped that someone would come by, apologize and pick up all of these clothes. But no one ever did. And this is when things started to get very strange and just down right terrifying. Not to long after these mysterious bags filled with clothes appeared on their property rocks started to hit their house. Even their neighbors would wake up in the middle of the night to the sounds of loud bangs and thuds as these rocks just seem to magically fall from the sky.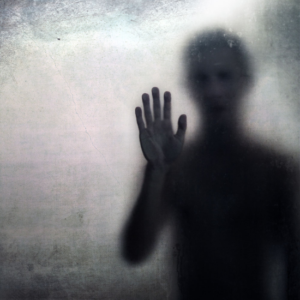 But nobody else's house would ever get hit, just theirs. In the beginning when this all started the father suspected that maybe a boy was doing this because he did have daughters living in the house. But no matter how hard he tried he could never catch anyone in the act. And day after day these rocks would mysteriously fall and hit their house and cause a lot of damage. Now at that time he and his family were scared because they couldn't figure out what or who was causing this. But they didn't think that it was anything paranormal, they believed that there must be a rational, down to earth explanation for why this was happening. But all that was about to change.
One night when the family was eating dinner they heard a loud noise in one of the daughters bedrooms. And they thought that one of these rocks must have fallen through the roof. So they all ran over there to see how bad the damage was. But there was no hole in the ceiling. The ceiling and the roof was perfectly fine. And there was a pretty big rock lying on the floor. And this became the new normal. Know longer were these mysterious rocks falling outside the house, they were now magically appearing and falling inside the house. Now there was just no way to explain this, the father now believed that something supernatural was going on. He even had to make metal umbrellas so no one would get hurt while they were inside the house. And it appeared that this phenomena was somehow revolving around his 19-year-old daughter and the suspected that she was possessed. And this case was now getting a lot of attention from the press.
The Father stated "I do not know what wrong I have done to deserve such pain and mysterious occurrences in my family. We would like to appeal for anyone who can help but from the manifestations of my daughter and previous experiences, this will need someone strong." Now after the press released this story local religious leaders stopped by to see if they could help. And not to long after they discovered that someone had dug up a spirit pot that was on their property. Making them believe that this was the cause for this paranormal activity. Now this case is still going strong and most people are very skeptical about this because there is no video or photo evidence. But there are a lot of eye witnesses that do say these events did and are happening. And also maybe in this area of Zimbabwe people might not have camera's. But one thing that kind of shocked me about these reports is that this case is very similar to happened to a man named Don Decker. But instead of rocks mysteriously falling from the sky it was water. And I will put that video in the description below for those that have not seen it yet.
Now whatever the case maybe it is believed by many that possession can cause these kinds of phenomena that just defies are known reality. From ghost to hauntings to physic abilities, telekinesis and even superhuman strength. And there are many reports out there that do support these claims. Now I have covered a lot of these stories but I still got hundreds if not thousands of more to go. And I do believe that most of these cases will forever remain unsolved.