On May 20th of this year a statue of Virgin Mary in Hobbs, New Mexico started to cry. And the people who first noticed this thought that this must be a hoax. But after a long investigation from religious and non religious investigators they couldn't determine what was causing these tears to come out from this statues eyes. They couldn't find any rational explanation for what was causing this, and they couldn't find any evidence of foul play. They set up cameras to see if anyone had been breaking in or tampering with this statue, but nobody was. They checked the ceiling for leaks and just about everything else you can imagine. And after weeks of investigating these investigators officially stated that they believed that this statue was actually crying. And ever since this news came out people have been coming here in droves to get a glimpse of this crying Virgin Mary statue here In Hobbs, New Mexico. And the local Deacon stated that since there is no evidence of foul play or no rational explanation for these tears, that leaves us with only 2 possibilities god or the devil.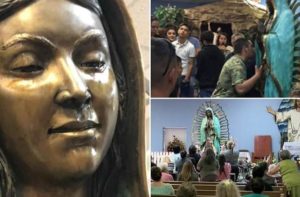 Now the first thing these investigators did was send these tears to a lab. And they were very shocked to find out that it wasn't tears coming out from this statues eyes but it was olive oil, and it also smelled like roses. Now this is very interesting because olive oil or a type of olive oil is what priest use for baptisms, church ceremonies, and many other religious applications. And these type of oil's such as olive oil, cannabis oil, etc.. posses very powerful healing properties. And so far this statue has cried 500 milliliters or 2 cups of it. And as of right now it is still crying. And many people believe that this is a miracle. Now I am very skeptical about these type of claims and so is most people, because there have been many cases throughout our history similar to this one that have turned out to be hoaxes. But what makes this case unique is the fact that these reports say that scientist, with no affiliation what so ever to the church are investigating this. And none of them can find an answer. Now if this is true, and these are genuine, honest scientist then this is one amazing mystery. And there have been other weeping statues through out the world that have never been proven to be fake, or a hoax.
A very famous account of a crying Virgin Mary statue happened in 1973. And this was even seen on live TV, but sadly I couldn't find that footage. But it was reported that this statue cried 101 times over several years. And the lab results concluded that it was actual tears and blood coming out from this little wooden statues eyes. And they also reported a sweet smell coming from these tears, just like in the last case. And it was also determined by the church that this was real, and this is the only weeping statue ever to be officially recognized by the church as being real. Well at least according to these articles that I've read. Now there is a lot more to this case and many believe that in a way, what happened in Japan in 1973 is related to the Fatima Miracle. And I am going to cover this in a lot more detail in my next video. Now I am not personal a religious person but I do love a great mystery, and some of these cases like the Fatima miracle, which I am going to cover next really does blow my mind! And it does make me wonder does god actually exist.
Until next time this is Paranormal Junkie. Make sure to hit that subscribe button and stay tuned!