One of the most famous cryptids throughout the United States is the mothman. And I have stumbled upon a lot of encounters with these creatures going back for centuries. And it appears that Chicago right now is experiencing something rather strange as there have been quite a few sightings of an unknown creature that looks very similar to that of the legendary mothman over the past couple of months. On April 7th a man was walking home in the Lincoln park area when he saw something that just scared him to death. This man claims that while he was walking back to his house he had come face to face with a 7 foot humanoid creature that had bat like wings. And of course this man was terrified beyond belief, he ran home as fast as he could. And over the next couple of weeks he did a lot of research, he needed some answers and he uncovered that he was not the only one. As many others have reported seeing this creature throughout the Chicago area very recently.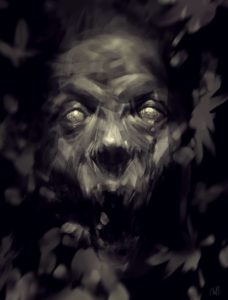 The most recent encounter happened on June 3rd when a couple had just finished eating their dinner and they decided to take a nice little walk outside as the weather was perfect. And while they were walking they saw something flying over head. And when they looked up they saw something that just shouldn't exist. This couple stated that this creature was at least 7 to 8 feet long and the wingspan was at least 12 to 14 feet wide and its head was very similar to that of a human. And this creature was just gliding through the air right above them heading east. And they also noticed that this whatever it was wasn't making any noise at all. And while this couple was just staring in total disbelief they felt a very overwhelming feeling of fear and dread which is very common in mothman sightings.
Another interesting encounter happened on March 2nd buy a local delivery driver. While this man was sitting in his semi trailer at about noon he noticed something strange in the sky. And while he was staring at it trying to figure out exactly what this thing was it flew right over him. And he could know see it and he couldn't believe it. He said that this thing looked like a flying bat mobile, it was some sort of mix between a human and a bat and it was as big as a car. And just like everybody else who had seen this creature he to was just scared to death. Then it flew right back up into the sky and disappeared back into the clouds. And not to long after this sighting he started to experience some very bad luck and his mom died. Making this a very sad but interesting encounter as many believe that if you see the mothman that means that something bad is going to happen.
Then not to long after this sighting a women and her friends were outside enjoying the nice spring weather when they heard a very disturbing high-pitched screeching sound right above them. And when they looked up they saw not 1 but 2 of these creatures. And they believed that it was either 2 men in wing suites or gargoyles. And they all knew that there was just no way that a human could have made that terrifying sound that they heard. One of the biggest sightings happened around 8 pm one night when many witnesses who were at a park in Chicago claimed that they saw a humanoid creature with a huge wing span that was about 6 to 7 feet tall. And one of these witnesses was a police officer. Then not to far away from this sighting 3 friends were on a boat when they described seeing the exact same thing. And not to long after they saw a green orb just shoot across the sky at amazing speeds. And oddly enough this mysterious orb scared them more than the flying humanoid that they just saw and they decided to call it night and they headed back to shore.
Now these sightings in the Chicago area just keep coming in. Over the past couple of years there have been 15 reported sightings and 8 of these occurred in just the past 3 months. So it appears that these sighting, these encounters are escalating making the people of Chicago wonder what the heck is going on. Is this an unknown species of some sort of huge bat that kind of looks like a man, or is this creature something paranormal. Now I don't think that there's anything to worry about as these sightings do go back for a long time so if something bad was going happen I am sure it would have already happened by now. And if you live in the Chicago area make sure to keep your eyes on the skies and your camera close by just in case you encounter this creature. And hopefully you might just be able to get that undeniable footage that this world has been seeking for a very, very long time.
Until next time this is paranormal junkie. Make sure to hit that subscribe button and stay tuned!