The Delhi Purple Sapphire, also known as the gem of sorrow. This haunted object does not bring death, it brings sorrow. All tho there are many reported suicides from previous owners. Many people consider this amazingly beautiful gem to be a purple sapphire but it's actually a very large amethyst.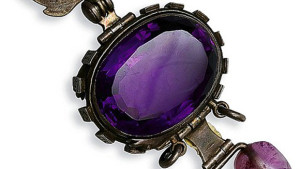 In 1943 Edward Heron Allen wanted to give the cursed gem to the London history museum. He told them that this gem brings nothing but death and un happiness.
The Delhi purple sapphire was brought to england in 1857. Ferris a English calvery man stationed in India discovered the amethyst stone after it had been taken from an ancient temple during an Indian up rising.
After Ferris took possession of this gem both him and his son suffered great loses of wealth and well being, they both blamed the gem. In 1890 Edward Heron Allen took possession of the Purple sapphire. Soon after Edward took possession of the purple sapphire he lost a majority of his fortune.
He was furious and he to blamed his misfortune on the gem. One day Edward grabbed the sapphire in a fit of rage and threw it into the regent's canal. A couple of days later a local jeweler brought it back to him after buying it from a mysterious stranger who somehow stumbled upon the gem in the canal.
Edward knew this gem was evil. In 1904 he decided to use his own magic. He locked the purple sapphire in a box. The box was filled with magic sigils and protective talismans. Then he entombed the box with 7 other boxes and buried it deep in his cellar. After Edward died the purple sapphire was discovered and donated to the museum.