After I released my last video about the elongated skulls I got a message from L.A. Marzulli letting me know that he was the one responsible for this discovery as it was his team that did the work and he actually funded the whole thing. So I just wanted to update you guys about that. And if you don't know who L.A. Marzulli is I would recommend to go check out his channel. He is very famous for his work in the paranormal and a lot more awesome discoveries like this. So I will put the link to his YouTube channel in the description below.
Now In pretty much every one of my videos when I talk about giants I always say that their bones seem to just magically disappear shortly after being discovered. But I have just found out that there is a case in Africa where we do actually have a bone of a giant human being. And I can't believe that I have never stumbled upon this before. Early in the 1960's some miners in Africa were shocked when they found a huge upper leg bone of a giant human. And not to long after this discovery scientist analyzed it and they said that this human must have been at least 12 feet tall and they estimated it to be about 40,000 years old. Now to me if they are correct that is proof that giants did in fact once roam the earth. Could you imagine meeting someone who is 12 feet tall? That would be just mind-blowing. And this bone is now locked away in the vaults at a medical school in Johannesburg, South Africa. And it's now believed by many that this is one of the most rarest and precious specimens that we have today that clearly shows that giants did once roam the earth.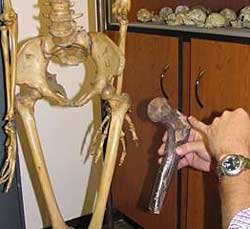 Now strangely enough where this bone was discovered is not that far away from this footprint. And I know that I have talked a lot about this footprint many times in the past but I Just wanted to say that a lot of people believe, right away that it's obviously a hoax. And I am not saying that it's not but the best argument for skeptics right now is that it was just naturally formed like that 200 million years ago. But many don't buy that theory as they say there is just no way that granite would naturally form a perfect human footprint, they say that it's simply impossible. And we know that it wasn't chiseled out or anything like that. So if it wasn't done by us or by naturally forming granite, well then how did it get like that? And now we also have this giant bone that I am just learning about that was found not that far away from this huge footprint. But of course there is a huge difference in size, but there is also a huge difference in time, 200 million years ago to 40,000 years ago. Giving some more credibility to the theory that we or they just grew smaller over time. But of course there is a lot of debate amongst the believers as to who or what these giant begins really were.
Now it's not just the footprints or the ancient texts or the ancient paintings and the one bone that I know now about that gives credibility to ancient giants. It's also our ancient sites that we have throughout the world that still confuse leading scientist to this day on how they were actually built. One example is in Egypt where the core structure was built entirely with gigantic limestone blocks. Some of these blocks measure 18 feet long, 10 feet tall and 8 feet high. And some measure 30 feet long, 12 feet wide and 10 feet high and can weight up to 200 tons. Another mind-blowing thing is they are also placed perfectly. Even with today's technology there are only 2 working cranes in the world that can only lift some of these stones. And these type of ancient structures are found all throughout the world. So it's highly doubtful to think that our ancestors are the ones responsible for these structures if we can't even duplicate them today with all our modern technology.
And now with all these new discoveries that keep popping up more and more people are starting to believe that giants did in fact once roam the earth and they are also the ones responsible for these incredible ancient sites.
Until next time this is Paranormal Junkie. Make sure to hit that subscribe button and stay tuned!