The Hampton Court ghost footage is known throughout the world as the best proof of ghost we have on this planet. There are a ton of great ghost pictures and video's out there, but the ghost of Hampton Court takes the cake.
So why is the Hampton Court ghost footage considered to be the best proof of ghost we have still to this day? Well, Hampton Court has been known for century's to be infested by ghosts, spirits and even demons. Hampton Court has indeed been plagued by tragedy for a very, very long time.
Hauntings and poltergeist activity tend to happen in places that have seen unspeakable tragedy, and Hampton Court is no exception. People flock to this ghost hunters paradise every year hoping to get a glimpse of the ghosts and spirits that occupy this famous place.
Hampton Court is located in the heart of London, and if you have ever been to London you know how spooky of a place it can be.
Every year there are thousands of reports of apparitions, strange noises, and objects that seem to have a mind of their own. Hampton Court has a lot of tourism, this place is always under 24/7 surveillance. So it would be extremely hard to pull off a hoax.
One of the most famous recurring hauntings in Hampton Court revolves around a big oak door that constantly opens and closes by itself. Sometimes when the door is locked and shut you can still hear the door open and close in the distance, while the door itself never actually moves. There is a security camera pointed right at the door at all times, lucky for us.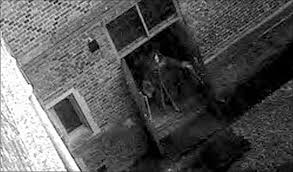 When the security guards hear the door open and close they always go back and check the security footage to see who or what is causing this. One day the security cameras at Hampton Court finally caught the holy grail, Something all ghost hunters throughout the world spend there whole life's for, A full apparitions.
I guess it was only a matter of time before the security cameras finally caught what was causing the doors to open and close by themselves. Making this footage the best proof of ghost of all time.
The ghost is thought to be a mid evil monk. In the footage below you can see what appears to be a ghost wearing a mid evil monk style robe. The footage is just enough see through that you know it's not a human, while still remaining visible to the naked eye from head to toe.
The good people of Hampton Court say this monk is still performing his duty's making sure the court-yard door stay's shut. Please leave a comment below and tell me what you think of this footage, the real deal? Or A master hoaxer. Me personally I think its 100 percent legit, some things you just can't fake.