The wedding dress of sorrow. In 1849 a girl from a rich family named Anna Baker fell in love with a low class iron worker. Anna's father did not want her daughter to marry a man from the lower class. Know matter how much Anna begged and pleaded he refused to let her marry. Anna was deeply in love with him and even bought a wedding dress in hopes that one day her dreams may come true.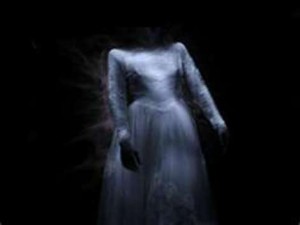 But Anna's father, as stubborn as he was never let her marry her one true love. Anna was so angry with her father she decided that she would never marry, no matter how many suitors her father would bring to the table.
Eventually by the time her father died it was too late and her true love was gone. Anna lived out her days alone and very, very angry. The servants of the household would sometimes see Anna wearing her wedding dress and dancing under the moonlight. Anna died old and very bitter in 1914.
Eventually the bakers mansion turned into a museum. Anna's wedding dress was placed in a glass case in her old bedroom.
Visitors of the museum constantly report seeing a women's image looking back at them when staring through the glass case at Anna's wedding dress. It's as if Anna Baker is still wearing her wedding dress in the after life. Visitor's of the Bakers museum also report that they can see the wedding dress sway from side to side within the glass case.
From time to time visitors would tell the tour guides that they saw a women dancing while wearing a wedding dress within the Bakers estate. Making it a very popular place to visit, especially for people looking for proof of life beyond the grave.
Untill next time this is paranormal junkie, make sure to hit that subscribe button and stay tuned!