While I was researching my previous video, the Betz sphere I stumbled upon another amazing story that in a way is kind of similar and pretty shocking. In 1972 in Japan a 13 year old was on his way home from middle school when he spotted a strange metallic object hovering in the skies over a rice field. And he said that this craft was very small, looked like a silver hat and it moved kind of like a bat. And when he got closer this tiny UFO shot a beam of light right in his direction. It's as if this craft was warning him not to come any closer. So the young man ran away and when he got back to town he told four of his friends what he had just witnessed and all though they didn't believe one word of his story they were all still very curious. And they went to the rice field to see if their friend was actually telling the truth. But when they got there was no sign of the craft so they decided to wait just in case it came back. And about an hour or so later it did and they were all just speechless, they were amazed by this craft and as night was approaching this craft started to pulse with all sorts of beautiful colors. And when one of the boys approached it, it let out a very loud pooping noise and this sound scared the boys so much that they all ran back to their houses as fast as they could. Now over the next couple of days the boys returned to the rice fields in hopes that they would see this strange craft again. And about a week later they did, and the boys were extremely happy. And this time the object was only about 5 feet off the ground. Then it started to glow and move towards the boys and yet again they ran away. And once the boys got their courage back they returned but this time they brought a camera but the craft was now gone.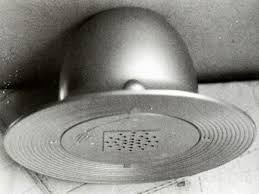 And everyday like clock work the boys would return to the rice fields in hope that they would see this UFO again. And about a week later they did and this time it was just lying on the ground in the middle of the rice field and the boys wasted no time they took a photo right away. And right after the photo was taken the craft started to spin and it flew right into the air. Then the boys took another photo and the craft let out and amazing light and it fell back to the ground making the boys wonder if the light coming from the camera did something to it. And one of the boys ran towards the object and picked it up, this was one brave young man and he told his friends that he felt something moving inside. Then he put this tiny UFO in a plastic bag and he took it home with him, and the others tagged along. And once they got back to the house the boys took more pictures and they started to examine and documented this craft. They said that it was 8 inches wide, 4 inches tall, and it weighed about 3 pounds.
They also noticed that there were 3 unique designs etched onto the craft and it also possessed 31 small holes. Now the boys were amazed by this craft and they wanted answers. And one of the boy's father was a director for the center of science in the city of Kochi. So they took it to him and he's first thoughts were that this craft was nothing special, and he believed that maybe the kids were trying to pull a fast one on him as they were very smart kids. But the boy's fathers did do a very quick examination and he did notice some strange things such as the metal seemed to be iron but it was way to light to be iron and he also said that this object was impossible to open. So he looked through the holes and he saw pieces inside somewhat similar to a radio. But he only looked at it for a minute or so and he gave it back to his son. But he later stated that he very much regretted not doing a proper examination of this object. Now the next day this object or craft just disappeared, the boys had no idea what happened to it. So they went back to the rice fields and over the next couple of weeks they saw it about 6 more times.
Now they were not sure if this was the same craft or another one but they were able to capture it again and the next day it just disappeared. And just like the Betz sphere the craft would only be seen on sunny days making them believe that it was somehow solar powered and they also believed that it was afraid of water. Now the boys were determined to capture it again and this time they brung a bucket filled with water and as luck would have it they saw the craft just sitting on the ground and they ran towards it and drenched it with water. Then the craft started to light up and it made a very unsettling noise, it's as if the object was alive and the water actually hurt it. And the boys were able to captured it again. And when they got home they analyzed it some more and they believed that it was a remote controlled or self controlled surveillance system and some of the boys even wondered if there was actually a little person or an alien inside flying the craft. Now the boys wanted to keep the craft in the freezer as they feared that it would somehow escape again but their mother wouldn't let them.
So the boys secured the craft the best they could and they were convinced that there was just no way the craft would be able get away this time. But when the boys woke up the next day the craft was gone making them believe it could teleport. Now this went on for a couple of months, the boys would capture it, then it would disappear, then they would capture it again, then it would disappear again. Then one day the craft never returned and they never saw it again. Now this case didn't get any attention at the time even tho the boys told everybody about it. But in may 2004 a very popular comic book company wrote a comic about the boys and this mysterious craft and after this comic book released this case finally got the attention it deserved and since the boys story never changed and they documented everything and took tons of pictures the investigators came to the conclusion that this was indeed one of the best documented cases of an extraterrestrial unmanned surveillance drone. Now during that same time period in Japan there were many other reports of very similar crafts making some believe that these objects were produced by the Japanese Military. But many disagree with that statement as these small orb shaped crafts have been seen throughout the world for century's making us wonder what could they possible be and who the heck made them.
Until next time this is paranormal junkie. Make sure to hit that subscribe button and stay tuned!