There is a very creepy story about a vampire that wrecked havoc in Mexico in the late 19th century. This case all began when animals in Guadalajara were found dead all across the city. Then one night they found a body of a women in a dark alley. And when the examiners examined the body they were shocked because this women had no blood in her body, and she also had a savage wound to her neck. Then a couple of day later another body was found, and this body was dug up from a cemetery. It was a fresh corpse that had been just recently buried. And it also had wounds to the neck. And this cemetery wasn't that far away from where the first body was found just a couple of day's earlier. Then the following week several children and another women was murdered and just like the others they all had bite marks on their necks and their bodies were all drained of blood.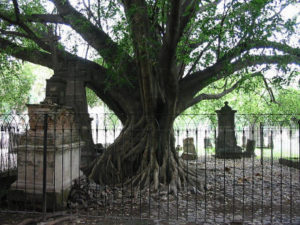 Now the people of Guadalajara were terrified and many believed that a vampire was responsible for all these murders. And all these dead bodies were found close to or on the property of a cemetery. So the good people of Guadalajara believed that this spooky old cemetery is where this vampire liked to hunt. So they started to keep a close eye on the place in hopes of catching this monster. And one morning a few days later they saw someone prowling around this graveyard. And it looked like he was looking for fresh graves. So a group of men who were hiding in the shadows at the time decided to approach this man. And as they were getting closer to him he started to snarl at them and he just acted very strange and un human like. And these men now believed that this was the vampire that they were looking for so they charged, knocked him down and put a stake right threw his heart.
Now even though this alleged vampire had a stake through its heart they wanted to make sure that it stayed dead. So they buried it in a very deep grave and covered the grave layer by layer with concrete. And a couple of weeks later the concrete started to fracture. So some thought that this was evidence that the vampire was still alive and he was trying to escape. But others believed that the fracturing concrete was caused by thick roots from a tree that was right next to the vampires grave. And legend has it that if you cut through the bark or break a branch off this tree you will see blood coming out of from it. Very creepy indeed!
Now this legend just like any legend it's hard to find out what really happened in Guadalajara during that time period. And according to my research there are a few different variations to this story. But the actual grave has never been forgotten and the tree that sits above this grave is very famous throughout Mexico, it is known as the vampires tree. And the government had to put a fence around it in order to protect it. And legend says that when this tree dies the vampire that lies beneath will awaken.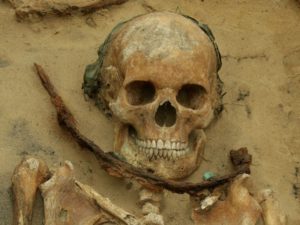 Now as of yet there is no scientific proof that vampires exist but there have been some very shocking discoveries made throughout the years. Not that long ago archeologist found a skeleton in Bulgaria with an iron spike through its chest, and they found this skeleton while excavating a mid evil city. And not to long after this shocking discovery they started to find more skeletons like this. And this place, this ancient cemetery is now known as the vampires graveyard. And after finding all these skeletons with steaks threw their hearts these archeologist stated that it looked like these mid evil citizens were at war with vampires. And there have been 2 other graveyards just like this one found in Bulgaria. And so far it is estimated that 100 skeletons have been unearthed so far.
And there is also another location in Poland where they just found 3 skeletons that also had iron spikes through the heart. And these skeletons were found on the outskirts of town. Now these skeletons didn't just have iron spikes threw their chest. One of them was decapitated and another one had her knees broken and she was found face down with huge rocks on the back of her head. And not to long after this gruesome discover they found another burial site in northwestern Poland where 6 people, or 6 potential vampires were found with metal strips around their necks. Now it seems that the obvious reason for these burials is because the people of that time must have thought that if they didn't do this to these already dead people then they would return back from the dead. And all these graves that have been found in Poland and Bulgaria all date back to the exact same time period. Which is very interesting.
Now of course there can be other reasons, other than vampires as to why people in these mid evil times carried out these type of killings, rituals and burials. But nevertheless it does make us wonder could vampires or did vampires at one time actually exist?
Until next time this is Paranormal Junkie. Make sure to hit that subscribe button and stay tuned!