I thought it was about time to cover some more Bigfoot sightings. I love the Bigfoot mystery, it is by far the most popular cryptid on this earth. And the reason for this is because there are so many sightings from all over the world coming from what appear to be very credible witnesses, such as presidents. Now I have just learned thanks to you guys about another very amazing alleged encounter with the legendary Bigfoot. In 1855 in what is now Oklahoma some members of a native American tribe along with a man named Joshua LeFlore who was half Native American and half French were part of a cavalry unit. And their mission was to keep the peace within that region. And one day Joshua who was the captain of these Native Americans was ordered to capture a band of outlaws who were terrorizing some of the local farmers. It was reported that these bandits were stealing a lot of crops and even kidnapping children. So this Calvary unit who were 30 men strong were very eager to capture or kill these wicked men. And about a day or so later after a very long and difficulty journey on horseback the captain saw something in the distance. So he took out his telescope and he saw what appeared to be a group of men about 500 yards away. And he assumed for whatever reason that these must be the bandits, so he ordered his men to charge. And while they were charging these what they thought were people ran very fast into the forest. Conforming to the captain and his men that these must be the bandits responsible for terrorizing the farmers within that region and also kidnapping their children. So they followed them. And once the entered into this thick forest they noticed a horrible smell in the air, to them it smelled like death they just couldn't explain it.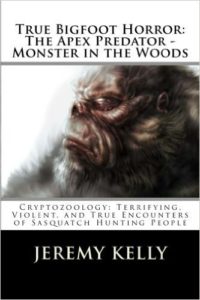 It was so bad that the horses buckled and threw their riders on the ground. Then the horses just ran away as fast as they could out of that area. So the rest of the men had to continue on foot. And not too much further they came into a small clearing and that's when they found what they thought was the bandits camp. And what they saw next was extremely disturbing and it filled them with rage and also fear. They saw the corpses of many children in different stages of decay and 3 huge very hairy bi pedal ape like creatures. And these creatures were eating the flesh of these dead children. And the captain just disgusted by what he was witnessing took out his pistol and he started to shoot, then he pulled out his sword and very bravely charged towards these beast like a maniac. And even though he shot one of these creatures several times and even stabbed it with his sword it was still standing. Then one of these beast snuck up behind him and tore off his head. And the captains headless body fell to the floor.
Now the Native American men within this unit had a lot of respect for Joshua Leflore, their captain and when they saw him get decapitated they finally snapped out of their frozen fear like stat and they fired their rifles at these beast. Now these men, these native Americans were very well trained and they were taught to aim for the heads. And these 3 beast were no match for all these trained, very brave men equipped with buffalo rifles. And once these creatures were finally dead they inspected the area. And they uncovered 19 dead children, it was just a terrible sight. Then they dug 20 graves and buried all the dead human bodies including their captain. But they burnt the Bigfoot corpses as in their eyes they didn't deserve to be buried. Then they rode back to their camp and told everybody about what they had just encountered. And in the end their mission was considered a success even though they lost their captain. And this story became very famous among their tribe.
Now at that time Oklahoma didn't exist and this was officially Native American territory. And this area were they came face to face with these beast was off limits or sacred to the Native Americans who lived within that region. As according to their history most who ventured into these area's did not return. And the ones that did would tell tales of monsters. So they tried their best to leave these creatures alone. But that wasn't enough as according to their ancestors these hairy bipedal humanoids would break into their camps, kidnap and eat their children. Giving some credibility to this story. And also according to my research a man named Joshua LeFlore did exist and he was a captain and he did die in 1855. Now I am not saying that I believe this story but it does make me wonder if it's true. As we all know there are a heck of a lot of alleged sightings with these beast still going on to this very day. And just maybe these legends, these stories coming from all over the world are true and these huge ape like creatures finally learned to fear us and they also learned how to hide from us.
Until next time this is paranormal junkie. Make sure to hit that subscribe button and stay tuned!