I have been getting so many request to cover this recent viral footage of what is believed to be a member of the lost Mante tribe in Indonesia. In fact I think this is my most requested video of all time. It even won in my first patreon poll. So I figured it was time to do some research and see what I could uncover. The first thing I wanted to do was to check out the original channel that posted this footage as I had heard that it was deleted. Which I thought was very odd considering that it had almost 10 million views but when I looked it was still on there so maybe he restored it. But I am glad I checked as I got to look at all his other videos and it looks like this guy has a decent non hoaxy channel where he and his buddy's go all over the place and ride their dirt bikes. And just maybe on that day they stumbled upon something remarkable. When I first saw this footage I thought to myself that this has to be a hoax as it's just to good to be true. And I wasn't thinking about a lost tribe of pygmies. I was thinking that they caught on camera for the first time ever Homo Floresiensis a different human species all together a cousin of ours or maybe even the mythical orang pendek.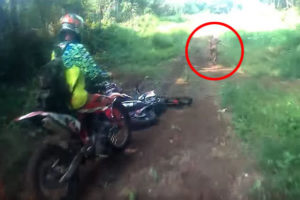 Now adult male pygmies on average are about 4 feet 11 inches tall. And the average size of an adult male non pygmy in Indonesia is 5 foot 2 inch tall which really isn't that far off. And when you look at this footage you can clearly see that this person is extremely tiny I would say only 3 to 3 in a half feet tall. And shockingly that is the exact same size as Homo Floresiensis. And when you look at the map this location is really close to where they found their bones back in 2003. And this discovery shocked the world as the people who lived here and throughout this region have been saying for centuries that these tiny people do exist. But no one in the western world took these stories, these sightings, these encounters seriously until we actual found their bones on the island of Flores. And now 14 years later we might actually have footage of them. Which just blows my mind as can you imagine that we might live side by side with another species of human.
Now of course it could be a member of a tribe of pygmies that no one has ever documented before which would still be an amazing discovery. Or it could even be a very, very small human being who decided to get naked and go live in the jungle which is very unlikely but possible. Now this footage has been out for about 2 months now and there is still no official answer as to what or who this is. But many believe that it's undeniable proof of the Mante tribe. And after doing some research I uncovered that nobody really knows what the Mante tribe really is. Some say that they are pygmies, some say that they are Homo Floresiensis or the orang pendek, and some say that they are magical creatures like fairy's. And throughout our history there has only been one documented encounter with this tribe. It is written that in the 17th century 2 members of the Mante tribe were caught and given to the king or the Sultan as a present.
But shortly after they were captured they died and nobody has ever been able to capture them again, well at least not to our knowledge. But there have been many sightings of these people throughout the centuries which I have covered in one of my previous videos. One very big sighting happened in 2013 by forest rangers. And this encounter was not that far away from where this footage was filmed. While these rangers where on patrol they came face to face with a large group of very small people who were only 3 feet tall. And these people or whatever they were, were stealing fruit from a local plantation. And these forest rangers were shocked, they couldn't believe what they were looking at. They were just so small, extremely fast and completely naked. And after this mass sighting the government did take action, a search was launched. But they couldn't find any trace of them it's like they just vanished right into thin air. And at that time the government believed that they were an unknown tribe of pygmies. But the forest rangers who saw them face to face weren't so sure that they were even pygmies as they were just so small. Now after this footage was released people throughout the world are now really starting to wonder could Homo Floresiensis still exists.
Until next time this is paranormal junkie. Make sure to hit that subscribe button and stay tuned!