Lately I have been talking a lot about all the British Bigfoot sightings. And in some of these cases there is a paranormal aspect to them. Such as the eye witnesses saying a Bigfoot just disappear right in front of their eyes. And not that long ago I read a great article from mysterious universe that talked about a ghost that looked like a human and an ape. In the 1930's a family rented an old Irish castle. And one night while they were enjoying their stay at this beautiful location the wife, who was alone at the time in her room started to hear doors banging in the corridor outside followed by some footsteps. So this women decided to grab a lit candle and go investigate. And right after she opened the door she saw a darkened shadow heading towards her. And this women just froze, she was terrified. And as this thing was getting closer and closer she saw that it had the head of a man but the body of a very strong hairy ape. And this human, ape ghost looking thing just stared at this women until it vanished into thin air. And this women scared out of her mind finally snapped out of her frozen like state and ran back to her room and locked the door.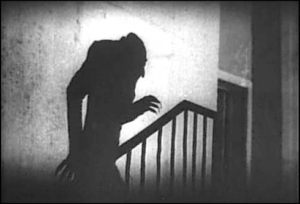 Now I am not sure why they decided to stay at this haunted castle after this creepy ghost sighting but they did and a couple of days later the husband had an encounter of his own. While he was walking throughout the castle he saw a dark shadow walking up the stairs. And he claims that he heard it laughing, and it wasn't a normal laugh it was kind of like an evil laugh. And at the time he thought that this was just a man so he wanted to follow this person to see who it was and what he was doing. And while he was getting closer he realized that his wife was right, this was not a man it was a monster. He clearly saw that this thing had the head of a human but the body of a strong ape. And he also saw that this things human face was extremely ugly, it was hideous. And after coming face to face with this creature he ran back to his room as fast as he could and locked the door, just like his wife did.
Then the next sighting happened a couple of days later when the wife was arranging flowers in the drawing-room when all of a sudden she felt a pair of hands touching her shoulder. At first she thought that it was her daughter, but when she turned around she saw this disgusting half ape, half human monster again and she started to scream her head off. And a friend who wasn't that far away at the time came running into the drawing-room and he also saw this thing. Then it just disappear right in front of his eyes. Now everybody who saw this ghost described the exact same thing, they said it was about 6 feet tall, had the body of a strong ape with red brownish hair and the head of a very ugly human. And finally after this 3rd encounter this family decided to pack their bags and get the heck out of there.
Now I find this case very interesting because this ghost or what they thought was a ghost didn't really act like one as it was able to physically touch someone, it could be heard laughing, and it seemed like it could phase in and out of our reality. And there are a lot of Bigfoot sightings were eye witnesses swear that a Bigfoot disappeared right in front of their eyes. But I have never heard of a Bigfoot sighting were an eye witnesses stated that it had the head of a human. Now if this family was telling the truth, as many back then believed then this is a very unique case because we don't know if this was a ghost or some other type of paranormal entity. And some Bigfoot believers believe that Bigfoot is a ghost, but I personally don't agree with that theory, but there does seem to be something paranormal going on in some of these cases. Especially in Britain.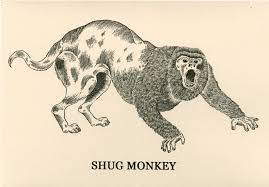 Now so far I couldn't find any similar cases but there is another strange creature in England called the Shug Monkey. The Shug Monkey is said to be a mix between a sheepdog and a monkey. And those who encounter this monster don't believe that it's an actual animal, they believed that it's a ghost or a demon because it can disappear and move like it's supernatural. Very similar to the entity that we just talked about. Now this creature the Shug Monkey use to be very famous during the 40's and 50's and a Police officer once stated that when he was a kid he heard stories of people coming face to face with this monster. And sometimes it would be seen walking on two legs and sometimes it would be seen walking, or running on all 4's. And the kids who lived in this area at the time would avoid going out at night because they truly believed that this creature did exist. Now I have been covering monster sightings for a very long time and it has always shocked me at how there can be so many eye witnesses but yet no real evidence. And that is why I have always been a little bit obsessed with monster sightings because it just doesn't make any sense. And it does make me believe that we humans have no idea what's really going on.
Now if you like the British Bigfoot mystery there is a great website that tracks and reports on all the Bigfoot sightings that happens in the United Kingdom. It is BritishBigfootsightingreports.com and Deborah who runs the website does a great job at keeping us updated on all the newest sightings. And I will put a link to her website and her YouTube channel in the description below.
Until next time this is Paranormal Junkie. Make sure to hit that subscribe button and stay tuned!