I don't think that I have ever covered a Yowie sighting on this channel yet. Which is kind of odd considering how much I like to talk about Bigfoot. And a Yowie is the Australian word for Bigfoot. Over the years there are have been some pretty amazing sightings of a Bigfoot like creature In Australia. And I just stumbled upon a pretty amazing encounter or alleged encounter that happened a few months back. One evening a women was driving home from cricket practice when she decided to take a quick detour because she had to use the bathroom. And while she was out in the trees doing her business she heard something moving in front of her. And she thought that maybe it was a feral dog or some animal so she howled like a wolf to try to scare it away. And after she howled she heard a howl back followed by some grunting.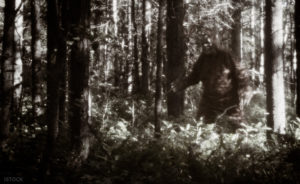 Now oddly enough she wasn't scared by this, all though she did have her cricket bat in her hand at this time but she thought that it was just somebody messing with her. So she howled again and again and every time she howled she heard a howl back, and it was getting closer. Then she started to hear knocking on a tree and she was now convinced that this had to be another person because animals don't knock on trees. This women stated in an interview that "It must have been someone playing silly buggers with me', but there's no houses in this location, it's just bush. But I still thought that it must have been some smart ass playing a joke on me".
Then after she heard a knock on the tree she knocked back and that's when things started to get really interesting. After she knocked on the tree she saw something very big moving towards her and now she was finally scared for her life because she realized that this can't be a human, it was just to big. So she ran back to her car as fast as she could, locked the doors and turned on the headlights. And right in front of her standing on a fire trail was a huge 7 foot tall, hairy ape looking creature.
She said that it had breast, huge eyes that glowed in the dark. It had really long hair, huge arms, and its hands went all the way down to its knees. It also had a gorilla like face with a huge mouth. Now this is an interesting description because most of the time in regards to Bigfoot sightings they say that the creature they saw was more human than ape. But this Yowie seems to be more ape than human. Well at least according to her and that is of course if she is in fact telling the truth. And she did say that she tried to take a picture of it but by the time she grabbed her phone it was gone.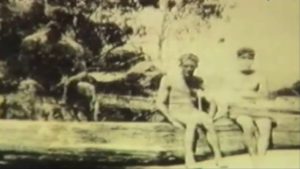 Now do to the fact that this women decided to stay anonymous, and also because her story is pretty crazy most people don't believe her. But there have been a lot of Yowie sightings in Australia. There is a famous photograph that was taken in 1936 and a lot people believe that this photo is undeniable proof that the Yowie exist. But most say this image is nothing more than Pareidolia, which basically means seeing something that is not really there. But I don't think that's the case with this photo because it looks like there is something clearly there. And it looks like a huge Bigfoot. And this Bigfoot or Yowie appears to be camouflaged. Which is interesting considering that there have been thousands of Bigfoot, Yeti, Yowie sightings throughout the centuries but yet we still don't have any physical evidence of their existence, all though we do have some alleged tracks and hair samples. So to me this picture is either a hoax or its the real deal.
Until next time this is Paranormal Junkie. Make sure to hit that subscribe button and stay tuned!