I love this kind of news! Scientists have captured and got actual footage of a deep-sea angler fish right off the coast of Monterrey for the first time ever!
Not only did they film it but they also caught it. Way to go scientist! This creepy looking fish was seen in the movie "Finding Nemo", and also "Erick The Viking" (in a way).
The deep-sea angler fish uses a luminescent light to capture its prey. Kind of like how we use a fishing pole. Scientist knew this crazy looking fish existed but they have never actually seen it in its natural habitat doing its thing, you know scaring the crap out of all the little fishes.
The deep-sea angler fish hypnotizes its prey with a heavenly bright light then out of nowhere the angler fish comes out from the darkness and devours its prey. Very similar to the human female.
The encounter took place 2,000 feet beneath the ocean surface off the coast of Monetary by using the remotely operated "ROV Doc Rickettts". Dr Bruce Robinson stated that the deep-sea angler fish is one of earths most rarely seen creatures.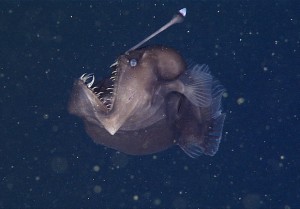 The footage these brave scientist captured of the deep-sea angler fish is the first time ever! By means of actual recorded footage. Basically, we knew the fish existed but never had actual footage of them until now. Which is extremely amazing considering we now have live footage of a giant squid.
It amazes me that still to this day there are creatures out there lurking in the dark that we still know nothing about, and they finally captured this deep-sea angler fish right off the coast of Monetary.
Just a couple of miles away from the Monterrey Aquarium, oddly enough!
I posted the epic video below, please enjoy and don't forget to like us on Facebook, share with your friends and subscribe to our daily news letter for all the latest paranormal news. All tho this article isn't exactly paranormal but for me its close enough.