This scary looking painting was kept in Sean Robertson's grandmothers attic for twenty five years before he inherited it from her. She always told Sean that the painting was pure evil. The artist who created this scary looking painting used his own blood and committed suicide shortly after the painting was complete.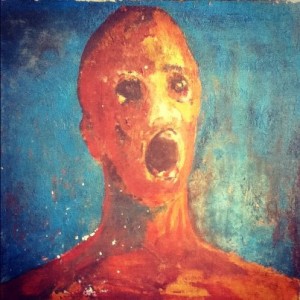 Sean Robertson's grandmother told her grandson that she would hear voices and a man crying when the painting was displayed within her home. She also started seeing a shadowy figure of a man walking through her home.
She knew the paranormal phenomena that started happening in her home was because of this painting. So Sean's grandmother locked it away in her attic, and it sat there hidden from the world for 25 years until Sean inherited it from her.
But Sean being a skeptic and a very brave man ignored his grandmothers dire warnings about the painting and he decided to display the painting in his home. Not to long after Sean put up the anguished man painting he and his family started experiencing the exact same paranormal phenomena that his grandmother warned him about.
Sean and his family started to hear footsteps at night and sounds of a man crying. Sean a non believer in the paranormal quickly turned into a believer. Shortly after this phenomena started Sean decided to show the world the paranormal activity that the anguished man painting possesses. He decided to make some videos of the anguished man painting.
These videos that Sean recorded might make a skeptic think twice about the supernatural.
In the description below I have put links to these very popular, very creepy videos. Make sure to not watch alone.
Until next time this is paranormal junkie and make sure to subscribe and stay tuned for part 4 in our worlds most haunted object series.