In one of my previous videos "When Monsters Attack" we talked about an encounter involving a hellhound that happened in England in 1577. And this legend stats that there was a terrible electric storm pounding the English countryside. And the scared citizens rushed to the churches to pray and to seek shelter. And out of nowhere a mysterious dog appeared. And this dog went on a rampage killing a lot of people. And according to this legend this dog was pure evil and it also possessed supernatural powers. Now this happened a very long time ago but I do believe that most legends come from some sort of truth. So ever since I stumbled upon this terrifying story I have been looking for other similar reports. And not that long ago I found a very interesting article on mysteriousuniverse.org that is kind of similar to what happened in England in 1577. And these events happened during world war 1. In 1914 in Belgium there was a very horrific battle going on between the Germans, and the allies. Mainly the British and the French. And this battle would come to be known as The Battle Of Mons. Now the ally's were greatly outnumbered by the Germans and they were facing heavy casualties. And this battle turned into trench warfare, it was basically hell on earth and at one time both sides were at a stand still, no one was really moving forward. Now during this type of warfare, trench warfare the middle of the battlefield is a place called no mans land. As whoever venture into it will most likely die from an onslaught of enemy fire. So all you can do is basically just dig into the ground and try to hold your position the best you can. And during this time there was something else, something even more terrifying than the German soldiers lurking on the battlefield.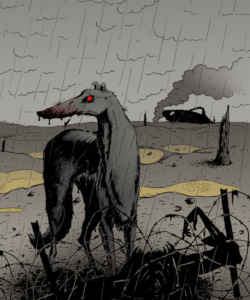 In 1919 a Canadian soldier F.J. Newhouse told the world a very terrifying story. Mr. Newhouse said that this all started when 4 Allied soldiers went on patrol in no mans land and this patrol never returned. Now this wasn't that unusual as from time to time patrols or men would just disappear as this was world war 1. But when they found their body's a couple of days later they saw that their throats had been ripped out and there body's were just ripped to shreds. Now it was very obvious that the Germans did not do this, but the question that still remains to this very day, is what did? And at about this time the soldiers did start to hear some very unsettling howling noises that seemed to be coming from all around them. Now after this patrol was found ripped to shreds these howling noises started to increasing and the soldiers were really freaking out and they wanted to retreat. I mean this animal scared them more than the heavily armed Germans. But of course the men were ordered to stand there ground and over time more and more patrols just started to vanish. And these men were found days later with their throats ripped out and yet again there body's were ripped to shreds. Then the soldiers started to see this creature on the borders of no mans land. Now some said that it looked kind of like a grey hound, and some said that it looked like a phantom, just an evil black dog. But in the end they all agreed that there was something just not right about this animal. Then one night the ally's heard the Germans screaming in sheer terror and they believed that this dog had infiltrated their base and it was killing them. So it would appear that this dog, or whatever it was, was also killing the Germans.
Now for 2 years this creature was terrorizing the soldiers within The Battle Of Mons and after the battle was over many theory's had come forward. Mr. Newhouse believed that a German scientist was to blame and he created this abomination to kill the ally's. But many scientist dismissed this as nothing more than pure fantasy as they believe at that time no country would have possessed this type of advanced technology. Many believed that it was just a wild dog. But I am sure that if that was the case one of these patrols would have managed to kill it. Now maybe it could have been a pack of wild dogs, but the soldiers never reported seeing more than one of them. And they never heard multiple howls. And also a pack of wild dogs still probably wouldn't have been a match for heavily armed soldiers. So some believed that this dog must have been a hellhound as it seemed to possess supernatural like powers and according to most reports it did fit the description of a hellhound. Now The Battle Of Mons was one of the bloodiest battles of world war 1 and it is believed that these hellhounds are attracted to this type of blood shed and madness. Making this a very interesting and terrifying case and one of the creepiest stories that I have ever heard of involving an animal.
Until next time this is paranormal junkie! Make sure to hit that subscribe button and stay tuned!
Source: http://mysteriousuniverse.org/2014/09/the-mysterious-hellhound-of-world-war-i