I have a quick update for you guys about another amazing story involving Giants. I know we have been covering a lot of stories about giants lately but I got a lot of monster sightings, alien sightings and just other crazy paranormal phenomena on the way. Now this next story involves the Inuit people. The Inuit also known as Eskimos were for a long time believed to be the first people to arrive to North America, mainly Alaska and Canada. But in 1925 archeologist uncovered that there was another group of people who lived within this region long before the Inuit came and these people are known as the Dorset. Now the Dorset people died out about 1300 AD and its believed that they died out because they couldn't adapt to the warmer climate.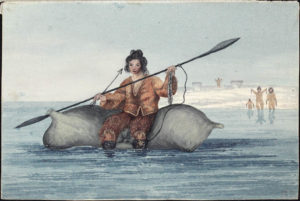 Now the Inuit have tons of stories passed down for centuries about when they first arrived to this region. And these stories say that when they first came to this new land they had come face to face with huge giant human like creatures, and these giants possessed powerful magic and they were strong enough to crush the neck of a walrus single handily. And when western archeologist discovered the Dorset people they believed that these ancient stories were about them. Now according to my research there have been only 20 Dorset remains found either a child's skull or a leg bone. But so far these remains show nothing unusual. But we have found tons of their art work and wood carvings etc.. Now since there is nothing really unusual about these remains I think the Inuit were talking about someone or something else and they called them the Tuniit. Now according to archeologist the Tuniit and the Dorset are the same people, but I don't think that's true as in the past we have uncovered remains of something else, something unknown.
In the 1960's a very famous zoologist Ivan T. Sanderson received a letter from an engineer who was stationed on an island in Alaska during world war 2. This engineers job was to build airstrips on the island. And while he and his crew were bulldozing a group of hills they uncovered a mass grave and this graveyard was filled with giant human remains. And these skeletons were massive, some of these skulls measured 22 to 24 inches from base to crown. A normal human skull is only 8 inches. Now Ivan the zoologist was extremely curious so he starting writing letters to the other crew members and engineers who were stationed on this island during world war 2 to see if there was any truth to this unbelievable story. And a couple of weeks later he received another letter confirming that this did happen. Now these letters also stated that after this mind blowing discovery the Smithsonian showed up and they examined and took these giant skeletons, and of course they were never seen again. And this is not the only reported case in North America were giant bones have been found only to magically disappear. So I believe that the Inuit were not talking about the people we know as the Dorset, they were talking about another race or another species all together.
Now there is something very odd about the Dorset people as when scientist looked at their DNA they uncovered that they never interbred with the Inuit, which is really odd. In nearly all cases going back since man first walked out of Africa different tribes or different races have always interbred. Heck we even mated with neanderthals. Now Inuit legends do talk about a tribe of people and these people were extremely shy and they would always run away from the Inuit and that sounds like the Dorset people. Now if there was a race of giant human like beings that lived here the Dorset would have lived side by side with them for centuries long before anyone else came to this region. And that could explain why they were such an isolated group of people as it seems that they lived in total fear and that could explain why they kept to themselves and never mated or made any real contact with the Inuit. And also when the Norse arrived to these lands they also said that they encountered giants and the Norse were also terrified of them. And we also now from some of my previous videos that the Native Americans here in the United States also have legends about giants and they use to fight epic battles against them. Now there are just to many stories from to many different civilizations, it can't be all just fantasy. And the ones that know the truth seem to work extremely hard at keeping us in the dark.
Until next time this is paranormal junkie. Make sure to hit that subscribe button and stay tuned.